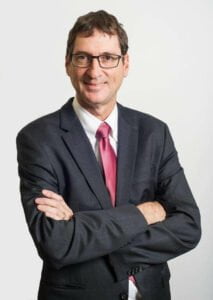 B'nai Brith is delighted to announce that Jay Harris is the organization's new Chair of the Board.
Jay is a founding partner of Harris & Partners Inc., Licensed Insolvency Trustee and Restructuring firm and has always been passionate about his community.
"We look forward to Jay participating in our leadership," said Michael Mostyn, Chief Executive Officer. "We are excited about Jay working with us on behalf of the community and we anticipate great results."
Jay and his wife Janet have three sons and two daughters-in law – Matthew (Hailey), Kyle (Rachel) and Joshua.
"I am honoured and proud to be stepping into this new role with B'nai Brith," Harris said. "We are embarking on an exciting time for the organization and we are prepared for what lies ahead. B'nai Brith has a rich history filled with wonderful community service and action, and that provides me with enthusiasm, but I am also thrilled to be surrounded by so many new and talented people involved in this revitalized and important national organization. Together, we will accomplish a great deal.
"B'nai Brith has long been and continues as a leader in human rights advocacy, affordable housing, lodges, sports programs, senior programs and helping the needy. I'm honoured by the opportunity to contribute to this great organization at a time when it is developing so many new and exciting programs and services for the community."
Upcoming B'nai Brith activities include our Human Rights Gala,  which will honour music legend David Foster at the Mattamy Centre Nov. 10, 2016 in Toronto. As well, nominations have now opened for B'nai Brith's inaugural Human Rights Media Awards, recognizing excellence in human-rights reporting, to be awarded Dec. 10, 2016.
Jay's election comes shortly after Henry Schnurbach completed his term as the National President of B'nai Brith Canada.
"We thank Henry," Mostyn said, "for his hard work and dedicated years of service."