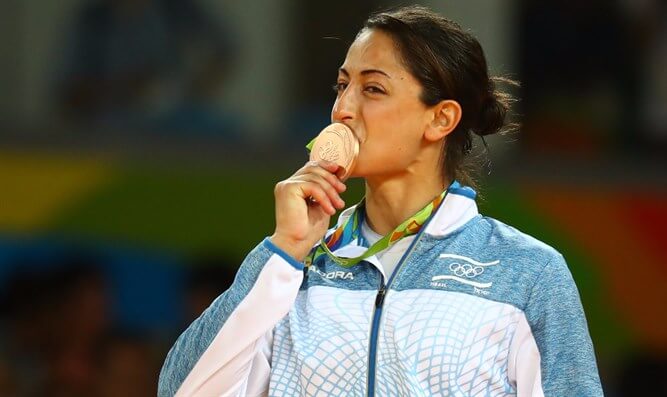 By Jordan Zaitchik
B'nai Brith Canada
It may have taken a few Olympiads, but Israel is finally back on the podium.
Israel's Yarden Gerbi won bronze in the Rio Olympics women's under 63 kg Judo competition after she beat Japan's Miku Tashiro on Tuesday, August 9. It's Israel's first Olympic medal since 2008 when it won a bronze in sailing.
Gerbi dominated Tashiro throughout the entire match, "I'm proud to have won this medal for Israel," the 27-year-old said.
WATCH:
Amazing scenes after Israeli Yarden Gerbi wins bronze in Rio… pic.twitter.com/DZ0q5bdwlw

— SussexFriendsofIsrael (@SussexFriends) August 9, 2016
After her match Gerbi spoke to Army Radio, she was asked if the medal was weighing her neck down she responded, "After what I've been through today, nothing is heavy." She continued on to say, "There were two very difficult moments today. The time just before the first fight is really difficult, because you know that if you lose you go home. The second moment was the loss in the quarterfinals. Picking yourself off the mat after a loss is… just really hard."
Later Gerbi was asked if she was aware that all of Israel was watching her she replied, "We are a special people, one that supports and appreciates, because that's just the way we are. When I win it's like everybody won. I really am proud to represent Israel."
Gerbi remained humble throughout the entire interview, when referred to as an "Olympic champion" she corrected the interviewer, "I'm not an Olympic champion, I'm a medalist."
FANTASTIC!
Israeli Judoka Yarden #Gerbi wins bronze in Rio. Amazing display of skill and strength…. pic.twitter.com/YqaY0xueOw

— SussexFriendsofIsrael (@SussexFriends) August 9, 2016
Gerbi earned first place in the world Judo championship in 2013 and came second in 2014. She earned 27 medals in Judo since 2013, these include one silver and two bronze medals at the European Judo Championships.
Gerbi did not just win a bronze medal but she also won the praise of Israel Prime Minister Benjamin Netanyahu and Israel's President Reuven Rivlin.
Yarden, you did it! We are all proud of you.

— Benjamin Netanyahu (@netanyahu) August 9, 2016
Speaking by phone with Bronze Medal Winner Yarden Gerbi: "We all held our breath for you, you are simply our champion. Well done."

— Reuven Rivlin (@PresidentRuvi) August 9, 2016
Gerbi was born in Kfar Saba, and grew up in Netanya. She started to practice judo when she was six years old. Gerbi has a degree in Economics and Management from the Open University of Israel.