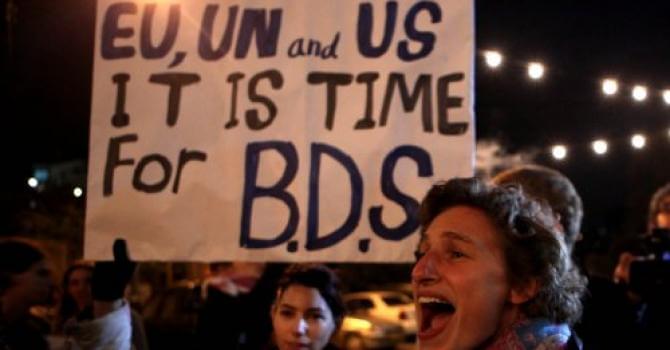 By Jordan Zaitchik
B'nai Brith Canada
The Public Security Ministry of the Knesset has launched a task force that's aiming to deport advocates for the boycott and sanctions movement against Israel, as reported by Jerusalem Post.
"Boycotting Israel must have a price," said Public Security Minister Gilad Erdan a press conference announcing the task force.
Public Security, Strategic Affairs, and Information Minister Gilad Erdan (Likud) and Interior Minister Aryeh Deri (Shas), announced on Monday, August 8, that the ministry's new task force will work to locate and deport boycott activists, who are currently in Israel. The ministers explained that dozens of organizations located in Israel collect information specifically to promote the boycott of Israel and further isolate it. They explained that BDS activists provoke Palestinian violence in the West Bank and obstruct soldiers and Border Police.
Erdan said the task force "is a necessary step in light of the malicious intentions of delegitimization activists who act to spread lies and twist the reality in our region."
"We have the responsibility to do all we can to crush the boycott and say clearly that we will not allow the State of Israel to be harmed," Deri added.
On Sunday, Sima Vaknin-Gil, Director-General of the Ministry of Strategic Affairs and Public Diplomacy spoke to the Knesset Committee for the Transparency and Accessibility of Government Information. She said that the dominant narrative about Israel in the world needs to be replaced.
"The bottom line is that today, among nations of the world, Israel is seen as a pariah state," said Vaknin-Gil. "Our goal is that by 2025, no one will question whether the State of Israel has the right to exist."
In March, the Ministry of Strategic Affairs and Public Diplomacy began its goal to fight boycotts and delegitimization of Israel. Vaknin-Gil explained that its goals are long-term and that the results will not be more apparent in the long term.
"We don't want to win the battle, we want to win the war," she said. "The IDF has given up on the term 'victory' in many places, but we must aim for victory in this war."
Vaknin-Gil explained that the ministry will develop more pro-Israel diplomacy efforts around the world to fill in the gaps where there is not enough of it.
Transparency Committee chairwoman MK Stav Shaffir (Zionist Union) criticized past ministers for not making the Strategic Affairs Ministry's work more transparent. Shaffir expressed her concerns
"For years, the country didn't take this seriously and didn't deal with the fact that the younger generation in America and Europe is distancing itself from Israel; and in another 10 years, when these young people reach the places where decisions are made about the future of their countries, they won't recognize or care about our security and strategic interests."
Shaffir explained that "Parliamentary oversight is necessary to ensure a change, so that responsibilities aren't passed from minister to minister as part of political horse-trading with no regard to the country's needs."