Best of the Worst at the Toronto Al-Quds Day Rally
Here is a video of people interviewed at the al-Quds Day rally in Toronto on July 2, 2016.
Some of the comments will astound you.
---
Small Crowd Turns Out for Edmonton Al-Quds Day Hatefest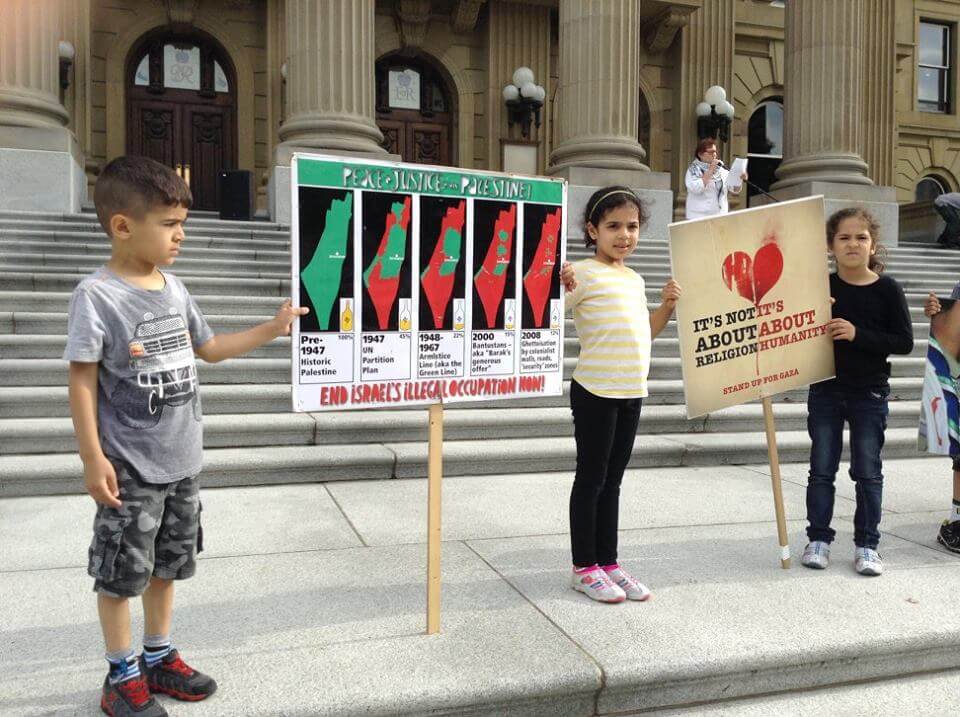 The Alberta Legislative Building, ordinarily the daily meeting place for many lawmakers and proponents for the good of the everyday person, became a site occupied by a very small and underwhelming gathering of hate-fueled Israel bashers.
A reported crowd of fewer than 50 people congregated on the steps of the building last Saturday for the al-Quds Day rally. The rally, which is advertised as an occasion to "honour the Palestinian plight for justice," has a dishonourable reputation for being a sojourn for anti-Israel, antisemitic and anti-gay rhetoric and hate speech, especially regarding the terrible human rights record in the regime of the Ayatollahs.
Components of this rhetoric were on display as five speakers delivered sermons that aimed to legitimize Palestinian violence as a necessary and accepted resistance to Israel.
One speaker, Syed Hyder Ali, rally organizer, went so far to claim that Palestinian resistance fighters are freedom fighters, not terrorists, "and I salute them." (2:01-2:18 in the video below). He also chastised Edmonton-Manning MP Ziad Aboultaif, calling him a "so-called Muslim" for supporting the anti-boycott and sanctions motion in Parliament (5:42-5:51).
Another speaker, Sheikh Salim Bhmiji of Ithna-Asheri Association, lauded Ayatollah Khomeini for establishing al-Quds Day for Palestinians and "the oppressed around the world" (2:52-3:07 and 3:34-4:21 in the video below). He also claimed that al-Quds Day is for oppressed African-Americans and First Nations (4:26-4:55).
Helping to facilitate the event was Paula Kirman, steering committee member for the discredited Independent Jewish Voices (IJV). In addition to speaking at the event (although she refused to disclose her membership to the crowd), she also published videos of the speeches on YouTube and sharing event photos to Facebook.
B'nai Brith has previously reported that IJV has endorsed and supported al-Quds Day in other cities in previous years.
Eyewitnesses also told B'nai Brith that young children could be seen holding signs that promote the anti-Israel boycott and sanctions movement.
Calls from B'nai Brith to members of the Alberta government to raise concerns of the event were unanswered. However, B'nai Brith was told that members of the Edmonton police hate crimes unit were in attendance to monitor proceedings.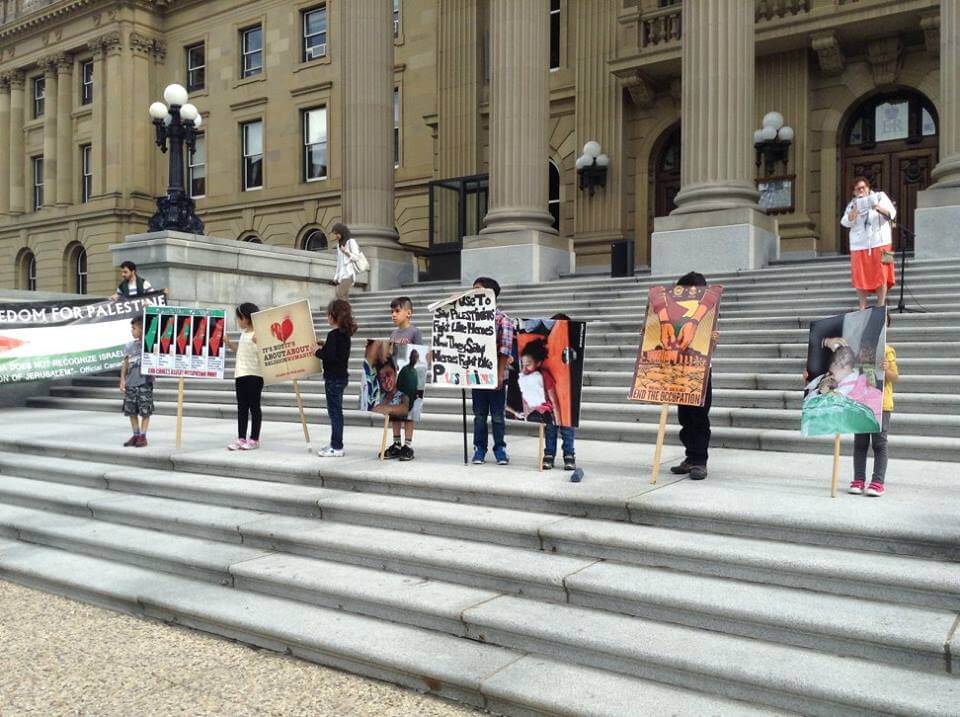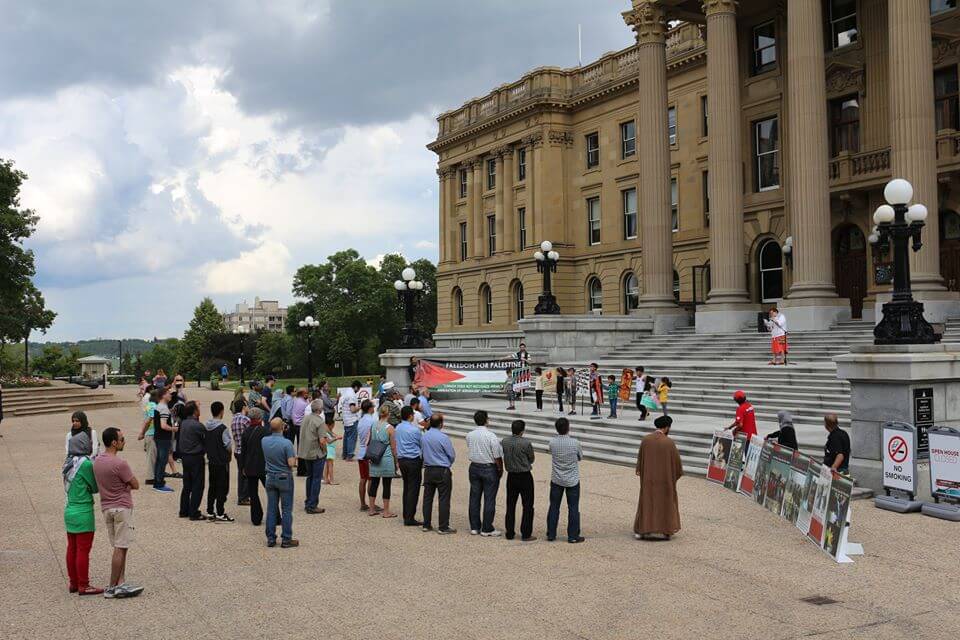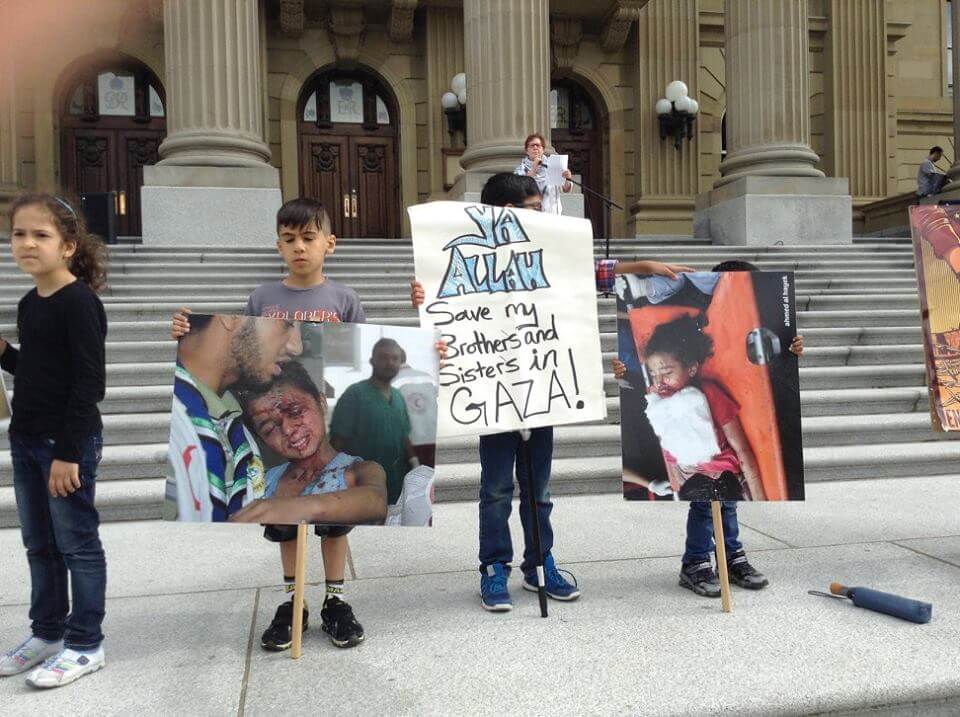 ---
Calgary Al-Quds Day Rally Met with Strong Backlash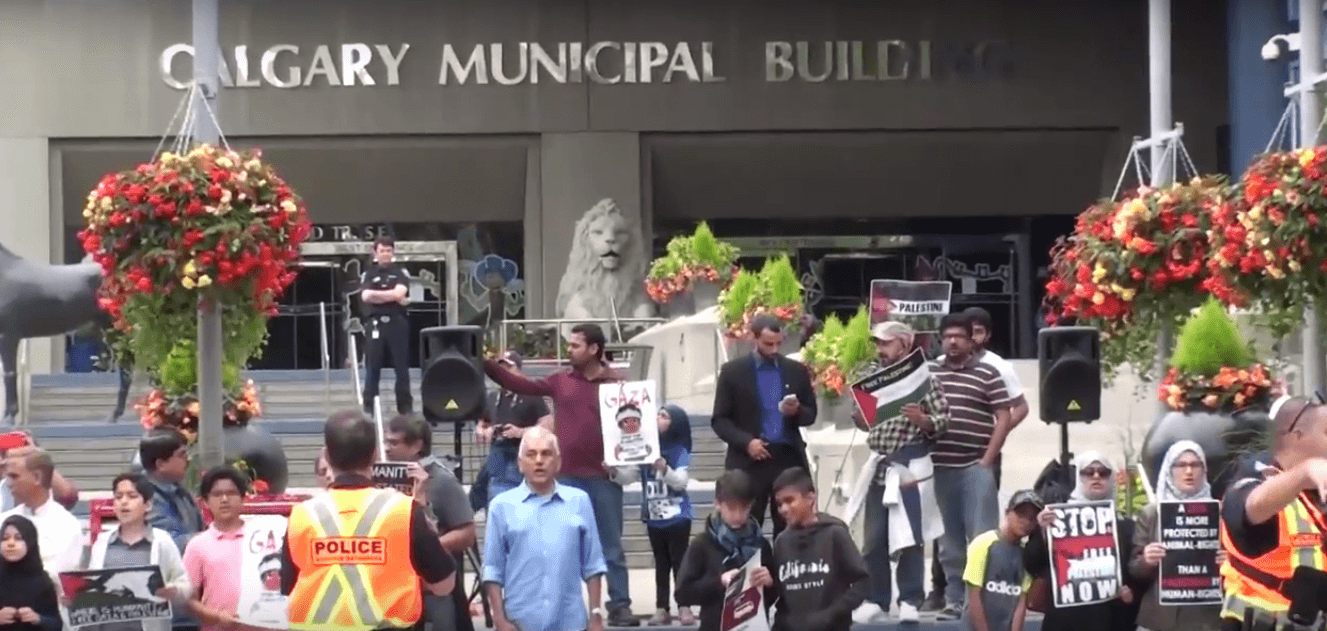 Pro-Palestinian groups gathered outside Calgary's City Hall this past Saturday to commemorate al-Quds Day, an annual event promoting solidarity with the Palestinian people and protesting the existence of Israel.
B'nai Brith video from the event shows pro-Palestinian and pro-Israel groups facing off from opposite sides of the street.
While the al-Quds supporters chanted "no justice, no peace" and "the occupation must go," singing of the Israeli and Canadian national anthems by pro-Israel ralliers often drowned out the chanting and other speeches.
One speaker said "all of you agree in your heart that Zionism… is doomed to destruction." The same speaker later said that "any good person in the entire whole world would understand that to support peace and justice, they have to fight Zionism."
Al-Quds organizer Riyaz Khawaja told CBC News that the event was "to show our solidarity towards the Palestinian oppressed, as well as the oppressed around the globe."
Numerous police officers were at the event. Previous al-Quds Day rallies in Calgary have been marked by violence. In July of 2014, local police called for backup after clashes between protestors broke out. Calgary Jewish Federation (CJF) member Judy Shapiro said at the time that one young man had a concussion, another had a broken nose, and a young woman had been punched in the face.
Local Calgary imam Syed Soharwardy spoke at the event and later wrote on Facebook that "few times Israeli supporters followed the Israeli law and crossed the road to provoke Palestinian supporters. But we, the Palestinian supporters followed the Canadian law along with the Sharia law and remain unprovoked and peaceful."
Video shared on Facebook depicts a man crossing the street to the al-Quds supporters and shouting, "stop killing 13-year-old girls in their bed at night," referring to the murder of Hallel Yaffe Ariel by a Palestinian teen last Thursday.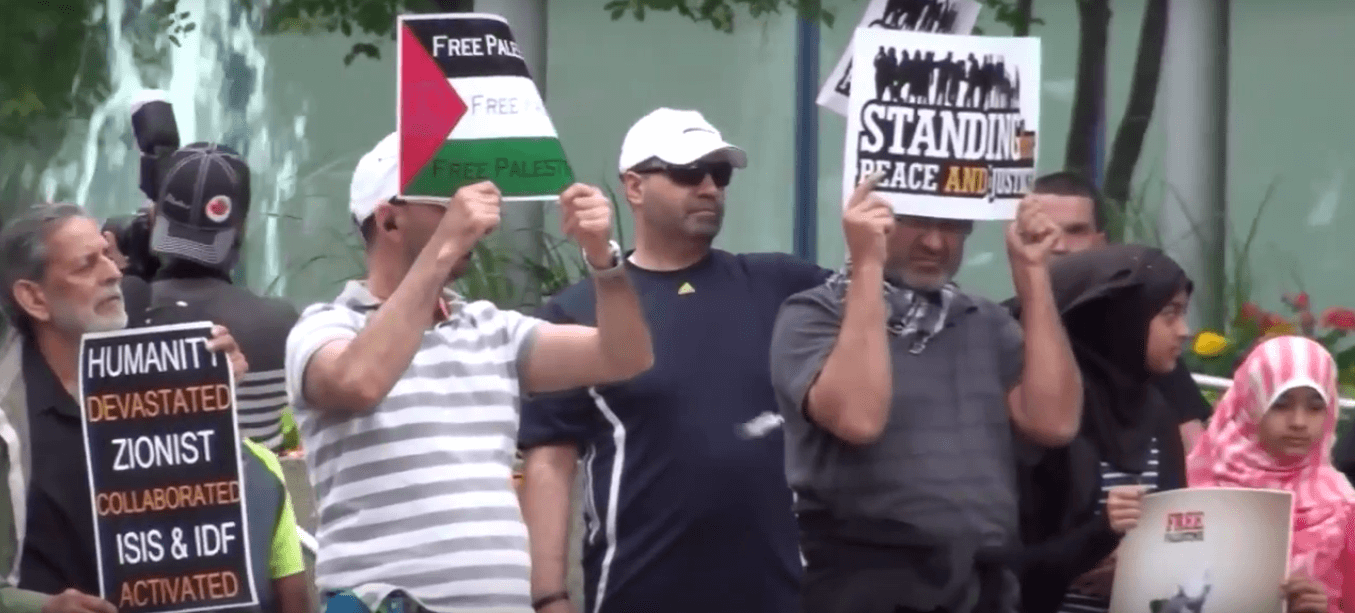 ---
Another Al-Quds Day Speaker in Toronto Calls for Israelis to be Shot
B'nai Brith Canada, which is on the record as warning that the 2016 al-Quds Day rally would once again descend into open support for terrorist organizations and antisemitic incitement, has called for a criminal investigation into hate speech at the event.
One keynote speaker, Ali Mallah, called for Israelis to be shot en masse. After stating that Palestinians "…have the right to resist their occupation by any means necessary," a clear endorsement of Palestinian terrorism against Israeli civilians, he continued:
"In the United States, if somebody makes a mistake and walks into somebody's home, he will be shot, right? Here in Canada, if somebody attacks us we will attack and shoot them, alright? So why is it okay then to occupy Palestinian land and oppress Palestinian people?"
Michael Mostyn, CEO of B'nai Brith Canada, is livid that this type of hate speech is occurring in this country.
"Last week, a Palestinian official said, 'Wherever you see an Israeli, slit his throat'; three days later, a Palestinian terrorist slit the throat of an innocent 13 year-old Israeli child as she slept in her bed," Mostyn said. "Al-Quds organizers in Toronto have called for Israelis to be shot. Authorities must take this threat seriously, before it happens in Canada. Mallah's latest outburst of hate speech proves that al-Quds organizers have not learned their lesson from the 2013 police investigation. Al-Quds Day must be shut down permanently in Canada, and B'nai Brith will be launching a campaign to end this display of hate speech and incitement."
This is not the first time that Toronto al-Quds Day speakers have called for genocide against Israeli Jews. In 2013, former Palestine House president Elias Hazineh also called for all Israelis to be shot, leading to a Toronto Police investigation. Indeed, there are clear parallels between Mallah's comparison of Israeli Jews to home invaders who deserve to be killed, and Hazineh's twisted analogy comparing Israelis to bank robbers. Hazineh also appeared on stage at this year's al-Quds Day demonstration.
Mallah is a former member of both the federal and Ontario NDP Executives and is a prominent member of the Canadian-Arab community, having served as the Ontario Vice-President of the Canadian Arab Federation (CAF). That organization had its federal funding stripped by Ottawa in 2014 due to its promotion of antisemitism and praise for terrorist organizations such as Hamas and Hezbollah. CAF appealed this decision all the way to the Supreme Court, which declined to hear the case in March.
For more information contact:
Marty York
Chief Media Officer
B'nai Brith Canada
Or
Sam Eskenasi
Manager, New Media
B'nai Brith Canada
______________________________________________________________________
IJV Member Speaks Out Against B'nai Brith at al-Quds Day in Toronto
Ken Stone seemed awfully preoccupied with B'nai Brith and our exposé of his organization's (IJV) ties to Khomeinist Iran at the 2016 Toronto al-Quds Day rally.
In 1979 the Ayatollah Khomeini violently seized power in a bloody revolution, quickly establishing himself as the ultimate power in Iran and governing the new authoritarian regime with an iron fist. Khomeini instituted a radical version of Sharia law and began to persecute religious minorities, women, political dissidents, journalists and anyone who did not conform to a very narrow set of acceptable lifestyles approved by his government.
In the years since, Iran has continued to be the world's premiere state sponsor of terror, supporting organizations like Hezbollah. High-ranking religious figures and government officials consistently call for the destruction of Israel, violence against the Jewish people and hold regular holocaust denial events.
---
July 2nd 2016 is al-Quds Day
picture [broken link 1]
al Quds Day (Quds being the Arabic word for Jerusalem) is an annual event led by the Iranian regime, held on the last Friday of Ramadan. First initiated by Iran in the wake of the Iranian Islamic Revolution, al Quds Day is an anti-zionist event which the Iranian government uses to oppose Israel and its control of Jerusalem.
Iranian Ayotollah Ruhollah Khomeini stated that the mission of al Quds Day is to oppose the "danger posed by the usurper Israel."
al Quds Day is promoted internationally by Iran, including in Canada. At the 2013 al Quds Day protests held in Toronto, reports showed that Elias Hazineh, a speaker at the event, called for "Jews to leave Jerusalem… leave Palestine… Get out or you are dead!" At the 2014 protests held in Britain, thousands of protesters demanded "justice for killers of Gaza children."
This year's events are scheduled to take place on July 2nd, the day after Canada Day (July 1), and preceding the Toronto Pride Parade (July 3) and US Independence Day (July 4). It is absurd to contemplate such an event taking place bookended by celebrations of freedom, democracy and tolerance, particularly when the event is led and sponsored by a country which persecutes its gay population, threatens Canada and our allies, and is actively holding a Canadian national, Concordia's Professor Hoodfar against her will. This event is Khomeinist propaganda and has no place in civil society.
This year, al-Quds rallies will take place in Edmonton, Toronto and Calgary.
In Ontario, it appears that organizers were denied a permit to assemble at Queen's Park, the rally in Edmonton is scheduled to take place on the grounds of Alberta's Legislative Assembly and the Calgary rally will take place at Calgary City Hall.
This is unacceptable. Khomeinist propaganda and hateful rallies promoting values contrary to those of Canadians should not be allowed at the seat of government power.
What you can do:
Email the Alberta Legislative Assembly's Sergeant-at-Arms, Brian Hodgson, and The Speaker of the Alberta Legislative Assembly, Bob Wanner, and demand that Alberta follow Ontario's example in not granting permits for rallies which promote hate speech on the grounds of the Legislative Assembly.
Further, B'nai Brith has learned that the organizers of the event in Edmonton have invited various public figures to attend the rally, including members of Alberta's Legislative Assembly. B'nai Brith has reached out to those invited to let them know about the hateful and antisemitic nature of the event, urging them not to attend.
Email your MLA and urge them not to attend.
Al-Quds Day & Independent Jewish Voices
Independent Jewish Voices (IJV) has a long history of headlining the annual anti-Israel al-Quds Day hate rally at Queen's Park. IJV's links to Holocaust denial and white supremacists were previously exposed by B'nai Brith, as were their ties to the Green Party's new anti-Israel foreign policy motions.
At the 2013 al-Quds Day rally in Toronto, Palestinian community representative Elias Hazineh called for all Israelis to be shot, leading to a Toronto Police investigation. At that same 2013 al-Quds Day gathering, Hazineh was accompanied by Ken Stone, a founding member of IJV who spoke on behalf of the organization. Stone had previously addressed the 2012 iteration of the event, and reprised his role again in 2015, speaking alongside Nazih Khatatba, a Mississauga Palestinian who infamously praised the murder of five rabbis and an Israeli policeman in his al-Meshwar newspaper.
At 6:20 in the video above, Stone himself employed age-old antisemitic rhetoric during his speech, saying that the mostly Jewish audience of the Jewish National Fund's Negev Dinner in Hamilton were "social parasites."
Stone is a committed backer of the Ayatollah, having visited Syria in April of 2016 in order to support Iranian puppet and war criminal Bashar al-Assad, whose forces have killed tens of thousands of Syrian civilians. On May 13th, 2016, Stone delivered remarks on behalf of IJV at a dinner in Toronto to honour Ayatollah Khomeini, who founded Iran's theocracy. Stone lavished praise on Khomeini as a fierce opponent of Zionism, but a "friend" to Iran's Jewish community and a "liberator and reformer of the masses".
Iran is one of the world's worst human rights violators and is acknowledged by the Government of Canada to be a state sponsor of terrorism.
Stone has confirmed that he will be speaking at this year's rally in Toronto, despite outrage from the Canadian Jewish Community.
To view the following al-Quds Day infograph below as a full page, please click here.