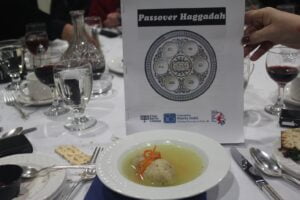 April 10, 2017
By Tevy Pilc
Staff Writer/Researcher
B'nai Brith Canada
There's a passage in the Haggadah that we read at the Passover seder called "Ha lachma anya," which begins the telling of the Passover story with a proclamation that everyone is invited to join and participate in the festivities.
This welcoming environment was extended to people of all faiths and religions as the Midwest Region of B'nai Brith Canada held it's 22nd annual Interfaith Model Passover Seder at the Shaarey Zedek Synagogue in Winnipeg on April 4, 2017.
Over 100 people attended the sold-out event, including members from the First Nations Family Worship Centre, Deaf Fellowship, Westworth United Church, Augustine United Church, Bethel Mennonite Church, Faith Temple, Holy Family Ukrainian Catholic Church, Calgary Temple, Truth and Life Worship Centre, Universalist Church, and also quite a few Jewish Community members, including some from the BB Yachad Couples Unit.
"We had an incredible response and great turnout", said event organizer Adriana Glikman, B'nai Brith Canada Winnipeg Region Programming Coordinator. "It was meaningful to share our Jewish traditions in an intercultural event that reflected diversity and inclusiveness."
Leading the seder were Rabbi Alan Green and Cantor Anibal Mass of Shaarey Zedek Synagogue.
"It is events like this that help promote an understanding among people of different faiths and cultural backgrounds," said Pastor Calvert Layne, who served as the event's Chair. "It allows us to listen to each other and dialogue even when we don't always agree. It also gives us an opportunity to include people with physical, mental or psychological disabilities who would otherwise be marginalized."
"The Interfaith Passover Seder was definitely an enriching experience for our group," added Pastor Raymond McLean of the First Nations Family Worship Centre. "For some, it was their first time every being in a synagogue and seeing and touching a Torah scroll. Our group afterwards expressed how joyous it was to participate in a Jewish Passover Seder. For those who have yet to visit Israel, they said they could taste it as the atmosphere in the hall was filled with Hebrew songs and prayers."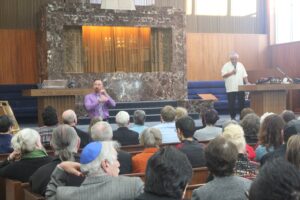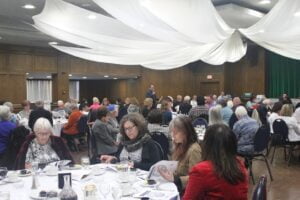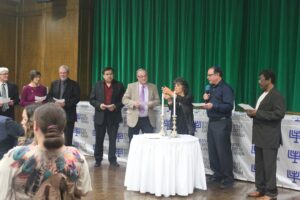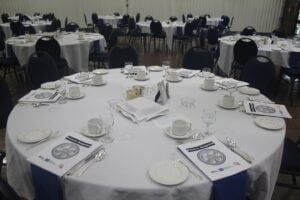 Those who participated at the candle lighting were: 
1. Rev. Calvert Layne, Calvert Layne, of Truth and Life Worship Centre
2. Rev. Dr Loraine McKenzie, of Westworth United Church
3. Pastor Raymond McLean, of First Nations Worship Family Centre 
4. Rev. Rudy Fidel, of the Faith Temple
5. Pastor Bob Gilbert, of Augustine United Church
6. Pastor Darrell Toews, of Bethel Mennonite Church
7. Earl J. Barish, Past Chairman of the Executive Board of B'nai Brith Canada