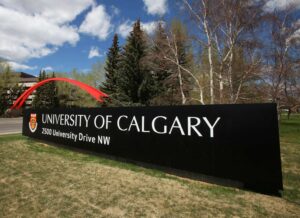 By Aidan Fishman
Campus Advocacy Coordinator
B'nai Brith Canada
Feb. 22, 2017
Students at the University of Calgary arrived on campus last week to find posters promoting Holocaust denial taped to windows and doors.
The posters, dispersed at U of C last Monday, highlighted a recent scholarly debate over the number of non-Jewish victims of Nazi atrocities, but also denied that 6-million Jews were murdered in the Holocaust and directed readers to the work of notorious Holocaust deniers such as Ernst Zundel and Robert Faurisson.
An organization called "Committee for Open Debate on the Holocaust" (CODOH) took credit for the posters. Prominent CODOH figures (page does not exist) include German-Canadian Holocaust deniers Alfred and Monika Schaefer, and suspended University of Lethbridge professor Anthony Hall.
"The University of Calgary should be praised for swiftly removing these hateful and manipulative posters," said Ryan Bellerose, Western Advocacy Coordinator of B'nai Brith Canada's League for Human Rights. "These posters are part of a systematic campaign to spread extremist antisemitism on Canadian campuses – first in Lethbridge, and now in Calgary."
Alfred Schaefer was recently charged with inciting hatred  in Germany after B'nai Brith alerted German officials to his antisemitic activities. Meanwhile, the University of Lethbridge has filed a human rights complaint against Anthony Hall.
In October, anti-Muslim posters were found plastered around the University of Calgary, prompting an outpouring of solidarity from staff and students.