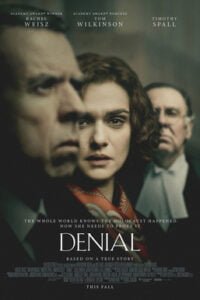 By Tevy Pilc
Staff Writer/Researcher
B'nai Brith Canada
The story of an American Jewish historian's fight against a notorious Holocaust denier is making its way to the big screen.
Denial documents the legal battle of Deborah Lipstadt against Holocaust denier and British historian David Irving, which occurred in the 1990s. The film stars Jewish actress Rachel Weisz as Lipstadt.
Both Weisz and Lipstadt were on hand at the film's premiere Sunday evening at the Toronto International Film Festival.
The screenplay is adapted from Lipstadt's book "History on Trial: My Day in Court With a Holocaust Denier." The film and book tell the story of how Irving sued Lipstadt in England for calling him a "Holocaust denier." Lipstadt was sued for libel and, according to British law, libel puts the legal onus on the defendant, thereby basically requiring Lipstadt to prove the Holocaust took place in order to win the case.
The film was directed by Mark Jackson. British actor Timothy Spall stars as Irving.
Here is the trailer for the film (page does not exist), which is scheduled for release in North America on September 30.