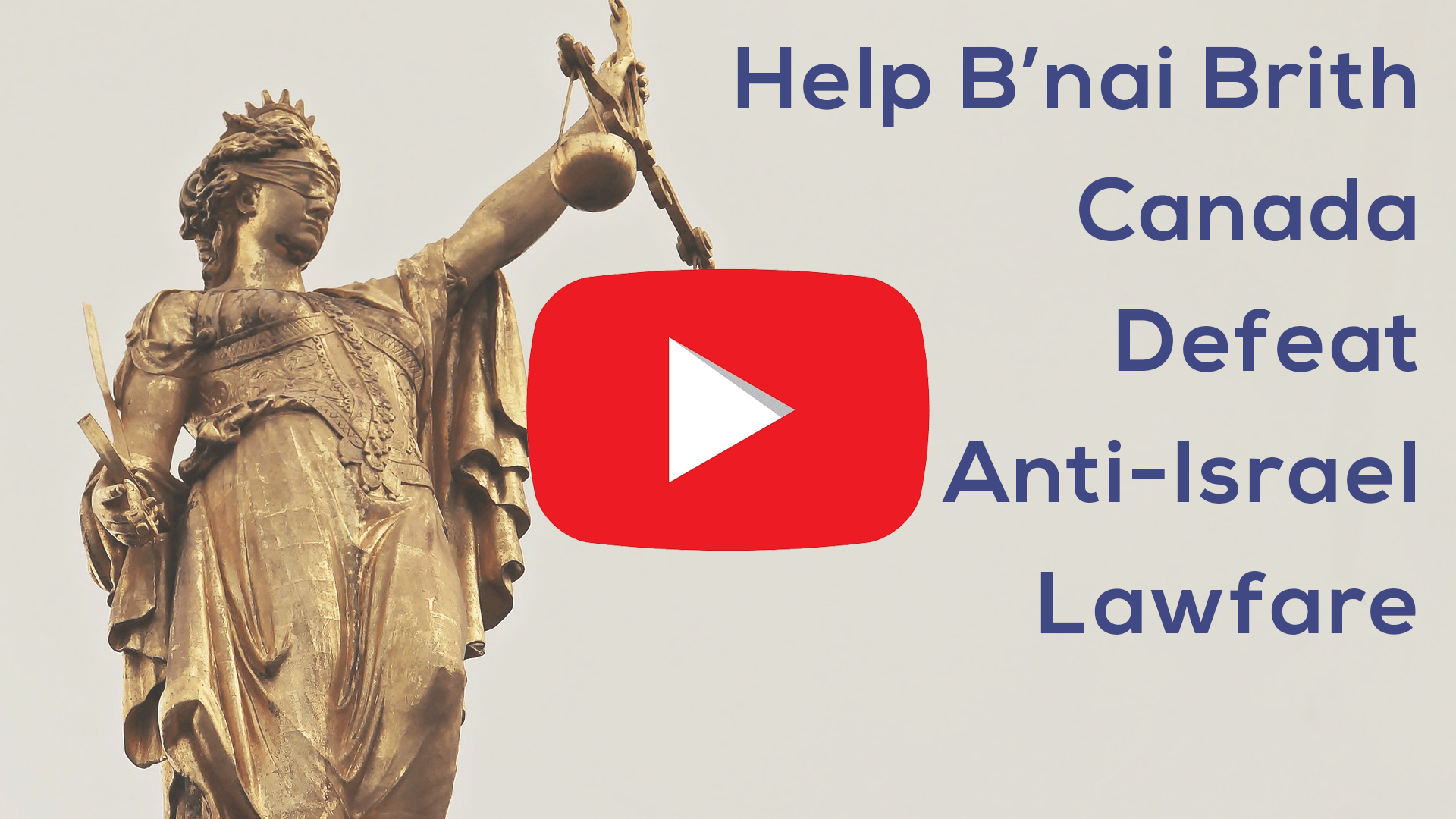 Dear Friends,
Earlier this month, B'nai Brith Canada achieved a key legal victory by knocking out a libel suit by former Green Party justice critic and anti-Israel activist Dimitri Lascaris.
Had the lawsuit succeeded, B'nai Brith and other pro-Israel groups could have been effectively barred from criticizing adversaries of the Jewish State, even as they promote falsehoods about the Middle East's only viable democracy.
But the fight isn't over. In fact, the lawsuit defeated is just one of many similar attacks we have faced in recent months. In order to continue our advocacy efforts on behalf of the community, we must defend ourselves against all challengers.
We believe that we are being targeted precisely because we have been so effective in combating the forces of antisemitism and anti-Zionism in Canada. Having failed to match us in the battle of ideas, our foes are now trying to shut us down via the courts.
Activists are exploiting the legal system to delegitimize Israel. With your help, we can defeat them. #lawfare #IsraelUnderFire

To donate to B'nai Brith Canada, please visit https://t.co/kF1kgjAyQ7 pic.twitter.com/ctpK0AX8b7

— B'nai Brith Canada (@bnaibrithcanada) July 16, 2018
Not satisfied with contributing to climbing rates of antisemitic incidents – as documented by our 2017 Audit of Antisemitic Incidents – our antagonists now have the chutzpah to demand we stay silent while we suffer their abuse.
These recent attempts at "lawfare" – the act of exploiting the legal system to silence one's opponents – are part of a global trend. Jewish groups in Australia, the United Kingdom and beyond have been forced to deal with similar challenges.
We can't do it alone – we need your support. B'nai Brith is an independent organization that receives no financial support from other community groups. Together, we can defeat the lawfare that targets our community.
Only with your assistance can we ensure that those who are breaking the law will face justice so Canada remains a safe and welcoming place to live for Jews and Zionists.
When we fight in court, we're fighting for you. Please consider a donation that will allow us to continue our ground-breaking work across this great country.
Sincerely,
Michael Mostyn
Chief Executive Officer
B'nai Brith Canada