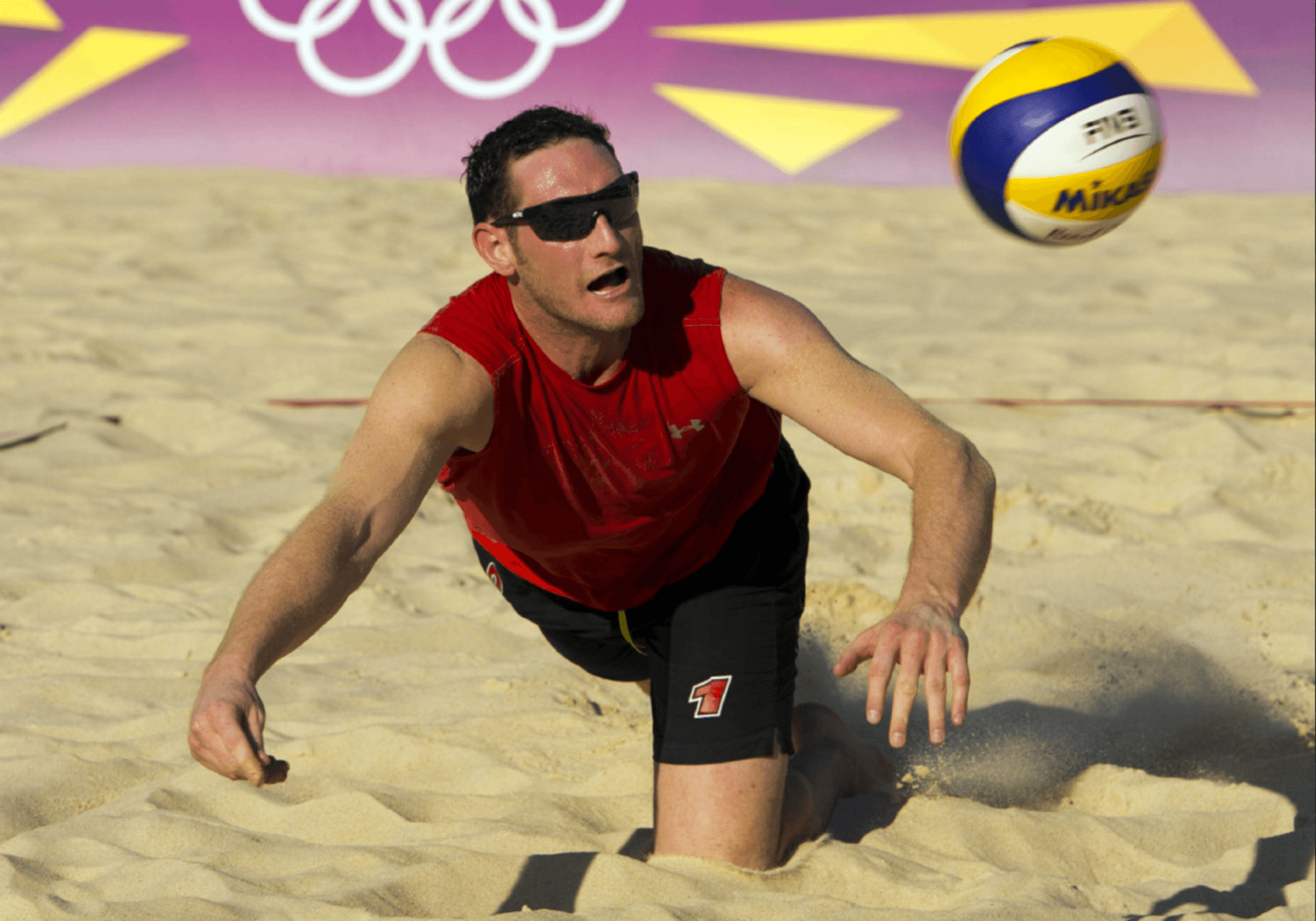 June 23, 2017
By Matthew Silver
Special to B'nai Brith Canada
It's rare enough to find a Jewish beach volleyball player, let alone one that has two Olympic appearances and a Doctor of Chiropractic to his name. But that's just reality for Dr. Josh Binstock, who retired from the professional tour last year to start his full-time career as a chiropractor.
The Richmond Hill, Ont. native is listed at 6'5", with gangly limbs and big meaty hands. These tools have served him in his past life as an Olympian in London and Rio, and they've since been repurposed for his work assessing and treating patients at Mettle Sports Training, where he heads the therapy branch.
But Binstock isn't your average retiree.
Despite stepping away from the full-time pro circuit, the 36-year-old will be representing Canada at the 20th Maccabiah Games this summer in beach volleyball, making time in his busy schedule to train alongside partner Aaron Nusbaum. That combination of talent – Nusbaum trains full-time with the National Team and had a solid career at Queen's University – means Canada will be an early favourite, with the Israelis also expected to form a strong team.
Binstock certainly hasn't lost the competitive fire that became a trademark of his on-court demeanour throughout his career, and made it clear his team is going to the tournament with gold in their crosshairs. But even with their combined experience, they won't take anything for granted.
"I don't really know the teams other that well, but I'll assume they're good. As soon as you get a sense of complacency it can bite you in the butt," said Binstock, who was the flag-bearer for Canada at the 19th Maccabiah Games in 2013.
And while the Maccabiah Games happen on a much smaller scale, apparently the atmosphere isn't all that much different from the Olympics. "You walk into the opening ceremonies (at the Maccabiah Games) and there are thousands of people screaming. To the Israelis, it's just as important as the Olympics," he told B'nai Brith Canada. Binstock added that the biggest difference between the events is media coverage.
It's this type of experience that will make the Canadians so dangerous at the tournament, as Binstock is all too familiar with some of the distractions that go along with being an elite athlete. He said the never-ending travel took a lot out of him – both physically and emotionally – during his career.
"It sounds like it may be luxurious, but it's really draining. You hardly have time to get settled in a city before you're packing a bag and leaving," Binstock said. "It's also tough to have a relationship when you're gone eight months of the year, and I wanted to own a clinic. Those things weren't able to come to fruition while I was gone. So, I decided it's time to retire."
Binstock earned his degree from the Canadian Memorial Chiropractic College back in the mid-aughts while training with the National Team. The Richmond Hill Sports Hall of Fame inductee admits it wasn't easy; "I didn't have much of a life at the time, but at least I was able to try and do it."
His ultimate goal is to own an all-encompassing clinic where he can treat athletes in hockey and volleyball – his two favourite sports. But for now, he's back at it. Preparing for another international tournament, in a far-off country, with blistering heat, nagging journalists, and insufferable jet lag.
When asked why he decided to come out of retirement for such an undertaking, Binstock simply shrugged and laughed, "I guess two Olympics just weren't enough."