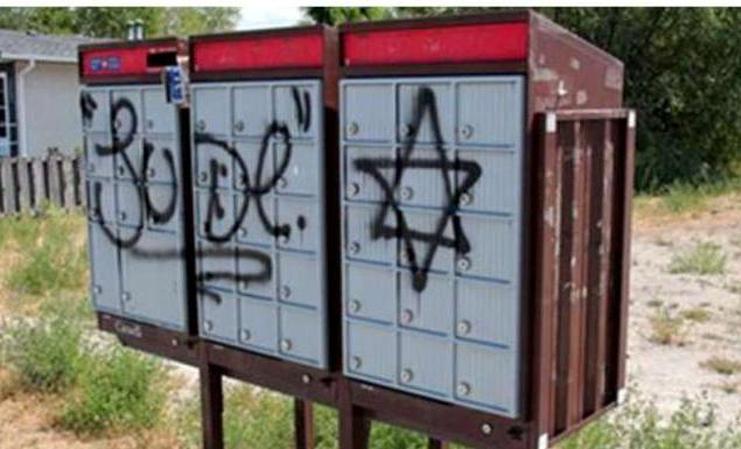 June 13, 2017 
By Tevy Pilc
Staff Writer/Researcher
B'nai Brith Canada
With figures consistent with B'nai Brith Canada's 2015 Audit of Antisemitic Incidents, Statistics Canada revealed this week that police-reported hate crimes rose by five per cent that year, with Jews remaining the most-targeted identifiable group.
The report also showed an increase in incidents targeting Canada's Muslim population.
While both Stats Canada and the Audit's figures showed that hate crimes targeting Jews declined in 2015, findings from B'nai Brith's more recent 2016 Audit of Antisemitic Incidents revealed a record-shattering increase of antisemitic activity in Canada.
"The unacceptable reality of the timelessness of antisemitism in Canada has once again been illustrated by the Statistics Canada 2015 data," says Amanda Hohmann, National Director for B'nai Brith Canada's League for Human Rights. "And as our 2016 Audit shows, we already know that things haven't gotten any better but have actually gotten worse."
Unlike the Stats Canada data, which only factors in police-reported hate crimes, the Audit also takes into consideration "incidents that fall beneath the threshold of being considered a hate crime, but are still clear examples of hate-motivated behaviour." Examples can include hurling antisemitic slurs and slogans (both verbally and in print – including online), which according to Canadian law would not result with a hate-crime charge. B'nai Brith Canada tracks these incidents reported through its 24/7 Ant-Hate Hotline.
In 2015, there were 178 incidents targeting Jews according to the Stats Canada findings. The 2015 Audit disclosed 1,277 incidents, and 2016 yielded 1,727 incidents. Stats Can also reported that hate crimes targeting Muslims rose from 99 incidents in 2014 to 159 incidents in 2015.
"B'nai Brith Canada condemns hatred against any identifiable group and stands with the Canadian Muslim community in fighting this sudden increase in hate crimes," says Hohmann. "However it's important to note that the Jewish community, which makes up only one per cent of the larger Canadian population, faces a disproportionate amount of hatred as victims of hate-crimes, and that the Jewish community remains the most frequently targeted of any religious group. It is important for all minority communities to stand in solidarity with one another, as we fight back against racism and hatred."