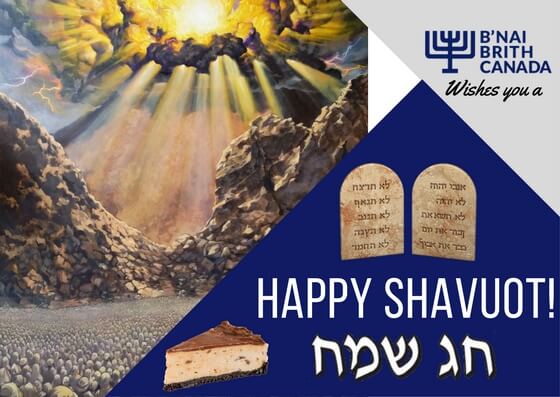 May 29, 2017
Tonight, we usher in the holiday of Shavuot, celebrating the giving of the Torah to the Jewish people on Mount Sinai over 3,000 years ago.
Shavuot represents an important and essential hallmark of Jewish history, marking when the Jewish people truly became a nation. It also affirms that Jews are indigenous to the land of Israel, in which the Torah lays out the eternal connection of the Jewish people to the land.
The significance of this last point cannot be understated.
Today, there is a campaign seeking to delegitimize the State of Israel and eliminate the Jewish people's history and thousands-years-old connection to its land.
No other organization looks to preserve Jewish unity and continuity like B'nai Brith Canada. It is our mandate to expel falsehoods like UNESCO's resolution on "Occupied Palestine," which rejects Israeli sovereignty over Jerusalem, and seeks to eliminate the Jewish people's indisputable ties to holy sites like the Kotel (Western Wall), the Cave of the Patriarchs and Rachel's Tomb.
At B'nai Brith, we fight against this type of antisemitism by providing educational resources that affirm the Jewish people's indigeneity, urging our leaders to oppose adopting such harmful resolutions in Canada and abroad. Our organization advocates for victims of human rights abuses by operating Canada's only 24/7 Anti-Hate Hotline and promoting awareness of Canadian trends in anti-Jewish hatred through our Annual Audit of Antisemitic Incidents, of which our most recent edition was released this past month. We are forever committed to fighting the racism, antisemitism and discrimination that threatens our society
On Shavuot, we celebrate the tradition of the Jewish people inhabiting and exerting sovereignty over its promised land. By making a donation to B'nai Brith Canada, you help us support society's most vulnerable, defend the State of Israel and lead the fight against the forces of hate. We need your help!
B'nai Brith has a strong and principled approach to combat racism and antisemitism. A donation of any sum allows B'nai Brith to continue to spearhead our essential human rights initiatives.
Your kind support will allow us to continue our fight as leaders and champions of human rights for all.
Chag Sameach, and Happy Shavuot!
Sincerely,
Michael Mostyn
Chief Executive officer
B'nai Brith Canada