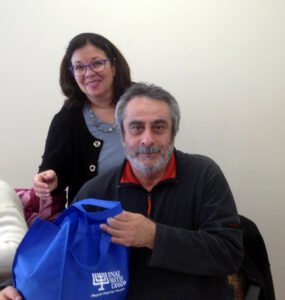 By Tevy Pilc
Staff Writer/Researcher
B'nai Brith Canada
Even though several volunteers had spent many hours packaging and distributing gift bags to the less fortunate, there was still one more place to go to cap off our amazing annual Hanukkah food drive. 
It was the Bagel Club, which takes place at the Prosserman JCC in Toronto, where B'nai Brith staff members came to drop off the last few Hanukkah gift bags on Wednesday Dec. 21. The club is a place where participants get spend some time together, shmooze and of course have a nosh or two!
B'nai Brith Canada thanks the organizers of the club, its participants and the JCC for having us over to deliver the gift bags.