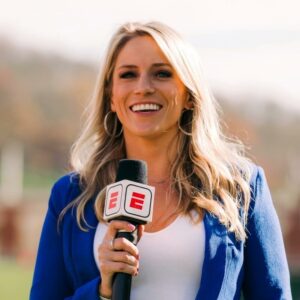 *UPDATE: Austen has since apologized for her remarks.*
By Tevy Pilc
Staff Writer/Researcher
B'nai Brith Canada
A Florida sportscaster has apologized for making racist and anti-Jewish comments on a webcast, which resulted in her firing by Fox Sports Florida.
Emily Austen, 27, covered the Orlando Magic of the NBA and the Tampa Bay Rays of MLB. She appeared on a Facebook Live webcast called the Barstool Rundown on June 9. At around 1:30 in the video of the webcast linked below, Austen begins to insult numerous nationalities and faiths.
After making remarks such as "I didn't even know the Mexicans were that smart," for which she was called "Trump Junior" by one of the co-hosts, the conversation soon focused on Jewish people.
Here are some of the nuggets provided by Austen when sarcastically asked "What about Jewish people, do you think they are stingy?" by her shocked co-hosts:
"Yeah, I went to school in Boca, so I know most of that – the way I used to talk to Jewish people in Boca, they hated – because I was a server, and I just didn't care and they would complain and b**** about everything."
"I gave a guy a beer, and he was complaining to me that there was too much head and I knew that he was a stingy a****** and that he wasn't going to give me a tip, so I go, 'So you're the first guy that's ever complained to me about too much head'. I got fired two weeks later."
"This is how I used to talk to Jewish people"
The following day, Deadspin posted a statement from Fox Sports Florida Senior Vice-President Steve Bello, detailing her release from the company.
"We were made aware that Emily Austen appeared in a social media video unaffiliated with FOX Sports in which she made insensitive and derogatory comments. She was not speaking on behalf of FOX Sports, nor do we condone any of the statements she made in the video. Emily has been advised that her comments were unacceptable, and she is not scheduled to appear on any upcoming FOX Sports Florida or FOX Sports Sun broadcasts."
Austen posted an apology in a tweet two days after her firing.
pic.twitter.com/Fy8BPiiDKk   (page doesn`t exist anymore)
— Emily Austen (@emilyausten_) June 12, 2016(page doesn`t exist anymore)
Tevy Pilc can be emailed at: [email protected]
Editor's Note: Tevy Pilc is B'nai Brith Canada's new writer/researcher. He is part of our new and improving Communications Centre. Anyone with news tips or ideas should feel free to e-mail Tevy, Chief Media Officer Marty York at[email protected]