Family Day, 2016: Food, Fun, Family and B'nai Brith Hockey
By Jack Borenstein
Special Correspondent, B'nai Brith Canada
Family Day this past Monday turned out to be a wonderful occasion for those who played in, and watched, the First Annual B'nai Brith Canada ice hockey tournament at the Canlan Ice Sport facility in North York, Ont. The tourney was well organized and served as a template to relaunch the B'nai Brith Ice Hockey League, as soon as next season.
Nine under-age-35 (composed of two divisions) and four over-age-35 teams competed in a series of three round-robin games, with the best-record teams advancing to the title games. 'Wise Guys' and 'Adam' emerged as respective U-35 and 35-O champions and each team received a $300 gift card for use at WEGZ Stadium Bar in Vaughan. Ont. Raffle prizes consisted of Toronto Maple Leafs jerseys, toques, fleeced jackets, gloves and a toaster oven.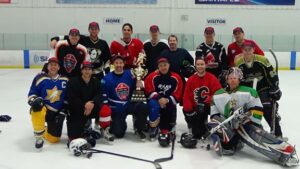 Among the tournament's participants was Michael Mostyn, Chief Executive Officer of B'nai Brith Canada. At Canlan Monday, he was simply another hockey player skating up and down the wing with 'Wise Guys.'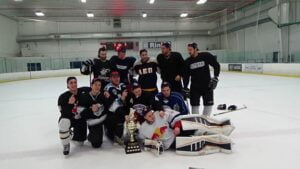 Mostyn revealed that his involvement with B'nai Brith actually began when he played in an organization hockey league years ago . "We're now invigorating B'nai Brith by bringing young leadership to our organization," Mostyn said. "We had lots of interest in preparation of this tournament over the past few months, and it is our intent to use this event to relaunch the B'nai Brith Hockey League later in 2016."
The amicable CEO credited Justin Bregman, B'nai Brith's Sports Director, for doing excellent work in organizing the hockey tournament. He also mentioned that the two-hour, free-family skate after the morning's games "was very successful and enjoyable for players, their families and friends. Family Day holiday was a perfect setting for this wonderful B'nai Brith hockey event."
A teammate of Mostyn at the tourney was Rabbi Stephen Wise, who has been with Sharrei Beth El congregation in Oakville, Ont., for eight years. "Michael and I knew each other as kids and played together in ice hockey," Rabbi Wise said. "I've played hockey while earning my Master's Degree in Boston, attending rabbinical school in Israel and living a couple of years in New York."
Rabbi Wise said he usually plays defence, but was playing forward for 'The Wise Guys'. "Michael, myself and a couple other teammates were counsellors many years ago at Camp Shalom (in Gravenhurst, Ontario)," he said. "When he asked me about playing in the tournament, I quickly accepted."
One of the former camp counsellors with 'The Wise Guys' was Dr. Allan Grill, who has a family health practice in Markham, Ont. "I have a lot of buddies on the team, and I came out to play today for a good cause, being B'nai Brith."
The Wise Guys (3-0 in round robin play) won their playoff final 8-3, highlighted by Mostyn's 32-foot-shot for a goal from the right wing, after which he celebrated in traditional stick salute style.
Team Adam (3-0) faced Team Friendship (2-1) in the U-35 final. In a fast-paced game, Adam led 1-0 after the first period and 2-0 after the second. Goalies Jake Danson of Adam and Jared Saks of Friendship were sharp, especially in the second period, when both teams played shorthanded at various times, forcing the goalkeepers to make solid saves.
Saks continued making some highlight sliding saves to give his team a chance for a third period comeback. It was not to be, though, as Danson shut the door with clutch saves and his teammates netted three goals in the closing minutes for the 5-0 win, which was not indicative of the game's closeness throughout.
The game was watched by former Avenue Road Hockey Association coach Joey Friedlich and TanenbaumCHAT Wallenberg boys assistant hockey coach Harley Gurza, both of whom indicated most of the players on both teams grew up playing with or against each other in various leagues.
Mostyn summed up the tournament day as "a lot of fun. I hope this will lead to new interest in the B'nai Brith organization, and lead to Jewish continuity in our community."
Jack Borenstein can be emailed at [email protected]