The Toronto Sun
Nov 9, 2023
WARMINGTON: Children kidnapped by Hamas appear on giant milk carton | Toronto Sun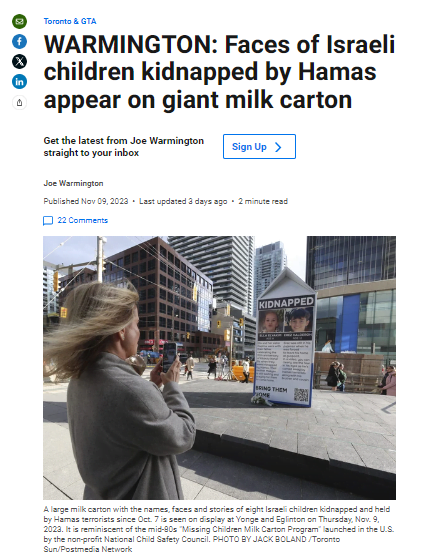 When you are dealing with missing children that haters are trying to keep the public from seeing, sometimes you have to think outside the box to get the message out.
You would have to be a special kind of cruel to systematically move around Toronto and take down the missing posters of dozens of children and adults who were kidnapped by Hamas on Oct. 7.
Maybe it's the shame, guilt or embarrassment of facing the reality of just who these anti-Israel protesters are supporting that draws them to remove all reminders of what the terrorists did and what their backers won't acknowledge.
Maybe it's removing the evidence of Hamas's evil war crimes.
Or perhaps it's just plain anti-Semitism.
Whatever it is, as soon as they go up, someone comes along and takes down the posters of Israeli hostages being held in Gaza. Sometimes there has been a fight about it and criminal charges laid.
What it does is keeps people from seeing the faces of the innocent victims.
But now it's the mysterious overnight appearance of a giant, old-fashioned milk carton at Yonge St. and Eglinton Ave. that has grabbed everybody's attention.
Just like that, the hostages, many of them children, were back in public view for all to see once again. Brilliant. It's one heck of an innovative and effective display at a time when something like this was needed.
"Campaigns like this remind us what Israel is fighting for," B'nai Brith CEO Michael Mostyn said.
They are fighting for survival.
But they are also fighting to get the 240 hostages out of Hamas' hands and back over to their loved ones in Israel and other parts of the world.
"Hundreds of innocent men, women, and children are languishing as hostages in Gaza, their fate unknown," Mostyn said. "Sadly, the world seems to have forgotten about them."
Certainly, the protesters have. As have some political leaders.
But now with many of their faces on a literal milk carton, the harsh truth about what these evil terrorists have done will shine a light on the atrocities and lead to bringing these innocent people back home.
Until, that is, the people not wanting this message out find a way to cancel the milk carton.