The Epoch Times
Published Oct 16, 2023
https://www.theepochtimes.com/world/explainer-what-the-canadian-government-funds-in-hamas-ruled-gaza-5510880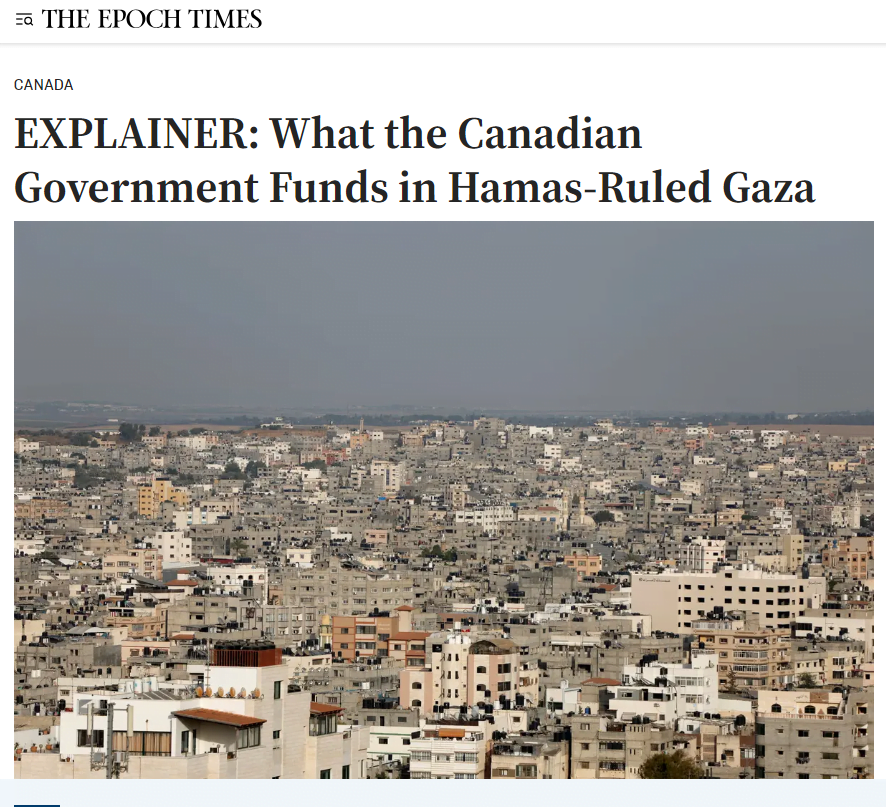 Ottawa has announced additional humanitarian assistance to Palestinians in the wake of the Oct. 7 Hamas attack against Israel and subsequent retaliation, while addressing fears the aid could be diverted to fund terrorist activities.
Hamas has been de facto ruling the Gaza Strip since taking over in 2007.
Ottawa provides approximately $55 million annually to "help meet the development and humanitarian needs of vulnerable Palestinians in the West Bank and Gaza," says Global Affairs Canada (GAC). The funding is split between $20 million for development aid and $35 million for humanitarian assistance.
The West Bank is ruled by the political party Fatah, a Hamas rival, and is not connected by land to the Gaza Strip.
The development assistance envelope goes toward the funding of different organizations, GAC told The Epoch Times, such as Canadian Lutheran World Relief, Catholic Relief Services, Cowater International, Mercy Corps, UN Women, the UN's Food and Agriculture Organization (FAO), and Right to Play.
GAC says the organizations' programs support in various ways, including "addressing sexual and gender-based violence against women and girls."
Other programs also support small farmers and herders with equipment, tools, and training.
The funding for humanitarian assistance goes toward basic education, health, and social services for Palestinian refugees via organizations like the United Nations Relief and Works Agency (UNRWA), the World Food Programme (WFP), the United Nations Population Fund (UNFPA), and the United Nations Children's Fund (UNICEF).
Ottawa also 
announced
 $10 million in humanitarian assistance on Oct. 12 to address urgent needs caused by the Hamas attack and Israel's retaliation in Gaza. A portion of the funds will go to the Canadian Red Cross, whereas other partners are to be identified later, said GAC.
International Development Minister Ahmed Hussen's office told CBC News that efforts are being made to prevent the aid from being diverted by Hamas.
UNRWA
Some federal funding for Palestinians has come under criticism in recent years.
Ottawa 
announced
 in June it would deliver $100 million to UNRWA over the next four years, after providing $90 million from 2019 to 2023.
The federal government previously acknowledged that UNRWA produced anti-Israel educational materials, which goes against UN guidelines.
In 2021, then-international development minister Karina Gould 
said
 she was "deeply concerned" that educational materials used the previous year to support Palestinian refugee children during pandemic-related school closures in the West Bank and Gaza "contained references that violated UN values of human rights, tolerance, neutrality and non-discrimination."
Ms. Gould said that following criticism, UNRWA had taken corrective actions and that she had instructed Canadian officials to investigate what happened. GAC was contacted on this matter and said it "remains closely engaged with UNRWA on neutrality and other issues."
"UNRWA undertook a full review of the allegations and found instances where UNRWA's logo had been affixed to unauthorised learning materials posted on multiple platforms," GAC spokesperson Geneviève Tremblay told The Epoch Times. She added that the agency sent cease and desist letters to the involved parties and developed preventive steps to prevent such occurrences in the future.
Jewish human rights organization B'nai Brith Canada released a 
report
 in September saying the situation has not been resolved.
It says that "textbooks, exams, problem sets, and teachers' guides used by Palestinian schools, including those operated by UNRWA, contain content that glorifies terrorism, normalizes violence against Israeli civilians, promotes a one-state solution, erases the existing Israeli state, denies Jewish indigeneity to the land of Israel and uses classic antisemitic tropes to unduly villainize Jewish Israelis."
The Epoch Times reached out to UNRWA but didn't immediately hear back.
B'nai Brith research manager Rich Robertson told The Epoch Times his organization wants to see federal funding for UNRWA cease immediately and for the government to conduct a forensic audit to see what part of the funding is going towards the textbooks.
"The reason why we find the textbooks so problematic is that in order for there to be peace in the Middle East, a two-state solution, both the next generation of Israelis and Palestinians need to be taught to respect each other," said Mr. Robertson.
According to UNRWA figures, Canada provided the agency with over US$23 million in 2022. This amount is small in comparison to funding provided by the U.S. (over US$343 million), Germany (over US$202 million), the European Union (over US$114 million), and Sweden (over US$60 million).
'Full Review'
In reacting to Ottawa's latest funding announcement, Conservative Party Leader Pierre Poilievre said more oversight is needed.
"One of my first actions as prime minister will be to carry out a full review of every dollar we send out of this country to make sure that we stop giving money to terrorists, dictators, and useless Marxist international bureaucracies," he said on Oct. 13 when asked by reporters whether he would end funding for UNRWA if his party formed government.
UNRWA schools have previously been used by Palestinian armed groups 
to
store weapons
, which the organization has condemned.
Those groups, which include Hamas and Palestinian Islamic Jihad (PIJ), are considered terrorist organizations by the Canadian government. Providing support to these entities is punishable under the Criminal Code.
Hamas is funded by multiple sources, including the Islamic Republic of Iran, charities, business investments, and donations, some of which are made via cryptocurrency.
Its last bout with Israel was in May 2021, when Hamas and PIJ launched over 4,000 rockets, killing over a dozen Israelis. At least 260 people were killed in Gaza during 11 days of fighting including some by stray Palestinian militant rockets.
The most recent attack also included thousands of rockets but was more sophisticated with a breach of the security fence and massacres of civilians conducted by Hamas commandos.
Israel has responded by imposing a full blockade on Gaza, bombarding Hamas targets in the enclave, and preparing for a ground invasion.
Reuters contributed to this report.
Editor's note: The article was updated with a response from GAC on UNRWA.