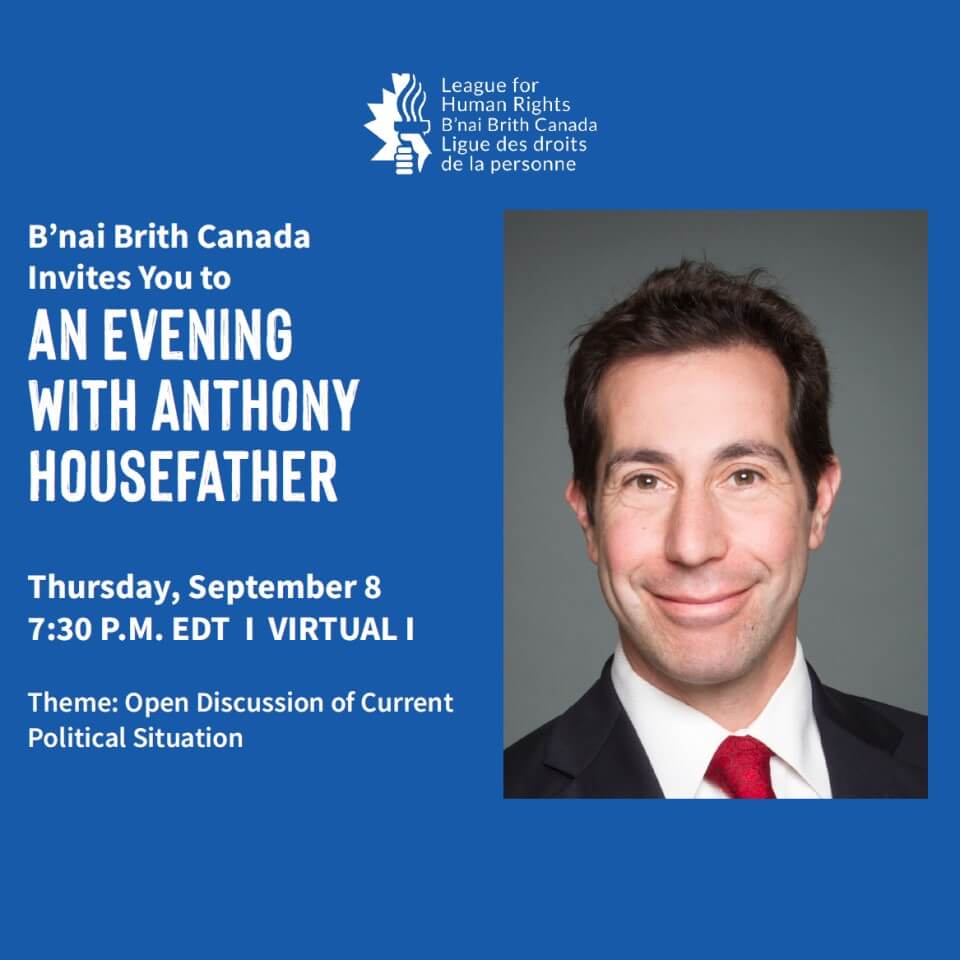 An Evening with Anthony Housefather / à une soirée avec Anthony Housefather
IMPORTANT NOTICE
In light of the sudden passing today of Queen Elizabeth II, tonight's Town Hall ZOOM call with Member of Parliament Anthony Housefather is cancelled and will be rescheduled.
B'nai Brith thanks all those who have contacted us.
Please stand by as we find an alternate date that works for Mr. Housefather, for us and for our audience.
B'nai Brith Canada Invites You to an Evening with Anthony Housefather
Thursday, September 8 | 7:30 P.M. EDT I VIRTUAL
Theme: Open Discussion of Current Political Situation
Host: Marvin Rotrand, National Director, League for Human Rights, B'nai Brith Canada
At the request of our friends and supporters, B'nai Brith has arranged a special evening with Mount Royal Member of Parliament Anthony Housefather, a well known voice confronting hate and intolerance and promoting cross cultural communications.
---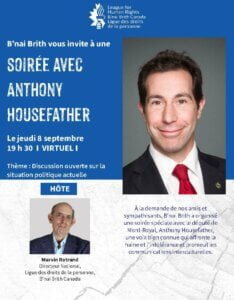 B'nai Brith vous invite à une soirée avec Anthony Housefather
Le jeudi 8 septembre 19 h 30 I VIRTUEL I
Thème : Discussion ouverte sur la situation politique actuelle
HÔTE: Marvin Rotrand, Directeur National, Ligue des droits de la personne, B'nai Brith Canada
À la demande de nos amis et sympathisants, B'nai Brith a organisé une soirée spéciale avec le député de Mont-Royal, Anthony Housefather, une voix bien connue qui affronte la haine et l'intolérance et promeut les communications interculturelles.