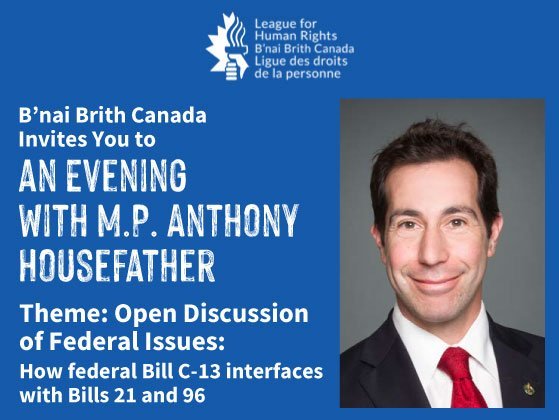 An Evening with Anthony Housefather / Une soirée avec le député Anthony Housefather
B'nai Brith Canada Invites You to an Evening with Anthony Housefather
Wednesday, March 1 | 7:00 P.M. EST I VIRTUAL
Theme: Open Discussion of Federal Issues
Come to discuss Bill 21, Bill 96 and other important federal issues
Host: Marvin Rotrand, National Director, League for Human Rights, B'nai Brith Canada
At the request of our friends and supporters, B'nai Brith has arranged a special evening with Mount Royal Member of Parliament Anthony Housefather, a well known voice confronting hate and intolerance and promoting cross cultural communications.
---
B'nai Brith Canada vous invite à
Une soirée avec le député Anthony Housefather
Thème :  Discussion ouverte sur les questions fédérales :
Comment le projet de loi fédéral C-13 interagit avec les projets de lois 21 et 96.
Organisateur
Marvin Rotrand
Directeur national Ligue des droits de la personne B'nai Brith Canada
À la demande de nos amis et sympathisants, B'nai Brith a organisé une soirée spéciale avec le député de Mont-Royal, Anthony Housefather, une voix bien connue qui affronte la haine et l'intolérance et qui promeut les communications interculturelles.
Le mercredi 1er mars 2023
19 h HAE / Virtuel