PETITION: END AL QUDS DAY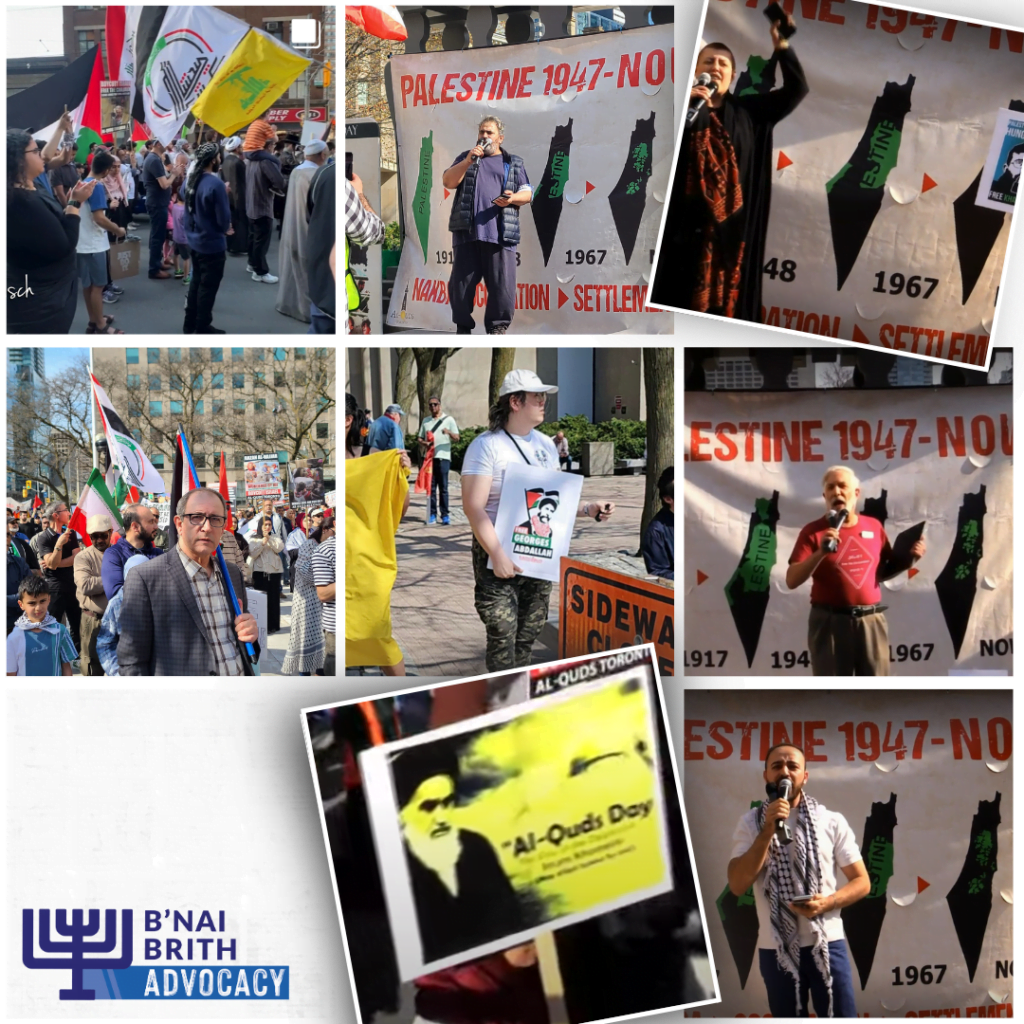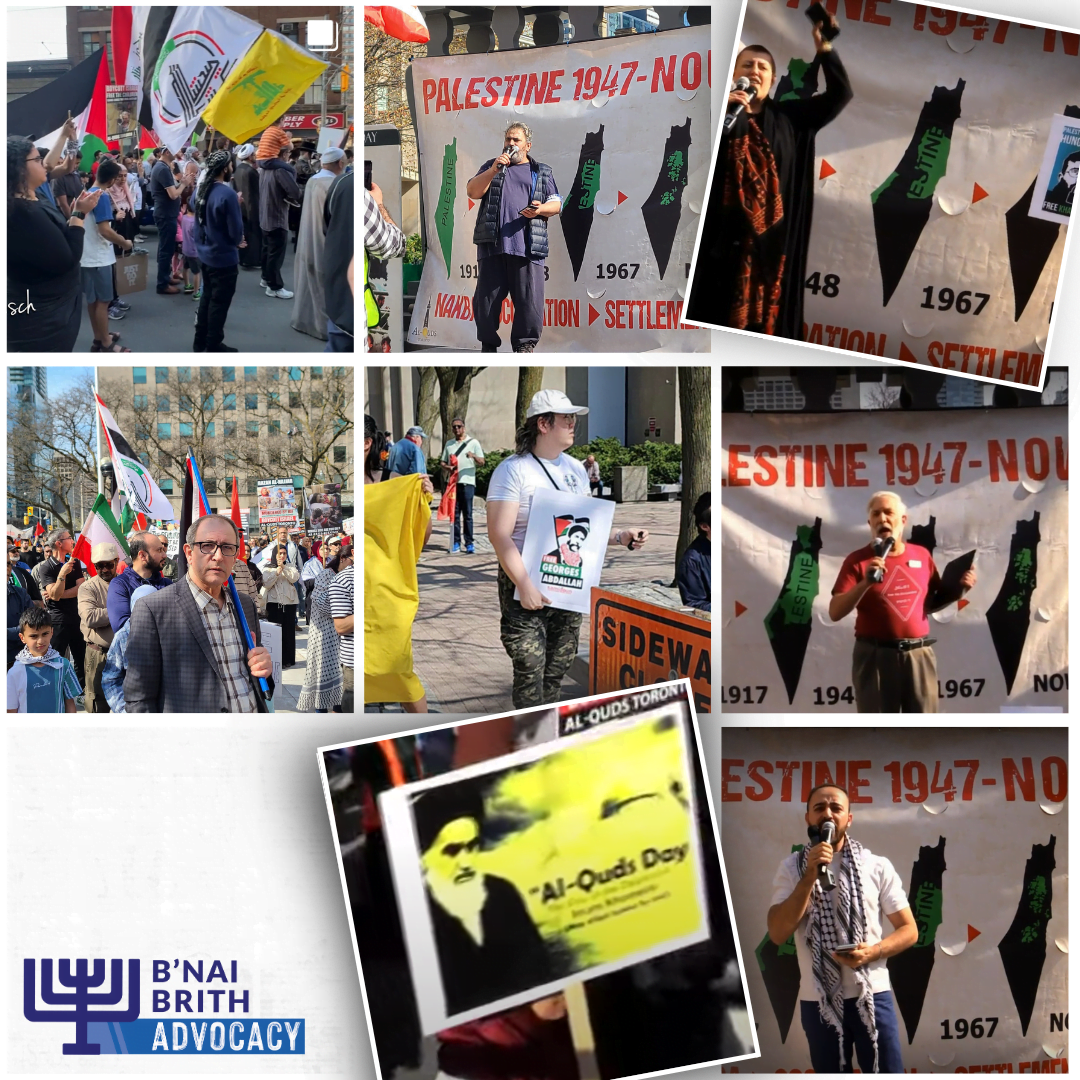 May 2023
Dear Deputy Mayor Jennifer McKelvie, 
We are writing to you to demand the City of Toronto bring an end to the annual hatefest rally known as Al Quds Day. 
At this year's Toronto rally on April 14, 2023, we witnessed with horror antisemitic signs, the open display of the flag of a designated terrorist group, chants containing genocidal connotations, speakers announcing their solidarity with convicted terrorists, the presence of those who have engaged in Holocaust distortion, and individuals associated with listed terrorist entities, including the Popular Front for the Liberation of Palestine (PFLP).
Promoting and eliciting solidarity and support for terrorists and terrorist groups that regularly attack and kills Jews, during a time of rising antisemitism, is morally repugnant and goes against Toronto's Human Rights and Anti-Harassment/Discrimination Policy (HRAP). The annual occurrence of this event, that flagrantly runs afoul of HRAP without repercussion from civic authorities, is unacceptable. When it adopted EX 5.3 Hate Sponsored Rallies, in 2019, Toronto City Council took a stand to ensure that vile hate would never be tolerated on the streets of our country's most prominent city. This was never acted upon by the City with respect to Al Quds Day.
Notable speakers and participants at this gathering included Nazih Khatatba, publisher of the Holocaust-distorting Al-Meshwar publication, Khaled Barakat, who has publicly admitted his connection to the PFLP, and Charlotte Kates, the international coordinator of Samidoun, an organization accused by many of being a front for the PFLP. 
Al Quds Day rallies have become synonymous wherever they are held with instigating violence, creating chaos, and fostering hate.
The city of Berlin, Germany, recently took action and banned this Iranian-regime-affiliated gathering, describing it as "one of the most disgusting antisemitic events." The event became an annual global tradition at the behest of Iran's former ruler the Ayatollah Khomeini. 
We ask Toronto to follow Berlin's lead and finally ban this annual hatefest to ensure that the citizens of Toronto do not need to suffer through another Al Quds Day affair. 
These rallies create a climate that threatens the safety of Toronto Residents. They are a serious threat to public safety that can no longer be ignored. 
Torontonians deserve to live in a city without exposure to events that demonize and radicalize. The Al Quds Day rally has no place in a city that values diversity and multiculturalism. 
We the undersigned demand the immediate banning of Al Quds Day hate rally in the City of Toronto. 
Sincerely,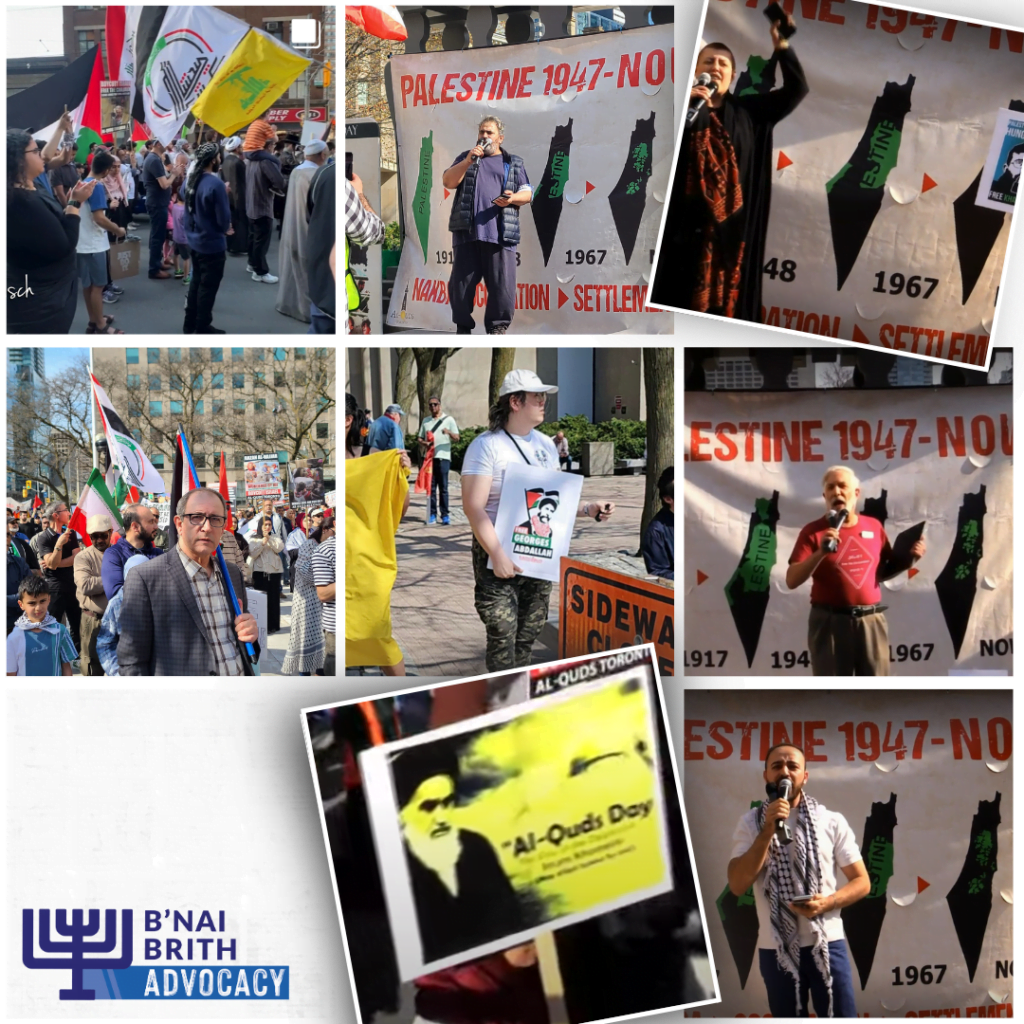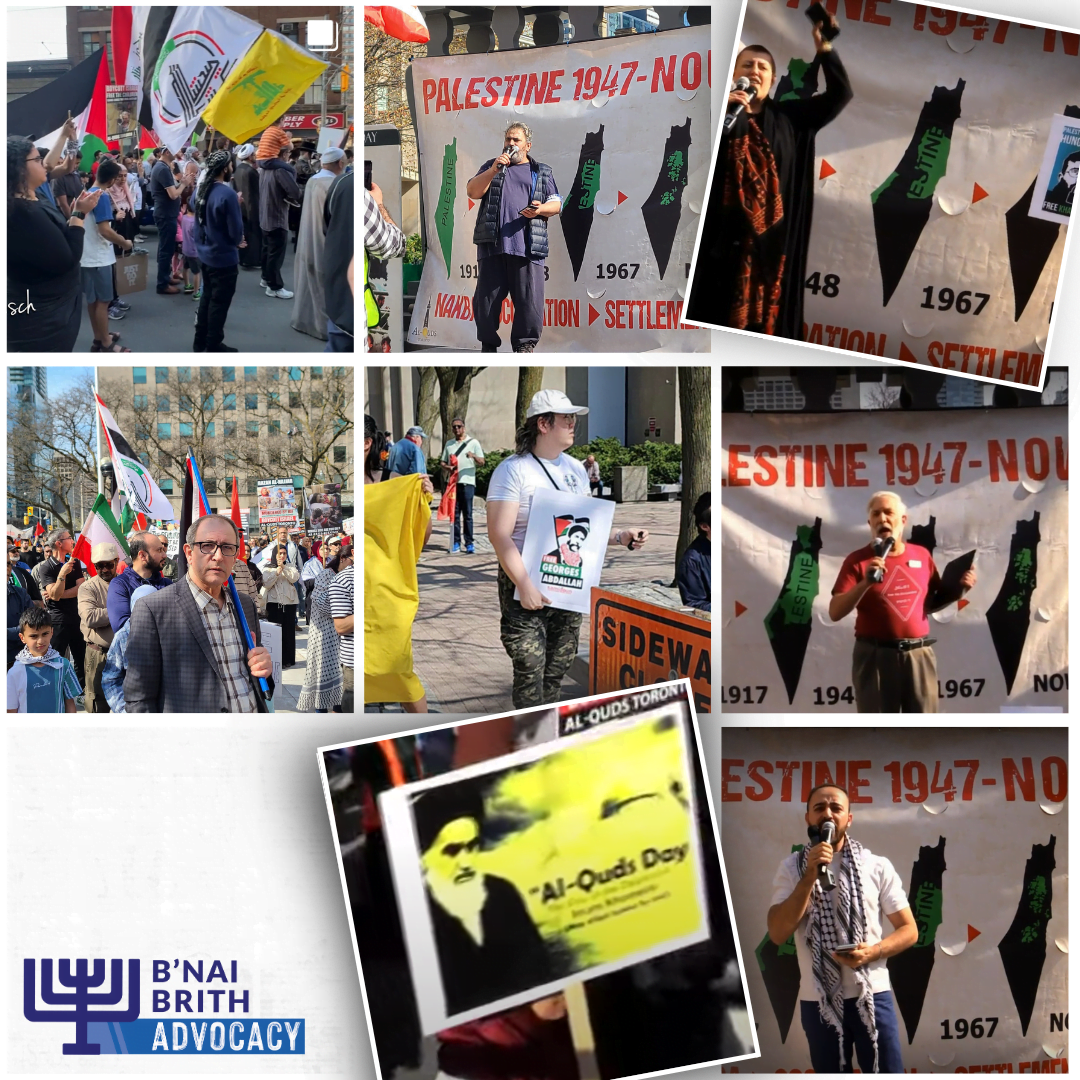 mai 2023
Madame l'adjointe au maire Jennifer McKelvie,
Nous vous écrivons pour demander à la ville de Toronto de mettre fin à la manifestation annuelle de haine connue sous le nom de Journée Al Quds.
Lors du rassemblement de cette année à Toronto, le 14 avril 2023, nous avons été les témoins horrifiés de signes antisémites, de l'affichage du drapeau d'un groupe terroriste désigné, de chants à connotation génocidaire, d'orateurs annonçant leur solidarité avec des terroristes condamnés, de la présence de personnes ayant déformé l'Holocauste et d'individus associés à des entités terroristes répertoriées, notamment le Front populaire de libération de la Palestine (FPLP).
Promouvoir et susciter la solidarité et le soutien de terroristes et de groupes terroristes qui attaquent et tuent régulièrement des Juifs, à une époque de montée de l'antisémitisme, est moralement répugnant et va à l'encontre de la politique de Toronto en matière de droits de la personne et de lutte contre le harcèlement et la discrimination (HRAP). La tenue annuelle de cet événement, qui enfreint de manière flagrante la politique des droits de la personne et de lutte contre le harcèlement et la discrimination sans que les autorités civiles ne réagissent, est inacceptable. En adoptant le règlement EX 5.3 sur les rassemblements motivés par la haine en 2019, le conseil municipal de Toronto a pris position pour garantir que la haine ignoble ne serait jamais tolérée dans les rues de la ville la plus importante de notre pays. La ville n'a jamais donné suite à cette décision en ce qui concerne la Journée d'Al Quds.
Parmi les orateurs et participants notables à ce rassemblement figuraient Nazih Khatatba, éditeur de la publication dénaturant l'Holocauste Al-Meshwar, Khaled Barakat, qui a publiquement admis ses liens avec le FPLP, et Charlotte Kates, coordinatrice internationale de Samidoun, une organisation accusée par beaucoup d'être une façade pour le FPLP.
Les rassemblements de la journée Al Quds sont devenus synonymes, partout où ils ont lieu, d'incitation à la violence, de création de chaos et d'incitation à la haine.
La ville de Berlin, en Allemagne, a récemment pris des mesures pour interdire ce rassemblement affilié au régime iranien, le décrivant comme « l'un des événements antisémites les plus dégoûtants ». Cet événement est devenu une tradition mondiale annuelle à la demande de l'ancien dirigeant iranien, l'ayatollah Khomeini.
Nous demandons à Toronto de suivre l'exemple de Berlin et d'interdire enfin cette fête de la haine annuelle afin que les citoyens de Toronto n'aient pas à souffrir d'une autre journée Al Quds.
Ces rassemblements créent un climat qui menace la sécurité des résidents de Toronto. Ils constituent une menace sérieuse pour la sécurité publique qui ne peut plus être ignorée.
Les Torontois méritent de vivre dans une ville qui n'est pas exposée à des événements qui diabolisent et radicalisent. Le rassemblement de la journée Al Quds n'a pas sa place dans une ville qui valorise la diversité et le multiculturalisme.
Nous, soussignés, exigeons l'interdiction immédiate du rassemblement haineux de la Journée Al Quds dans la ville de Toronto.
Sincèrement,