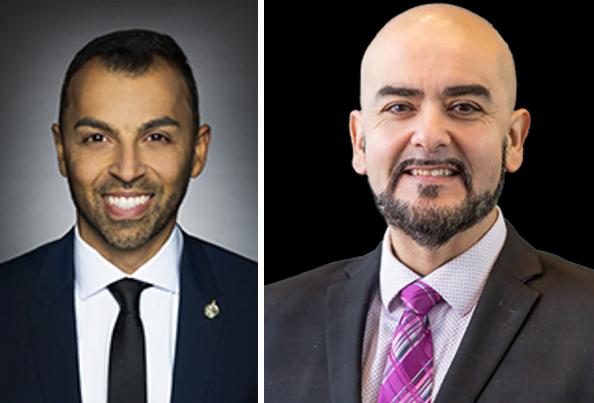 May 7, 2021
EDMONTON – An Ontario MP and an Alberta MLA will not be participating in the 2021 iteration of the notorious al-Quds Day hatefest, following successful advocacy by B'nai Brith Canada.
Marwan Tabbara, Independent Member of Parliament for Kitchener South-Hespeler, and Rod Loyola, NDP Member of the Legislative Assembly for Edmonton-Ellerslie, had been listed among the speakers for the online Canadian al-Quds Day event, to take place on May 8.
Shortly after B'nai Brith reached out to Loyola and Alberta NDP Leader Rachel Notley, Loyola relayed his withdrawal from the event. Following a direct conversation with B'nai Brith, Tabbara backed out as well. B'nai Brith explained that al-Quds Day calls for the elimination of Israel, rather than a two-state solution, and has been a continuous source of antisemitism since it arrived in Canada.
At last year's online al-Quds Day event, a speaker described all Israelis as "thieves and murderers." In 2018, a featured speaker said he was praying for the "eradication" of Israelis. In 2013 and 2016, speakers called for Israelis to be shot, and in 2014, a Muslim cleric called for "Yahoodi" (Arabic for "Jewish") to be "dismantled". The 2018 speaker, Shafiq Hudda, was also set to headline the 2021 event.
Tabbara was Chair of the Parliamentary Canada-Palestine Friendship Group until June of last year, when he withdrew from the Liberal caucus in the House of Commons. Tabbara also told B'nai Brith that he had never committed to participating in the al-Quds Day event and that organizers used his name without his knowledge.
"No Canadian elected official should lend their name to promote this blatantly antisemitic event," said Michael Mostyn, Chief Executive Officer of B'nai Brith Canada. "We thank MP Tabbara and MLA Loyola for listening to the concerns of the Jewish community and ultimately doing the right thing.
"B'nai Brith will continue to speak out whenever and wherever the forces of Jew-hatred attempt to exploit public figures in a bid to promote their toxic message."
The May 8 event is being promoted on social media by the so-called "Canadian Defenders for Human Rights," or CD4HR. Firas al-Najim, the group's manager, filmed himself harassing Jewish seniors in a Toronto park in 2019 and led a failed campaign to boycott various Jewish-owned businesses in the Greater Toronto Area.