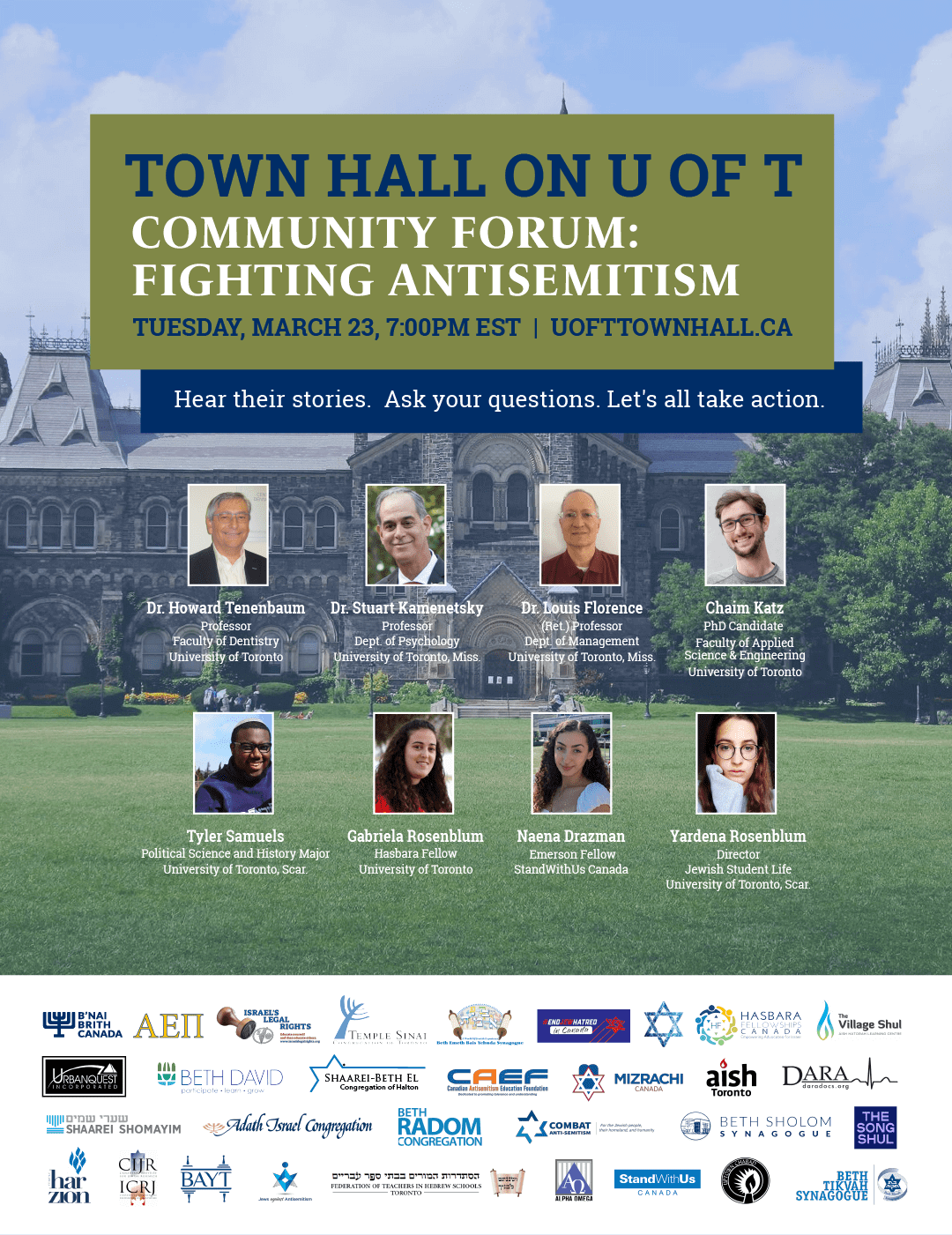 VISIT UOFTTOWNHALL.CA ON TUESDAY EVENING TO WATCH THIS EVENT
Tuesday evening will be a night our community won't soon forget.
In an unprecedented manner, Jewish organizations and synagogues from all backgrounds and walks of community life will come together to listen to a story that has caused a lot of grief, but has largely gone untold.
The University of Toronto is a leading Canadian institution with a world-renowned reputation for academic excellence. It is truly an outstanding, first-rate university that has contributed so much to society and the betterment of humankind over the years through its scholarship and research. The Jewish community has proudly played its role in contributing to the success of U of T.
But for years, antisemitism has been allowed to fester at the University of Toronto – creating a silent but unmistakable pattern of inaction, deflection and dismissal of the concerns of Jewish students, faculty and staff.
No one should be forced to feel unsafe or unwelcome in the place where they study or work – yet, time and time again, the double standards applied to Jews have not been addressed or corrected.
After years of standing alone and getting nowhere in their efforts for justice and change, the Jewish community at U of T needs the broader Jewish community to support them and help tackle this problem once and for all.
Please invite everyone you know to participate on Tuesday evening at 7:00 PM EST for an unprecedented virtual town hall event to discuss antisemitism at the University of Toronto and what we can do to improve the situation.
There is no registration necessary to view or participate in the event. Simply go to uofttownhall.ca and the live video of the event will appear automatically when the time comes. All viewers from anywhere in the world are welcome.
This event will feature eight panelists, hailing from all three of U of T's campuses. Each speaker has a unique and personal story to share, as well as a unique perspective on the situation at U of T and what needs to be done. As of right now, the event is being co-sponsored by more than 30 Jewish communal organizations – including several of the GTA's largest and most prominent Orthodox, Conservative and Reform synagogues.
Any questions or topics of discussion can be submitted by emailing them to [email protected] – and the earlier you send your questions in, the higher the likelihood it will get asked. Due to the large volume of questions we expect to receive during the event itself, we encourage everyone to submit questions as far in advance as possible.
Enough is enough. It is time for our entire community to come together as one united voice and demand better from one of our country's largest and most prestigious institutions of higher learning.
Our collective, unified voice must be heard loud and clear – inaction on antisemitism is unacceptable.
If your synagogue or organization has not already signed up as a community partner for the event, please email [email protected] to let us know you'd like to join.