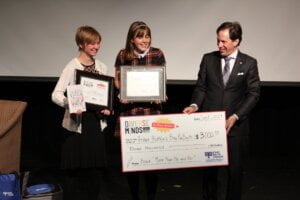 Anna Botkin and Bria MacBeath win the contest with their book, More than Me and You.
This year's Diverse Minds writing contest received many excellent children's books on diversity and inclusion. The judges faced the difficult task of choosing 10 finalists from the many original, attractive, and educational submissions. On Sept. 14, the finalists were celebrated in a festive Awards Ceremony in the Berney Theatre.
Thanks to our national sponsors, Earl & Cheryl Barish, and our regional sponsors, The Asper Foundation and the Jewish Foundation of Manitoba, many teenagers were empowered to write and illustrate stories that foster inclusion. They became true role models for each other and understand that their impact reaches beyond their classrooms.
The distinguished panel of judges for this year consisted of Ace Burpee (103.1 Virgin Radio Host), Mayor Brian Bowman, Cheryl Barish (B'nai Brith member and Community Youth Advocate and Sponsor), Cliff Cullen (Minister of Education in Manitoba), Danny Smyth (Chief of Winnipeg Police), Gail Asper (President, The Asper Foundation), Isha Khan (President and CEO, Canadian Museum for Human Rights), Jordan Farber (Community Leader), Karen Menkis (Advocate for Inclusion and Diversity Projects), Michael Mostyn (CEO B'nai Brith Canada), Paul Samyn (Editor Winnipeg Free Press), Tannis Richardson (C.M., B.Sc. (H.Ec.), LL.D, Volunteer and Philanthropist), Wendy Erlanger (Educator and Head of Operations, MB, SK and The North, Second Harvest).