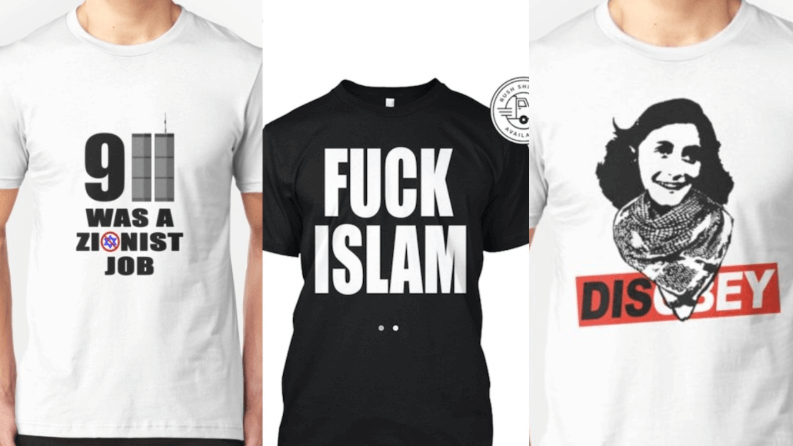 Sept. 4, 2018
By Amanda Attar
Communications Associate
B'nai Brith Canada
TORONTO – A leading U.S. T-shirt distributor has pulled the plug on a selection of antisemitic, anti-Muslim and misogynistic clothing articles following demands to remove them from B'nai Brith Canada.
Last week, B'nai Brith notified San Francisco-based company Teespring that several items available for sale on its website were promoting racist and offensive messages, including shirts that read, "F*ck Islam," "9/11 Was a Zionist Job," "ISIS = Israeli Secret Intelligence Service," "F*ck Feminists" (which featured a description that read, "Hate Feminists? We do too") and "ISIS because BADASS isn't a name."
Another shirt available on the site featured Anne Frank wearing a Palestinian keffiyeh and the word "Disobey."
B'nai Brith cited Teespring's own Acceptable Use Policy, which forbids hate speech, harassment and misleading claims, in its complaint. Within a matter of days, all of the items were removed from the company's website.
"This is a victory for any group that has been oppressed, marginalized or victimized," said Michael Mostyn, Chief Executive Officer of B'nai Brith Canada. "As a human rights organization, our mandate is to stamp out discrimination wherever we see it. While we are surprised that Teespring would offer such offensive products worldwide, we appreciate its quick response in removing them."
He added: "We hope this encourages Teespring and other clothing distributors to carefully examine the items they endorse going forward in order to prevent other racist items from being developed and/or sold."
This is not the first time Teespring has been under fire for its clothing. Last year, it faced boycott calls after selling shirts that read "Black Women are Trash" and "Hitler Did Nothing Wrong." The company immediately apologized and removed the shirts, blaming the incident on a technical error.