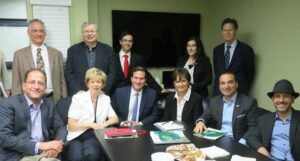 By Tevy Pilc
Staff Writer/Researcher
B'nai Brith Canada
B'nai Brith was honoured and pleased to welcome Deborah Lyons, the new Canadian Ambassador to Israel, to its national office.
Among those joining Lyons at B'nai Brith were members of the Canadian federal government, B'nai Brith Canada board members and staff members and other prominent individuals in the Toronto Jewish community. Included were Michael Levitt, MP for York Centre, Marco Mendicino MP for Eglinton-Lawrence, Judy Sgro, MP for Humber River-Black Creek, Ali Ehsassi, MP for Willowdale, Avi Behar and Joseph Shier, B'nai Brith Canada board members, Irving Weisdorf, CEO at Mozuud Freedom Foundation and Aurel Braun, University of Toronto professor and B'nai Brith staffers Judy Foldes, Marty York, Amanda Hohmann and Aidan Fishman.
Ambassador Lyons discussed a wide range off issues. Among them: she said she's looking forward to building a partnership with Israel that would focus on cultural and developmental opportunities in the Third World.