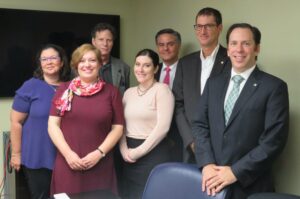 By Tevy Pilc
Staff Writer/Researcher
B'nai Brith Canada
B'nai Brith was pleased and honoured to welcome Galit Baram, the Consul General of Israel to Toronto and Western Canada, to its national office.
Among those meeting with Baram were B'nai Brith board members Jay Harris, Joseph Shier and Rick Orzy and staffers Michael Mostyn, CEO, Judy Foldes, COO, Marty York, Chief Media Officer, and Amanda Hohmann, National Director of B'nai Brith's League for Human Rights.
The Consul General addressed several items of interest to the Canadian Jewish community with the B'nai Brith contingency. B'nai Brith looks forward to continuing our strong work with our friends and colleagues in the Consulate.