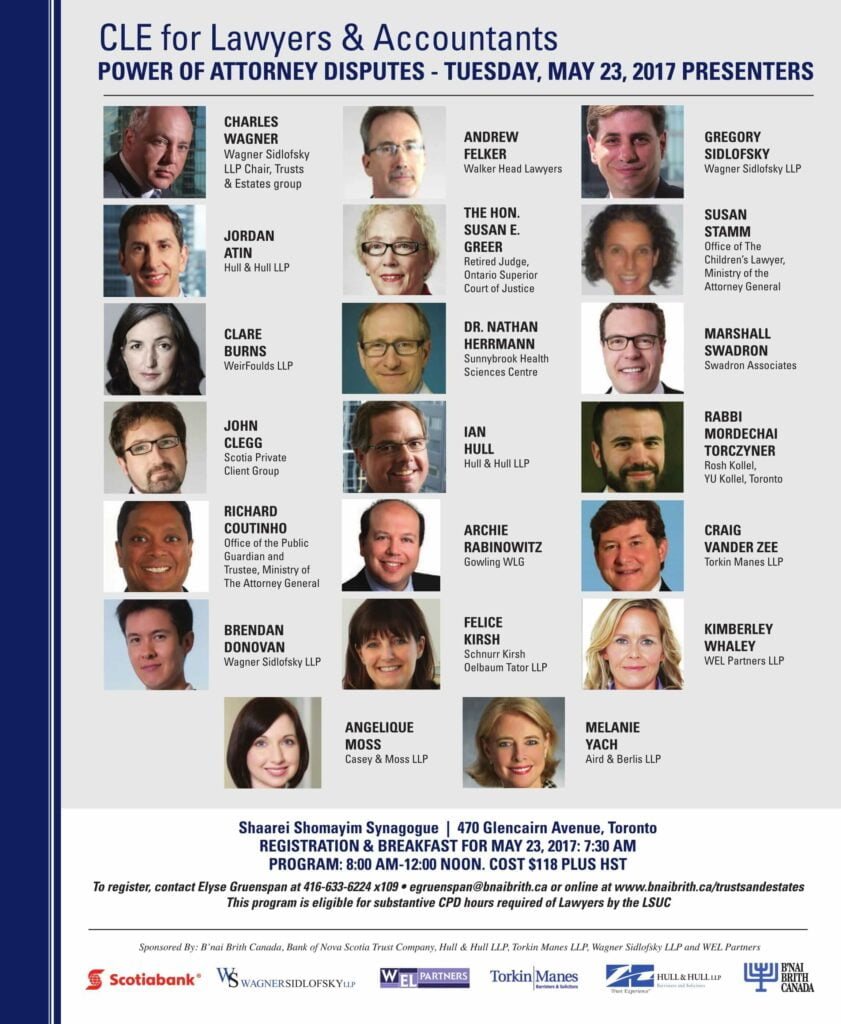 The Trusts & Estate Group, Lawyers' Division of B'nai Brith is pleased to invite you to its annual seminar to be held on Tuesday, May 23, 2017 in Toronto.
This year's seminar focuses on Estate Disputes and Prenuptial Agreements. The presenters include some of the premiere estate professionals, professors, advocates and Rabbinic authorities in Canada. Please view the attached event flyer to see the various presenters involved in this seminar.
Please do share this information with colleagues. Note that the time spent attending this program is eligible for CPD credit by the Law Society of Upper Canada.
This event will again be held at Shaarei Shomayim Synagogue, 470 Glencairn Avenue. Registration and Breakfast begins at 7:30a.m and the program starts at 8:00 a.m. The cost of this program including breakfast is $118 plus HST.
We express our gratitude to our sponsors: B'nai Brith Canada, Bank of Nova Scotia Trust Company, Dentons, Hull & Hull LLP, Wagner Sidlofsky LLP and Whaley Estate Litigation.
As space is limited for this well-attended annual event, we urge you to register as soon as possible.
You can register by clicking here  or contacting Elyse Gruenspan, B'nai Brith Canada, at 416-633-6224 x109 or by email at [email protected].