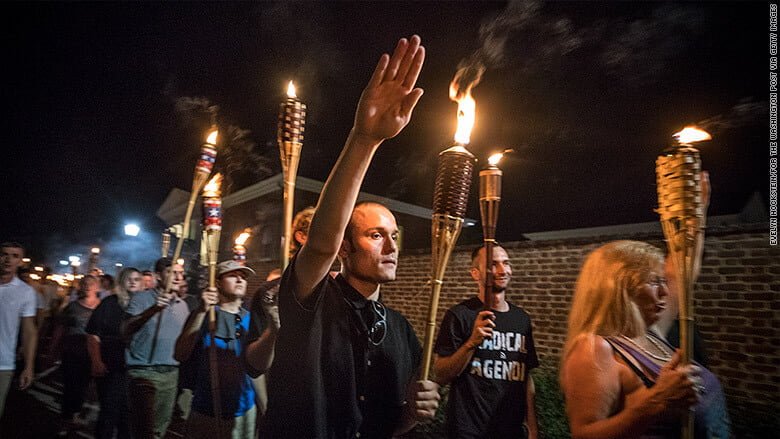 Aug. 8, 2018
By Marty York
Chief Media Relations & Communications Officer
B'nai Brith Canada
TORONTO – The City of Toronto has chosen to allow a rally at Nathan Phillips Square this Saturday despite concerns expressed by B'nai Brith Canada about the potential promotion of hatred at the event.
In a letter sent Tuesday to City of Toronto leaders, including Mayor John Tory, B'nai Brith strongly urged the cancellation of the rally, which is scheduled for the one-year anniversary of the Charlottesville Riots of Aug. 11-12, 2017. Several far-right, anti-immigration and nationalist groups, such as the Soldiers of Odin, Proud Boys and the Northern Guard, are expected to attend.
"This rally is intended to promote hatred and possibly violence on city property, which is in violation of the city's own Hate Activity Policy and Procedures," said Michael Mostyn, Chief Executive Officer of B'nai Brith Canada. "We condemn the rally's organizers and requested that the City prevent such rallies from taking place on public property, both this week and in the future."
But in a response late Wednesday afternoon from Omo Akintan, Acting Director of Equity, Diversity and Human Rights for Toronto, B'nai Brith was told the rally will go on as planned.
"The City of Toronto is aware of the planned protest… in Nathan Phillips Square by the Worldwide Coalition Against Islam (WCAI) and shares B'nai Brith's concerns," Akintan wrote.
"The City has a Hate Activity Policy with which users of public spaces are expected to comply. The policy prohibits use of City facilities and spaces for hate activity as defined in the Policy. We will continue to enforce the policy. The City will not tolerate, ignore, or condone illegal discrimination or harassment including any rally that incites hatred and/or violence against groups or persons.
"To that end, the City has already taken actions to address this matter which includes the preparation of an event plan with the Toronto Police Service that has the life safety of everyone as the primary concern.
"We encourage B'nai Brith or any other organization or individual with knowledge or information of conduct that would breach the Criminal Code to contact the Toronto Police Service."
B'nai Brith intends to closely monitor Saturday's rally. It has also raised its concerns with Canadian law-enforcement agencies and those responsible for threats to national security.
Individual organizers of the rally, including Joey Deluca, Jesse Wielenga, Ronny Cameron and Kevin Goudreau, have stated their aim to create a "Canadian Charlottesville" at the rally. At the infamous Charlottesville, Va. riots of Aug. 11-12, 2017, neo-Nazis chanted hateful slogans against Jews, African-Americans and LGBTQ people, and a counter-protestor was ultimately murdered by a far-right attendee.
Similarly, the official WCAI Canada Facebook page has threatened to "smash right through" any counter-protestors who appear at the rally.
"We hope and pray that nothing even close to what happened in Charlottesville last year will be repeated in Toronto," Mostyn said. "We can't help but be concerned."