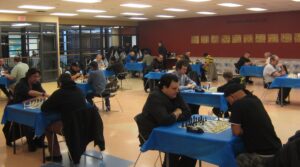 WINNIPEG – It was a "rooking" time at the Asper Community Centre in Winnipeg last Sunday, as B'nai Brith Canada's Midwest Region held its Third Annual B'nai Brith Invitational Chess Tournament.
There were 25 "chess nuts" who partook in the competition. After five rounds of intense play, it was Nilo Moncal who came up on top, winning the first place prize of $150 after defeating Sam Lipnowski in the final battle. Boris Waissbluth took home the second place prize of $75 after a draw with Kevin Gentes.
B'nai Brith would like to thank all participants and volunteers who made this a great event. Special thanks to tournament co-chairs Irwin Lipnowski and Gustavo Melamedoff for all their hard work.