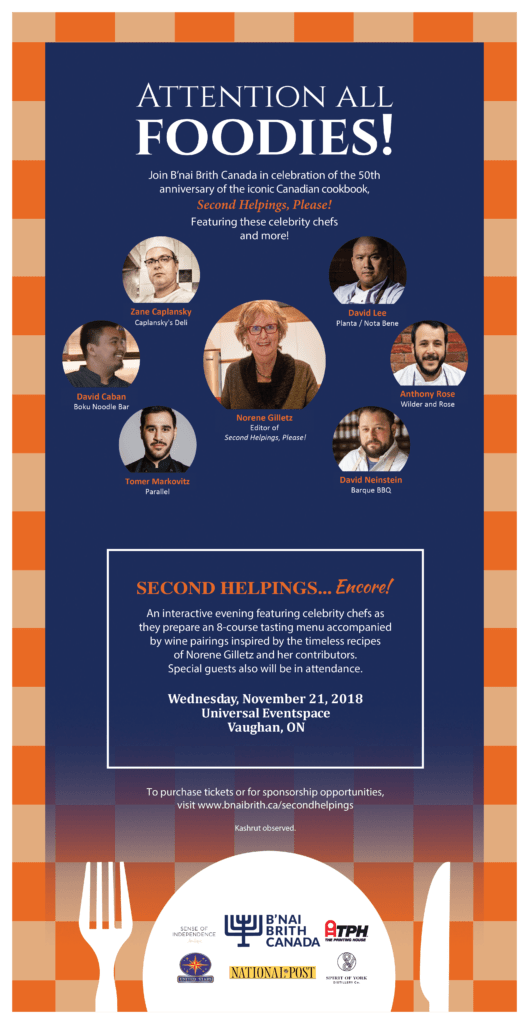 Oct. 22, 2018
VAUGHAN, Ont. – A distinguished cadre of celebrity chefs have confirmed their participation in B'nai Brith Canada's kosher epicurean celebration, Second Helpings… Encore!
The evening's chefs will include Zane Caplansky of Caplansky's Deli, David Lee of Planta/Nota Bene, Anthony Rose of Rose & Sons/Schmaltz Appetizing, David Caban of Boku Noodle Bar, Tomer Markovitz of Parallel, David Neinstein of Barque BBQ and, of course, Norene Gilletz.
The event, taking place on Nov. 21, 2018 at the glamorous Universal Eventspace in Vaughan, Ont., is in celebration of the 50th anniversary of the iconic Jewish cooking bible, Second Helpings, Please!
Developed in 1968 by Montreal's Mount Sinai Chapter of B'nai Brith Women, with Gilletz at the helm, the cookbook is a staple that can be found in just about every Canadian Jewish household in the country.
Second Helpings…Encore! will feature a chef-curated, eight-course tasting menu with wine pairings inspired by some of the original favourites from Second Helpings, Please! Throughout the evening, Gilletz will be in conversation with chefs as they prepare their dishes in an open kitchen 'stadium.'
The event, Kashrut observed, will be the only major national fundraiser that B'nai Brith is hosting in 2018. For sponsorship opportunities, click here. (broken link 1)
Participating chefs are thrilled to take part in this fundraising event and bring their experience and flair to the table. Other celebrity guests, such as horse racing legend Sandy Hawley and NHL Hall of Famer Marcel Dionne, also will be in attendance.
For more information, please contact Arina Harris at 416-633-6224 ext. 109.