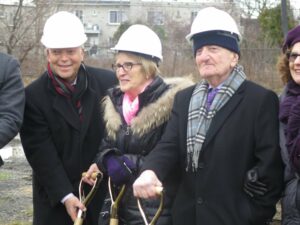 By Mike Cohen
Quebec Bureau Chief
B'nai Brith Canada
B'nai Brith Canada held its official groundbreaking ceremony Monday for a much anticipated $26-million, 129-unit subsidized seniors' residence.
The Bissell Family Foundation Château B'nai Brith will be located in the Montreal suburb of Côte Saint-Luc, only a short walk from Maison B'nai Brith (B'nai Brith House), another B'nai Brith subsidized seniors' residence. The latter recently celebrated its 10th anniversary.
Construction on the residence began the following day, with a projected opening of Spring, 2018.
Ted Greenfield, long-time B'nai Brith Canada activist – former president of both B'nai Brith Canada and B'nai Brith Residences – served as the emcee for the ceremony. He lamented the absence of stalwart Gerry Weinstein, another former B'nai Brith president, who passed away last May. Weinstein is considered the "father" of B'nai Brith House and he worked tirelessly to make Château B'nai Brith a reality. His wife, Lynn, was on hand, who also spoke about her late husband. "Gerry is up there looking down on us with a smile. He'd be so happy," she said.
"On Nov. 25, 2004,  a similar ceremony was held to start the construction for B'nai Brith House," Greenfield said. "This one is only three days apart and 12 years in between. The two buildings represent models for affordable housing – a home, a lifestyle, a family environment for seniors. Some are Holocaust survivors; some are frail and elderly; and some are isolated. This was Gerry Weinstein's wish and there will be no compromise. He said that we have to save those who fall between the cracks."
Greenfield thanked Eric Bissell, son Marc and their family for the generous $1-million donation they made to the project.
Project manager Noam Schnitzer said the new building will be state of the art, "brighter, with taller ceilings, larger windows and energy efficient."
Bonnie Feigenbaum, speaking on behalf of Mount Royal Liberal MP Anthony Housefather, who was in Ottawa, put the day into perspective.
"Cold hands, cold feet, but warm hearts," she said.
Liberal MNA David Birnbaum noted that he has had the pleasure of making a number of visits to B'nai Brith House.
"I can see what the fruits of your labour have been," he said. "You have changed lives."
Côte Saint-Luc Mayor Mitchell Brownstein recognized the presence of former Liberal MNAs Herbert Marx and Lawrence Bergman as well as Robert Libman, former B'nai Brith Quebec Executive Director and former Côte Saint-Luc Mayor.
"I am looking to live in a community where we do well," he said, reacting to comments from Schnitzer regarding the cooperation B'nai Brith received from the city.
Marc Bissell, speaking on behalf of his father Eric, mother Naomi and siblings Brian, Steven and Joanna, said that Chateau B'nai Brith will mean a continuity of trying to serve the senior community.
"My dad started off with B'nai Brith 20 years ago through its golf tournament and went on to raise funds," Marc said. "I asked him how he did it. He told me how his message was this is not for me, it is for people who need it. He fled Europe in 1943. Montreal has given us more than we could really hope for."
B'nai Brith Canada CEO Michael Mostyn also was in attendance and spoke about the four affordable housing buildings in Toronto and now a second going up in Montreal.
"They are all very different," he said. "This one is going to be unique. It is a real lifeline for our seniors."
A surprise celebrity guest on hand, and seated next to Mostyn, was comedian and impressionist Andre-Philippe Gagnon, who performed at a Chateau B'nai Brith event in the past.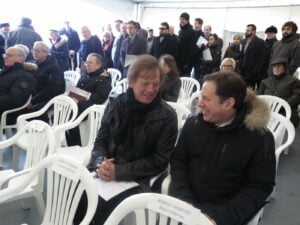 Harvey Levine, Regional Director of B'nai Brith in Quebec, was recognized for his hard work behind the scenes. He in turn, thanked coworker Janna Minikovich and B'nai Brith House director Eileen Katz for their valuable contributions.
A Chateau B'nai Brith brochure notes that seniors now represent nearly 35 per cent of our entire Montreal population – the highest of any community, in any city – in all of Canada. Although many of us have become acutely aware of this fact, what most are not familiar with is that a growing number of our seniors are without the financial means necessary to support their daily needs. Twenty per cent of all our Montreal community members are living below the poverty line – a number that is, most unfortunately, again the highest for any population in the country.
For these individuals, life is very difficult, even more so when they are among the frail and elderly.
With the responsibility of providing essential services being progressively offloaded from governmental institutions onto community organizations, the onus of caring for these individuals in the twilight of their lives, rests with us all. It is for this reason that a new approach to the providing of specialized social services is needed. B'nai Brith has answered this call in conjunction with the generous assistance of all three levels of government.
Recognizing the demand for a more specific support system, one that can cater to the unique needs of our seniors, B'nai Brith has redefined the concept of autonomous senior residences. The goal being to provide the aging population, specifically those who can no longer afford the cost of living, with a communal multi-resident content rich alternative that has been conceptualized specifically for their needs.
This unique concept – aimed at addressing today's community based needs in a manner that will allow for long term relevance – has been designed specifically so as to reduce energy consumption, operating costs and the impact on the environment. The benefits to the individuals residing within and the community at large will be recognized for years to come.
With a focus on meaningful relevant architecture, creative design, the integration of eco-technologies and this reciprocal approach to responsible development, Château B`nai Brith will not only enhance the quality of life for all the seniors it will house, but also enhance the community within which it will be located.
This seven-storey facility centers on the common ground floor pavilion. This bright, airy, glass-walled space will encompass a large entry hall that will double as a spectacular event venue, several multi-function rooms that will allow for the provision of diverse programming such as lectures, theater, games etc., the elevator lobby, and an expansive dining hall.
As the integration of this facility within the surrounding exterior space is of prime importance, mainly so as to increase the accessibility our seniors will have to the outdoors, the dining hall will connect directly with a large terrace garden area at the rear of the property. Moreover, with the height of the windows at this level, the outdoor garden will also form a large part of the indoor experience regardless of the season.
The six residential levels above will house 129 individual apartment units comprised of both one and two bedroom sizes. While these units will provide for all the typical elements of daily life, in a manner quite different from other developments of this type, as noted by Schnitzer the units will have high ceilings and floor to ceiling windows. This unique design element will greatly improve upon the standards applicable to affordable residences. The units will be brighter, more comfortable, more livable, and most importantly, more enjoyable. Following with the concept of increasing the accessibility all residents will have to the outdoors, each unit will provide access to private loggia space. Unlike projected balconies, these mini terraces are recessed within the structure of the building and therefore are more protected, safer and more inviting.
Over and above the architecture and in addition to the long term relevance that this modern sophisticated design will have, the facility will make use of the most durable materials that require the least possible amount of maintenance. With eco based initiatives for the management of energy and the incorporation of supplemental energy compliments the building will change the way affordable residences are developed and how social services will be provided for years to come.
By virtue of the exceptional programming offered, as well as the nourishing meals and ongoing attention to the security and well-being of residents, the atmosphere will be one of family of home and warmth and will enhance the lives of all the seniors it will house. Moreover, this approach will also enhance the entire community by expanding on the foundation for the support, enrichment, and involvement of all our seniors.
Mike Cohen is B'nai Brith Canada's Quebec news bureau chief, a veteran writer and municipal politician. He can be reached at info@mikecohen.ca. Follow him on Twitter @mikecohencsl
For more information about Chateau B'nai Brith, contact Harvey Levine at 514-733-5377 x127 or hlevine@bnaibrith.ca.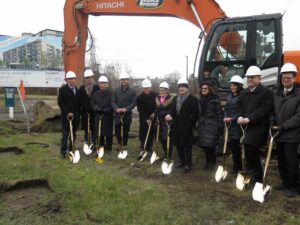 Célébrer L'inauguration de la Construction du Château B'nai Brith à Montréal
Auteur : Mike Cohen
Patron du Bureau du Québec
B'nai Brith Canada
B'nai Brith Canada a tenu lundi dernier la cérémonie de l'inauguration officielle d'un projet très convoité de construction d'une résidence de 129 unités pour personnes âgée de 26 M$.
Le Château B'nai Brith de la Fondation de la famille Bissell sera localisé dans la ville de Côte-Saint-Luc sur l'Île de Montréal à courte distance de marche de la Maison B'nai Brith, qui est une autre résidence pour personnes âgés subventionnée. Cette dernière a célébré son dixième anniversaire récemment.
La construction de la résidence a débuté la journée suivante et l'ouverture est prévue pour le printemps 2018.
Ted Greenfield, un militant de longue date de B'nai Brith Canada – ancien président de B'nai Brith Canada ainsi que des Résidences B'nai Brith – était le maître de cérémonie de l'inauguration. Il a déploré l'absence du vaillant Gerry Weinstein, un ancien président de B'nai Brith, qui est décédé en mai dernier. Monsieur Weinstein est considéré comme étant le « père » de la Maison B'nai Brith et il a travaillé sans relâche pour faire du Château B'nai Brith une réalité. Son épouse, Lynn, qui était sur place, a prononcé quelques mots à propos de son défunt mari. « Gerry est là-haut et nous observe en souriant. Il serait si heureux » a-t-elle dit.
« Le 25 novembre 2004, une cérémonie similaire s'est tenue au moment où la Maison B'nai Brith débutait sa construction » a dit Monsieur Greenfield. « Cette cérémonie est à seulement trois jours d'intervalle et 12 ans entre les deux projets. Ces deux immeubles représentent des modèles de logement abordables – une maison, un style de vie et un environnement familial pour les ainés. Certains sont des survivants de l'Holocauste ; certains sont frêles et âgés ; et certains sont isolés. C'était le souhait de Gerry Weinstein et il n'y aura aucun compromis. Il a dit que nous devions sauver ceux qui tombent entre les mailles du filet. »
Monsieur Greenfield a tenu à remercier Eric Bissell, son fils Marc ainsi que toute la famille pour leur don généreux de 1 M$ au projet.
Le chargé de projet Noam Schnitzer a affirmé que le nouveau bâtiment sera à la fine pointe de la technologie : « plus éclairé, de hauts plafonds, des fenêtres larges et écoénergétique. »
Madame Bonnie Feigenbaum, qui a parlé au nom du député libéral de la circonscription de Mont-Royal, Monsieur Anthony Housefather, qui était à Ottawa, a mis la journée en perspective.
« Mains froides, pieds froids, mais le cœur chaud », a-t-elle affirmé.
Le député libéral de l'Assemblée National du Québec, Monsieur David Birnbaum, a noté qu'il a eu le plaisir d'effectuer quelques visites à la Maison B'nai Brith.
« Je peux voir quels ont été les fruits de votre labeur », a-t-il prononcé, « vous avez changé des vies. »
Le maire de la ville de Côte Saint-Luc, Monsieur Mitchell Brownstein, a reconnu la présence d'anciens députés libéraux, Messieurs Herbert Marx et Lawrence Bergman, ainsi que de Monsieur Robert Libman, ancien directeur exécutif de B'nai Brith Québec et ancien maire de Côte Saint-Luc.
« Je cherche à vivre dans une communauté où nous faisons le bien », a-t-il affirmé en réagissant aux commentaires de Monsieur Schnitzer à propos de la coopération qu'a reçue B'nai Brith de la part de la municipalité.
Marc Bissell, qui s'est exprimé au nom de son père Eric, sa mère Naomi, ses frères Brian et Steven et sa sœur Joanna, a dit que le Château B'nai Brith est en quelque sorte une façon de tenter d'assurer la continuité d'offrir son service aux personnes âgées.
« Mon père a débuté son implication à B'nai Brith il y a 20 ans de par son tournoi de golf et il a continué d'amasser des fonds », a-t-il dit. « Je lui ai demandé comment il a fait. Il m'a répondu comment son message était ''ceci n'est pas pour moi mais pour les gens qui en ont le besoin''. Il a fui l'Europe en 1943. Montréal nous a donné plus que nous ne pouvions vraiment espérer. »
Le PDG de B'nai Brith Canada, Monsieur Michael Mostyn était également présent et il a parlé à propos des quatre immeubles à logements abordables situés à Toronto et du second qui se construira à Montréal.
« Ils sont tous très différents », a-t-il affirmé. « Celui-ci sera unique. C'est une véritable bouée de sauvetage pour nos aînés. »
Un invité surprise célèbre était aussi présent assis à côté de Monsieur Mostyn : l'humoriste et imitateur André-Philippe Gagnon. Ce dernier a offert par le passé une performance lors d'un événement au Château B'nai Brith.
André-Philippe Gagnon et Michael Mostyn,PDG de B'nai Brith Canada (Crédit photo : Mike Cohen)
Harvey Levine, le Directeur régional de B'nai Brith au Québec a été reconnu pour son travail acharné dans les coulisses du projet. Il a, à son tour, remercié sa collègue Madame Janna Minikovich et la Directrice de la Maison B'nai Brith, Madame Eileen Katz pour leurs précieuses contributions.
Une brochure du Château B'nai Brith note que la proportion de personnes âgées représente près de 35 % de la population montréalaise – la plus haute de toutes les communautés, de toutes les villes – dans tout le Canada. Bien que beaucoup d'entre nous aient pris conscience de ce fait, ce que la plupart ne savent pas, c'est qu'un nombre croissant de nos aînés n'ont pas les moyens financiers nécessaires pour subvenir à leurs besoins quotidiens. En effet, près de 20 % de tous les membres de notre communauté montréalaise vivent sous le seuil de la pauvreté – ce nombre est, malheureusement, toujours le taux le plus élevé de toutes les populations du pays.
Pour ces individus, la vie est très difficile. Elle l'est d'autant plus lorsque ces personnes sont frêles et âgées.
Étant donné que la responsabilité de fournir des services essentiels est déchargée progressivement des institutions gouvernementales vers les organismes communautaires, le fardeau de prendre soin de ces personnes dans le crépuscule de leur vie, repose sur nous tous. C'est pour cette raison qu'une nouvelle approche est nécessaire afin de fournir des services sociaux spécialisés. B'nai Brith a répondu à cet appel en conjonction avec l'aide généreuse des trois paliers gouvernementaux.
En reconnaissant la demande pour un système d'assistance plus spécifique, en l'occurrence un qui puisse répondre aux besoins uniques de nos aînés, B'nai Brith a redéfini le concept des résidences pour personnes âgées autonomies. Le but est de fournir à la population vieillissante, spécifiquement ceux qui ne peuvent se permettre le coût de la vie, une alternative communautaire multi-résident ayant été pensée spécialement pour leurs besoins.
Ce concept unique – visant à répondre aux besoins communautaires actuels et à long terme – a été conçu spécifiquement dans le but de réduire la consommation d'énergie, les coûts opérationnels ainsi que les impacts environnementaux. Ces bénéfices directs aux résidents et à la communauté au sens large s'en ressentiront pour les années à venir.
En mettant l'accent sur une architecture significative, un design créatif, une intégration des écotechnologies et une approche de développement responsable, le Château B'nai Brith améliorera non seulement la qualité de vie de tous les aînés mais aussi celle de la communauté dans laquelle il sera situé.
Cet établissement de sept étages aura comme point principal un pavillon commun situé au rez-de-chaussée. Cet espace lumineux, spacieux et vitré comprendra une grande salle dont la superficie pourra se doubler et servir de salle polyvalente qui permettra de fournir diverses activités telles que des conférences, des pièces de théâtre, des jeux. Le rez-de-chaussée comprendra aussi un ascenseur ainsi qu'une vaste salle à manger.
L'intégration de cet établissement avec l'environnement extérieur est d'une importance primordiale. À cet effet, dans le but d'accroître l'accessibilité des résidents à l'extérieur, la salle à manger se connectera directement à une grande terrasse aménagée à l'arrière de la propriété. De plus, peu importe la saison, la hauteur des fenêtres permettra d'offrir aux résidents une vue imprenable sur l'extérieur même en étant à l'intérieur.
Les six niveaux résidentiels abriteront 129 unités d'appartements individuelles composées d'une ou deux chambres à coucher. Ces unités fourniront tous les éléments typiques de la vie quotidienne mais d'une manière tout à fait différente des autres développements de ce type. En effet, comme l'a noté Monsieur Schnitzer, les unités auront de hauts plafonds et de larges fenêtres allant du sol au plafond. Cet élément de conception unique améliorera grandement les normes applicables aux résidences abordables. Les unités seront plus lumineuses, plus confortables, plus habitables, et surtout, plus agréable. Suivant la notion d'augmentation de l'accessibilité à tous les résidents vers l'extérieur, chaque unité possédera sa propre loggia privée. Contrairement aux balcons projetés, ces mini terrasses sont encastrées dans la structure du bâtiment et sont donc plus protégées, plus sûres et plus accueillantes.
Au-delà de l'architecture et en plus d'une vision à long terme que cette conception sophistiquée moderne aura, cet établissement fera usage de matériaux durables qui nécessiteront le moins d'entretien possible. Grâce à des initiatives écologiques pour la gestion de l'énergie et à l'incorporation d'éléments énergétiques complémentaires, le bâtiment changera la façon dont les logements abordables seront conçus et comment les services sociaux seront fournis pour les années à venir.
En raison de la programmation exceptionnelle offerte, des repas nourrissants fournis, de l'attention continue à la sécurité et à l'assurance du bien-être des résidents, l'atmosphère sera familiale et chaleureuse et elle permettra d'améliorer la vie de tous les aînés en leur offrant un véritable chez-soi. De plus, une telle approche améliorera également l'ensemble de la collectivité et élargira les concepts du soutien, de l'enrichissement et de l'implication de tous nos aînés.
Mike Cohen est le nouveau patron du Bureau du Québec de B'nai Brith Canada, un écrivain chevronné et un politicien municipal. Il peut être joint à l'adresse suivant : info@mikecohen.ca. Suivez-le sur Twitter @mikecohencsl.
Pour plus d'information à propos du Château B'nai Brith, veuillez contacter Harvey Levine au 514-733-5377 x127 ou à hlevine@bnaibrith.ca