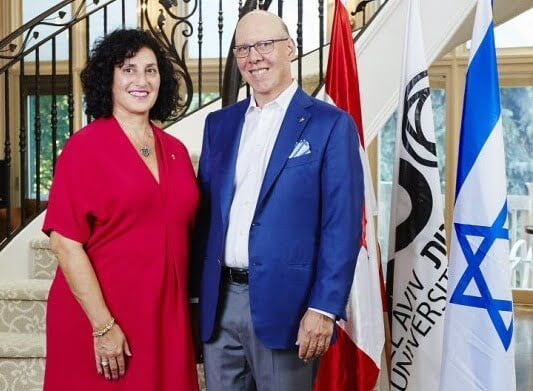 By Tevy Pilc
Staff Writer/Researcher
B'nai Brith Canada
A Toronto couple is making  what sources are saying is the largest individual donation to Tel Aviv University (TAU) from a non-corporate Canadian.
The donation, from Aubrey and Marla Dan of Toronto, is $5-million (US). It's going to the communications department at TAU. The department has been named the Dan Department of Communications.
"TAU is delighted to receive this transformative gift from two Canadians who have a deep love of Israel," says Prof. Joseph Klafter, president of Tel Aviv University. "On behalf of (the) university, I would like to express our deepest gratitude to Aubrey and Marla Dan for their vision and generosity. This gift will help to accelerate the momentum within the department and strengthen TAU's position as a leading university for study in communications and public relations."
Aubrey Dan is a Canadian businessman as well as a Tony-Award winning theatre producer (MEMPHIS). He is President of Dancap Private Equity Inc. and Dancap Productions Inc. Marla Dan was most recently the National President of Canadian Hadassah-WIZO (CHW).