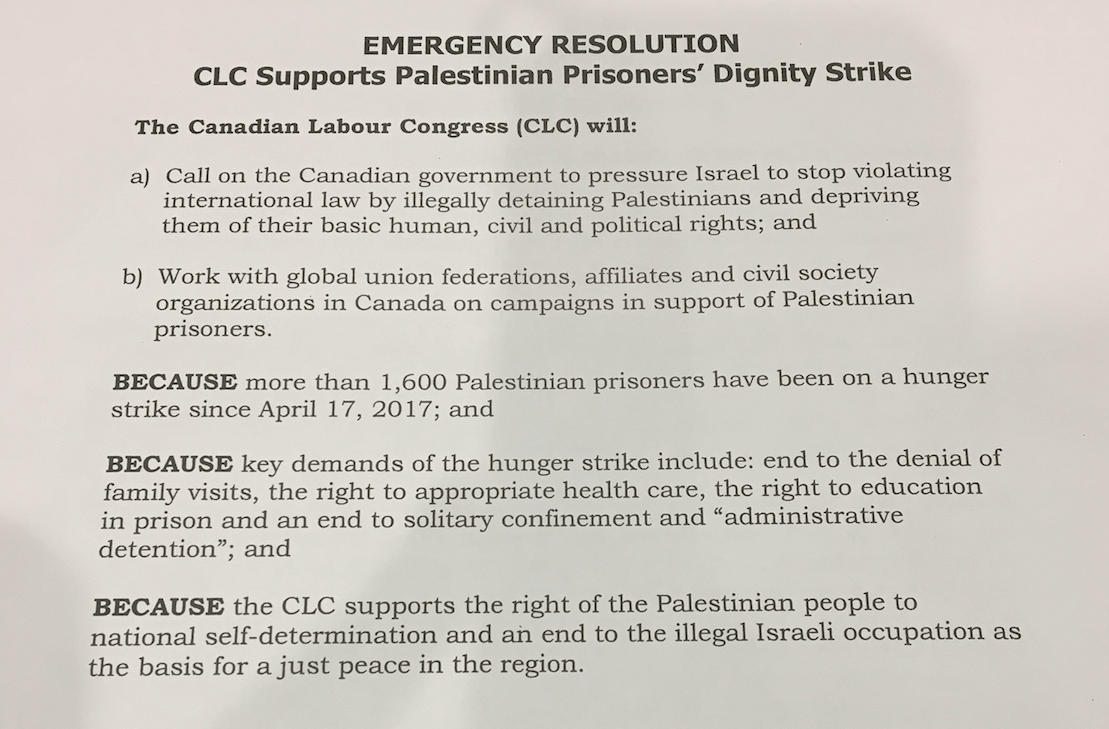 Thursday, May 11, 2017
TORONTO – B'nai Brith Canada is expressing its strong disappointment after the Canadian Labour Congress (CLC) passed an emergency resolution yesterday proclaiming its support of Palestinian prisoners currently engaged in a hunger strike in Israeli prisons.
Titled, "CLC Supports Palestinian Prisoners' Dignity Strike," the resolution falsely accuses Israel of "illegally detaining" Palestinian prisoners and "depriving them of their basic human, civil and political rights," and calls on the Canadian government to sanction the Jewish state.
The resolution also includes a laundry list of demands incorrectly asserting that Israel is not providing its prisoners with basic human rights, despite the fact that Palestinian prisoners receive all their rights as cited under International law, including health care, legal counsel, humane treatment, family visits, freedom of religion, and education.
For example, Marwan Barghouiti – the leader of the hunger strike currently serving five life sentences on five counts of murder – not only received an education, but actually completed and received his PhD while in Israeli prison. The CLC's request that 'Israel end the denial of family visits' is also false as, according to to the official list of demands sent to the Israeli Prison service, the ask was that the duration of family visits be doubled from 45 minutes to 90 minutes.
The Prison Service does deny visitation to some family members, but only to those with security-related offences.
"This resolution is filled with inaccuracies and has absolutely no merit," said B'nai Brith Canada Chief Executive Officer Michael Mostyn. "Israel respects the human rights of its prisoners, the majority of whom engaged in this hunger strike were found guilty of terrorism and of indiscriminately murdering innocent civilians."
He continued: "Israel treats prisoners, both Israeli and Palestinian-Arab, fairly and in complete adherence to international law. For the CLC to distort facts in a bid to promote an anti-Israel political agenda is not only wrong, but antithetical to Canadian values. It should immediately retract this blatantly false resolution, take the real facts into account, and apologize to the Jewish community for issuing this propaganda."