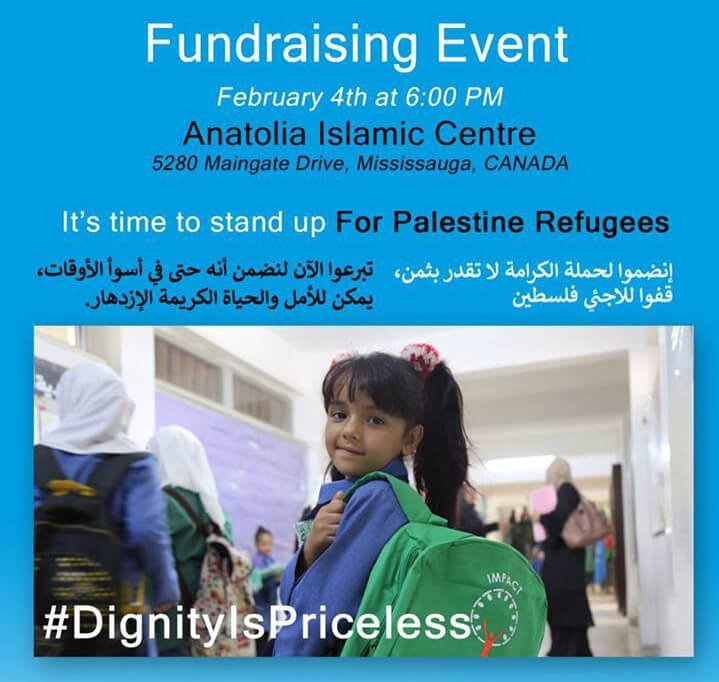 Feb. 5, 2018
By Aidan Fishman
Interim National Director of the League for Human Rights
B'nai Brith Canada
TORONTO – A United Nations agency, already under fire for indoctrinating youngsters to violent struggle instead of peace, is raising money in Canada with help from a supporter of Palestinian terrorism, B'nai Brith Canada has learned.
The United Nations Relief and Works Agency for Palestine Refugees (UNRWA) participated at a fundraiser Sunday evening at the Anatolia Islamic Centre in Mississauga, Ont. Two senior UNRWA officials attended.
The listed contact for UNRWA's Mississauga fundraiser was Nabil (also spelled Nabeel) Nassar, a local Palestinian activist who has expressed support for terrorists such as Karim Younis, Raed al-Karmi and Ahmad Ismail Jarrar. The latter was hailed as a "martyr" by Hamas after he was killed while resisting arrest for his role in the murder of an Israeli rabbi. Nassar also has shared posts advocating the complete elimination of the Jewish State.
The guest speaker for Sunday's event was Sheikh Ahmad Shehab, a Mississauga imam with a controversial past of his own. In an undated sermon accessible on YouTube, Shehab can be seen quoting Hezbollah terrorist leader Hassan Nasrallah with approval, hoping that pro-Israel politicians in Canada will "perish," and praying for the destruction of "the criminal Zionists."
"This method of fundraising, and UNRWA's association with it, adds to our concerns about UNRWA's behaviour and its questionable activities," said Michael Mostyn, Chief Executive Officer of B'nai Brith Canada. "Many involved with UNWRA are anti-Israel and antisemitic. Incitement to violence through UNWRA is contrary to its neutrality obligations under the UN Charter, and indeed the agency's own regulations. The optics here are just terrible."
B'nai Brith has for years expressed concerns regarding antisemitism and the promotion of terrorism by UNRWA employees and in its school curriculum. In January, the U.S. Government reduced its UNRWA contribution by $65-million, adding that it would undertake a "fundamental re-examination" of the troubled agency. 
Ample evidence has been provided to Canada's Parliament and to government officials by policy institutes and respected non-governmental organizations questioning resumption of Canadian funding for UNRWA, absent reforms.
"We are still awaiting evidence of change in response to these criticisms – including criticisms that have been provided and endorsed by B'nai Brith Canada," Mostyn said. "Canada has the opportunity to stop UNRWA from continuing to employ school teachers, educators and other staff who support terrorism and the delegitimization of the State of Israel. This Mississauga fundraiser is the latest example of why the Government must act."