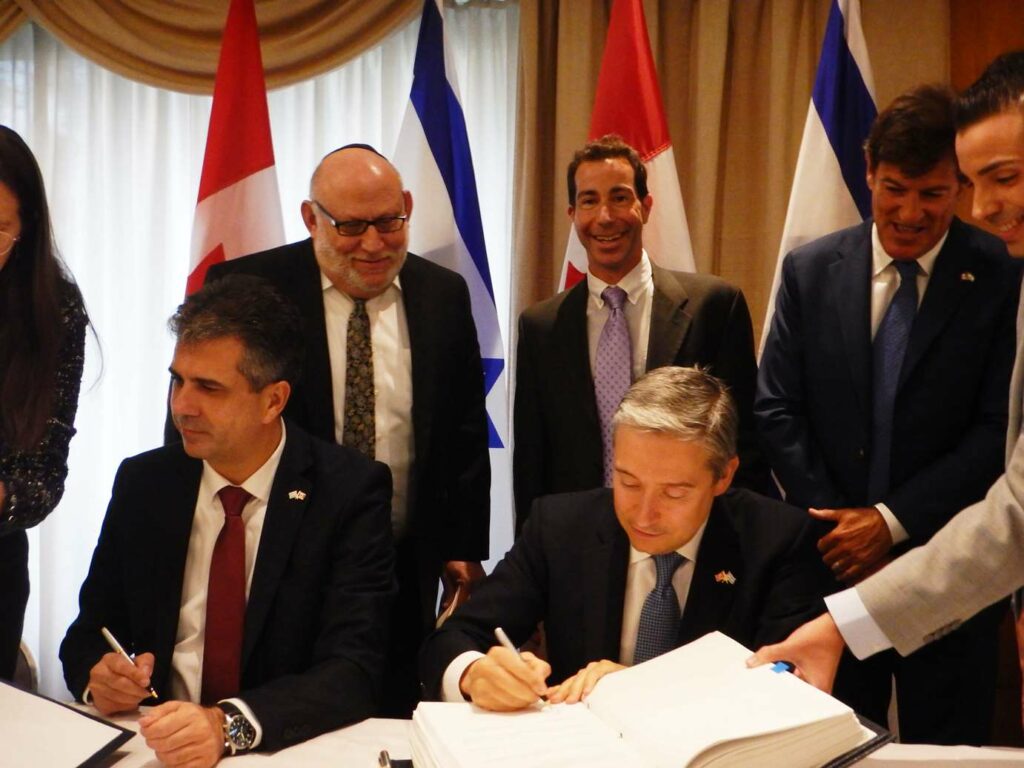 May 29, 2018
QUEBEC CONFIDENTIAL | By Mike Cohen
B'nai Brith Canada
The opinions, facts and any media content presented do not necessarily reflect the position of B'nai Brith Canada.
MONTREAL – Federal Minister of International Trade François-Philippe Champagne and Israeli Minister of Economy and Industry Eli Cohen signed a historic modernized Canada-Israel Free Trade Agreement (CIFTA) Monday at the Gelber Conference Centre before a jam-packed room of 300 people.
Canada and Israel first signed a trade agreement in 1997. Since that time, trade between the two countries has more than tripled, and was valued at $1.7 billion CAD last year. A number of progressive elements have been added to the enhanced agreement including chapters on labour, environment, SMEs (Small and Medium-sized Enterprises), and a "first-of-its-kind" gender equality provision.
With the Federal Liberal government under fire recently from members of the Jewish community for Prime Minister Justin Trudeau's criticism over actions in Gaza, Monday's event consisted only of good vibrations.
Hosted by Mount Royal Liberal MP Anthony Housefather, it was attended by Israel Ambassador to Canada Nimrod Barkan, Consul General David Levy, Israel Chief Scientist Ami Applebaum, Israel Export Institute Chairman Adiv Baruch, Canadian Ambassador to Israel Deborah Lyons, D'Arcy McGee Liberal MNA David Birnbaum, his predecessor Lawrence Bergman, Investment Canada Chairman Mitch Garber, community leader Stephen  Bronfman, and Rachel Bendayan, the favourite  to get the Liberal nomination in the upcoming by-election in Outremont to replace outgoing NDP MP Tom Mulcair.
"One of my first speeches in Parliament after getting elected was why we should oppose the BDS movement," said Housefather. "That this is not only in the best interests of Israel, but Canada as well."
Today, Canada signs its most ambitious trade agreement w the strongest gender chapter in our history. Thks to my counterpart from Israel @elicoh1 for supporting our progressive trade agenda. Let's build on our more than 20 yrs of partnership! #cdnpoli ???????? ???????? @AHousefather pic.twitter.com/zF67bOorUX

— François-Philippe Champagne (FPC) ???????? (@FP_Champagne) May 28, 2018
B'nai Brith Canada was represented by Ted Greenfield,  who lauded the deal in his dual capacity as a Jewish community leader and chartered accountant. "Israel is a leader in many fields of technology, medicine, and agriculture, which it shares with the world, while at the same time being singled out as a pariah and abuser of human rights," he said.  "Hopefully, this will serve to both open the eyes of many who are ignorant about Israel and counter the BDS movement."
Minister Cohen mocked anyone who supports BDS, noting that simply by using the Waze traffic app, turning on a cell phone, or taking medication – they are using something made in Israel.
Champagne, whose charismatic delivery impressed everyone in the room, said Canada's relationship with Israel is based on strong economic, cultural and social ties.  He emphasized that Israel is a long-time trading partner and that Canada's free trade agreement with the Jewish State has contributed to better opportunities for businesses and economic prosperity for hard-working Canadians.
The new agreement, he said, is an engine of growth and prosperity for both countries. It includes further tariff reductions and eliminations for agricultural and agri-food products, which will provide improved access for Canadian exporters to the Israeli market. This will help create more opportunities for established and first-time exporters and generate new jobs at home.
"A strengthened economic partnership with Israel will help create better market access opportunities for Canadian businesses and eliminate tariffs in many sectors," Champagne said. "New progressive elements on gender, small- and medium-sized enterprises and corporate social responsibility, as well as labour and environmental protections, will help ensure that the benefits that flow from trade are more widely shared. Today's signing of the modernized Canada-Israel Free Trade Agreement marks another milestone in our growing trade relationship while contributing to the growth and prosperity of both countries.
3rd free trade agreement this year! First Panama and Ukraine, now Canada.
I've just signed a free trade agreement with the Minister of Foreign Trade, my friend @FP_Champagne.
This will keep the economic ties between our two countries and promote the Israeli industry ???????? ????????

— אלי כהן, שר המודיעין (@elicoh1) May 29, 2018
"In 1997, Israel became the third country to sign a free trade agreement with Canada. Since then, the trade between Canada and Israel has increased significantly. Today we are witnessing a historical step in the trade relations between the two countries with the signing of the upgraded agreement. The upgraded free trade agreement between Canada and Israel will open new opportunities for Israeli exports to this significant market."
Minister Cohen's trip involved a two-day visit to Montreal, a one-day trip to Toronto, and a United Nations ceremony to mark 70 years of Israeli innovation. "We are a small country of only 8.7 million people," he said. "We are willing to share our capabilities and know-how with Canada. Our goal now is to double the trade volume between our two countries."
Mike Cohen is B'nai Brith Canada's Quebec news bureau chief, a veteran writer and municipal politician. He can be reached at [email protected]. Follow him on Twitter at @mikecohencsl.