The Toronto Sun
Nov 5, 2023
https://torontosun.com/news/local-news/warmington-canada-is-starting-to-look-like-1930s-germany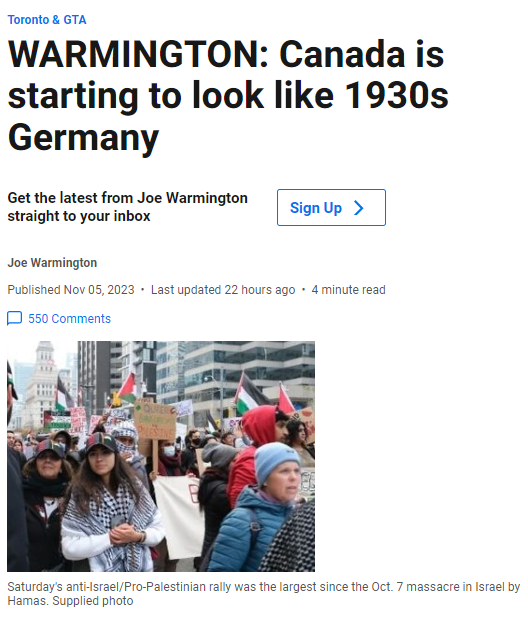 This was not Germany in the 1930s, but Canada on Nov. 4, 2023.
In Ottawa this Saturday, there was a swastika outside the Parliament buildings, while in Toronto, there was an Iranian-regime flag on the streets and people also defaced a Jewish-owned business.
Not every hater trying to intimidate Jewish businesses Toronto was wearing a brown shirt like members of Hitler's Sturmabteilung did in Nazi Germany.
But some of the actions Saturday looked similar to members of the Brownshirts.
One noticeable difference is a lot of these anti-Semites wore masks as they scrawled graffiti and placed anti-Israel stickers on the window of an Aroma Expresso Bar, which has Jewish roots.
Similar to the Brownshirts, a crowd gathered outside and called for a "boycott" — like they did two weeks ago at Cafe Landwer.
"Boycott Aroma if you stand with human rights and international laws," said one posting on Facebook. "Supporting Aroma is supporting the Israeli military."
Meanwhile, Toronto Mayor Olivia Chow posted to X about "championing nature-based solutions for urban environments."  On Toronto becoming a stage for anti-Jewish thuggery, she has yet to comment.
"Just so we have this straight," posted B'nai Brith CEO Michael Mostyn. "At separate coordinated hate rallies today we saw: the swastika; calls for the boycott of another Jewish business; and now the flag of the Islamic regime of Iran – the terror engine behind Hamas. Notice the pattern yet, Canada?"
Yes, and yes.
At Ottawa's protest on Parliament Hill, someone did have a sign with a swastika on it, there were attacks on Jewish-owned businesses and protesters flew the Iranian-regime flag in Toronto, just like they did with the Taliban and Hamas flags at previous GTA rallies.
The pro-Palestinian protest in Toronto Saturday was the largest yet and included a sit-in on Bay St.
"When we see or hear hateful language and imagery, we must condemn it," Prime Minister Justin Trudeau posted to X. "The display of a swastika by an individual on Parliament Hill is unacceptable. Canadians have the right to assemble peacefully – but we cannot tolerate anti-Semitism, Islamophobia, or hate of any kind."
Just weeks removed from a senior, who served in a Nazi unit during the Second World War, applauded in the House of Commons, Trudeau had no choice but to denounce the swastika. But Jewish Canadians noted he also mentioned Islamophobia when he knows it plays no role in this current chapter.
It's anti-Semitism.
There is no middle ground in this situation. Israel is Canada's ally and Hamas is a banned terror group which committed a second Holocaust on Oct. 7, and still holds more than 200 hostages.
While anti-Semitism is rampant in Canada, Trudeau keeps trying to tie the anti-Jewish attacks to Islamophobia. It's gross and should be called out by all Jewish MPs.
Like his messaging has been throughout, Trudeau's quest to find equivalence between the genocidal slaughter of 1,400 Israeli civilians Oct. 7 and Israel's effort to rid Gaza of a terrorist group, Hamas, is buoying up the anti-Semitic movement.
They want a "ceasefire" which is code for protecting the Hamas regime which uses its own people as a human shields to cling to power.
"We need to see a cease-, we need to see a humanitarian pause so we can flow, we need ceasing of the levels of violence that we're seeing," Trudeau said in Washington Friday.
He made a Freudian-style slip on the "cease" part and scored a fail with his "levels of violence" comment because he knew Israel has every right to defend itself from terror and Hamas is responsible for all the carnage in Gaza.
If leaders like Trudeau would be clear and say Hamas needs to release all hostages and unconditionally surrender, the plight of the Palestinians would instantly improve.
Saturday's anti-Israel, pro-Palestinian rally was the largest since the Oct. 7 massacre in Israel by Hamas (Supplied photo)
There was also a pro-Palestinian protest at Celebration Square in Mississauga (Joshua Warmington photo)
Yet, instead, his middle-ground approach results in Nazi flags — and those of Hamas and Iran — being flown in Canada. Saturday's Toronto protest was the largest yet and included a sit-in on Bay St.
Toronto and neighbouring cities like Mississauga, which also had a protest at Celebration Square Saturday, has seen such an approach before. But the organized harassment of business crosses any line of decency.
That Jewish people are faced with such growing hate is below any standard Canadians and Torontonians should accept.
"Jews in Canada will not hide or cower," tweeted Michael Levitt, CEO of The Friends of Simon Wiesenthal Centre. "We will not waiver in our resolve to stand against these hateful boycotts. We will never stand by idly as Jews and Jewish business are targeted. Got a feeling that Aroma will be busier than ever next week."
People certainly came out to support Cafe Landwer after it was targeted.
"I fought the BDS movement as a grad student, and I will continue to fight it as the MP for the Jewish-owned businesses being targeted," said Independent MP Kevin Vuong, who represents the riding of Spadina — Fort York.
This is a time push to back on the modern-era Brownshirts. When you see social media coverage of pro-Palestinian supporters attempting to scale the wall at the White House, you see how far this escalation can go.
"Now, more than ever, let us stand firm in our support for Israel and in our shared dedication to fight anti-Semitism," Premier Doug Ford posted to X.
Conservative Leader Pierre Poilievre said "all Canadians should condemn" ganging up on Jewish businesses or displaying the swastika.
Most realize if Canada continues to let the growing Jew hating to go unchecked, it will only get more plentiful and meaner.
It starts with stickers on windows, graffiti, assaults, and calls for boycotts, but, as we've seen in the past, leads to Holocaust.