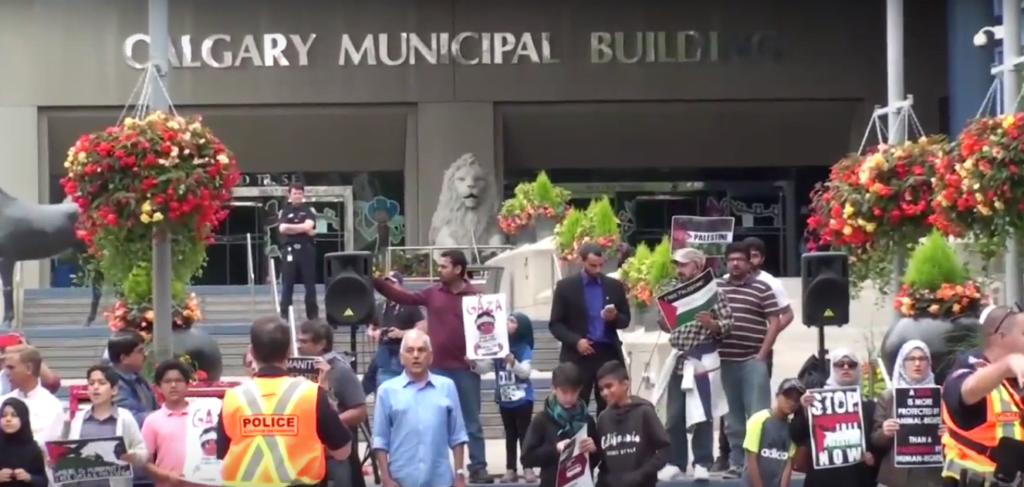 Pro-Palestinian groups gathered outside Calgary's City Hall this past Saturday to commemorate al-Quds Day, an annual event promoting solidarity with the Palestinian people and protesting the existence of Israel.
B'nai Brith video from the event shows pro-Palestinian and pro-Israel groups facing off from opposite sides of the street.
While the al-Quds supporters chanted "no justice, no peace" and "the occupation must go," singing of the Israeli and Canadian national anthems by pro-Israel ralliers often drowned out the chanting and other speeches.
One speaker said "all of you agree in your heart that Zionism… is doomed to destruction." The same speaker later said that "any good person in the entire whole world would understand that to support peace and justice, they have to fight Zionism."
Al-Quds organizer Riyaz Khawaja told CBC News that the event was "to show our solidarity towards the Palestinian oppressed, as well as the oppressed around the globe."
Numerous police officers were at the event. Previous al-Quds Day rallies in Calgary have been marked by violence. In July of 2014, local police called for backup after clashes between protestors broke out. Calgary Jewish Federation (CJF) member Judy Shapiro said at the time that one young man had a concussion, another had a broken nose, and a young woman had been punched in the face.
Local Calgary imam Syed Soharwardy spoke at the event and later wrote on Facebook that "few times Israeli supporters followed the Israeli law and crossed the road to provoke Palestinian supporters. But we, the Palestinian supporters followed the Canadian law along with the Sharia law and remain unprovoked and peaceful."
Video shared on Facebook depicts a man crossing the street to the al-Quds supporters and shouting, "stop killing 13-year-old girls in their bed at night," referring to the murder of Hallel Yaffe Ariel by a Palestinian teen last Thursday.