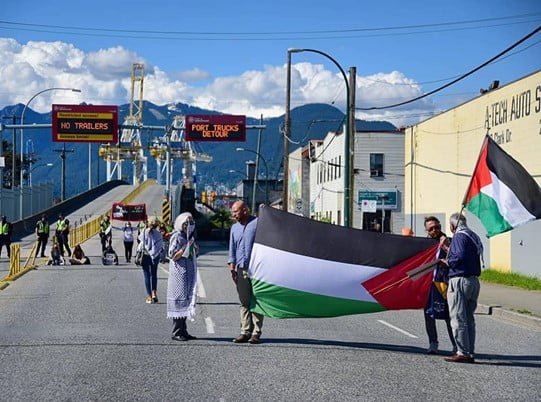 June 14, 2021
VANCOUVER – An attempt by anti-Israel activists to obstruct Israel-linked shipping off Canada's west coast has failed, B'nai Brith Canada has learned.
On Tuesday, a coalition of anti-Israel groups gathered at Woodland Park, just south of the Port of Vancouver, and marched to the Port in an attempt to obstruct the Northern Julie, a cargo ship sailing under the flag of Germany. The Northern Julie is carrying cargo for ZIM, a Haifa-based shipping company that played a key role in the establishment of modern Israel and is now publicly traded around the world.
Upon becoming aware of the planned protest last week, B'nai Brith quickly informed the Vancouver Port Authority, the RCMP and ZIM itself, in order to facilitate a firm response to the attempted blockade.
In the end, the protesters were unable to gain entry to the Port, and the Northern Julie was able to process its cargo without incident. It departed Vancouver for China on Thursday as planned, and is currently traversing the Pacific Ocean.
"B'nai Brith remains vigilant and will continue to act decisively against any and all attempts to unfairly isolate the Jewish State," said Michael Mostyn, Chief Executive Officer of B'nai Brith Canada. "It is ironic that the same people who vigorously oppose the blockade of the Gaza Strip – which is ruled by an antisemitic terrorist group – think it appropriate to blockade a democratic ally of Canada.
"Our expectation is that Canadian ports will remain open to international shipping, in full compliance with the law."
The Vancouver protesters were trying in vain to build off a recent success in Oakland, California, where a ZIM-owned ship was unable to unload its cargo last week due to a blockade.
Despite being targeted by the antisemitic Boycott, Divestment and Sanctions (BDS) Movement in recent years, ZIM reported its largest ever annual profit in 2020, to the tune of $524 million USD.