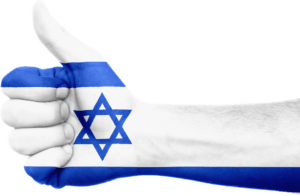 By Reut Cohen & Jordan Zaitchik
B'nai Brith Canada
A Bloomberg report says the boycott and sanctions movement against Israel is failing.
According to the report, since the campaign's launch in 2005 Israel has enjoyed a steep increase in foreign investment. Last year, Israel's economy saw a record high of $285.12 billion, foreign investment has nearly tripled since 2005. The country's economy is slowing but still growing faster than the United States and European Union. The Israeli economy is expected to grow by 2.8% this year compared to the US and EU's expected growth of 1.8%.
The shekel has been appreciating in recent years, signaling foreign investor confidence. The report stated that Israeli startups raised $37.6 billion last year from non-Israeli investors, hitting an annual high in the last decade. A few companies such as SodaStream International Ltd., Veolia Environnement SA, and Orange SA withdrew (or relocated) from the Israeli market, yet this has not made any significant impact. Yoel Naveh, chief economist at Israel's finance ministry has commented on the issue and said "we don't need it," the report verifies this to be true.
The report was released the same time that the main website of BDS was cyberattacked. The Associated Press reported that bdsmovement.net, was reportedly cyberattacked several times throughout February and March of 2016. A report compiled by cybersecurity company equalit.ie shows six separate denial of service attacks, which work by overwhelming a website with fake traffic.
In a statement, boycott and sanctions organizers implied that Israel may have been behind the attacks, saying "the advanced technology used in the attacks and the size of the botnets involved may show that Israel was directly involved." Equalit.ie wrote that the attack showed "a level of sophistication and commitment not generally seen on the Deflect network." However, Israeli cybersecurity expert Gilad Yoshi was skeptical that a government was behind the attacks, saying, "these are not high-level."
Omar Barghouti, the movement's co-founder insists success is happening.
"BDS is not just working, it is working far better and spreading into the mainstream much faster than we had anticipated."