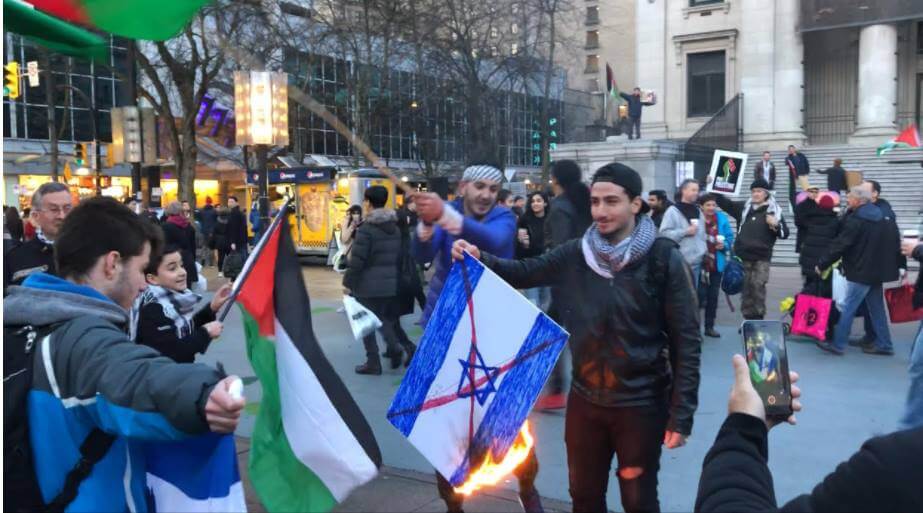 By Aidan Fishman
Interim National Director of the League for Human Rights
B'nai Brith Canada
December 10, 2017
VANCOUVER – B'nai Brith Canada is outraged and calling for action after anti-Israel protests took place in Vancouver Friday and Saturday, when children were encouraged to chant terrorist slogans and protesters stole and destroyed Israeli flags.
The protests were organized in response to U.S. President Donald Trump's recent announcement on Jerusalem, but most of the protesters' ire was focused solely on the Jewish state. Videos acquired by B'nai Brith from Friday night showed young children chanting to redeem the al-Aqsa Mosque with their "blood" and "souls," while demonstrators shouted, "Millions of martyrs are marching toward Jerusalem!"
A few members of the city's Jewish community stood nearby at both rallies, only to have their Israeli flags snatched from them and destroyed. On Saturday, pro-Palestinian protesters burned a cardboard cut-out of an Israeli flag as well.
Pro-Palestine protestors have just ripped the #Israeli flag out of Adams hands @NEWS1130 pic.twitter.com/6kIEugX6uz

— Hana Mae Nassar (@HanaMaeNassar) December 10, 2017
"It was a very threatening and antisemitic atmosphere," said Jake Reznik, a Jewish student at UBC. "We came to peacefully share our viewpoint, but they grabbed our flag right out of my friend's hands and then ripped it to shreds. They clearly weren't interested in peace."
"This is merely the latest in a worrying string of antisemitic incidents in Vancouver in recent months," said Michael Mostyn, Chief Executive Officer of B'nai Brith Canada. "It is simply unacceptable for pro-Israel Canadians to be physically intimidated while pro-Palestinian protesters call for violence and martyrdom."
In November, B'nai Brith filed a police complaint against local imam Tarek Ramadan after he urged his congregants in a sermon to wage "jihad" against Israel and send "money, weapons and expertise" to Palestinians.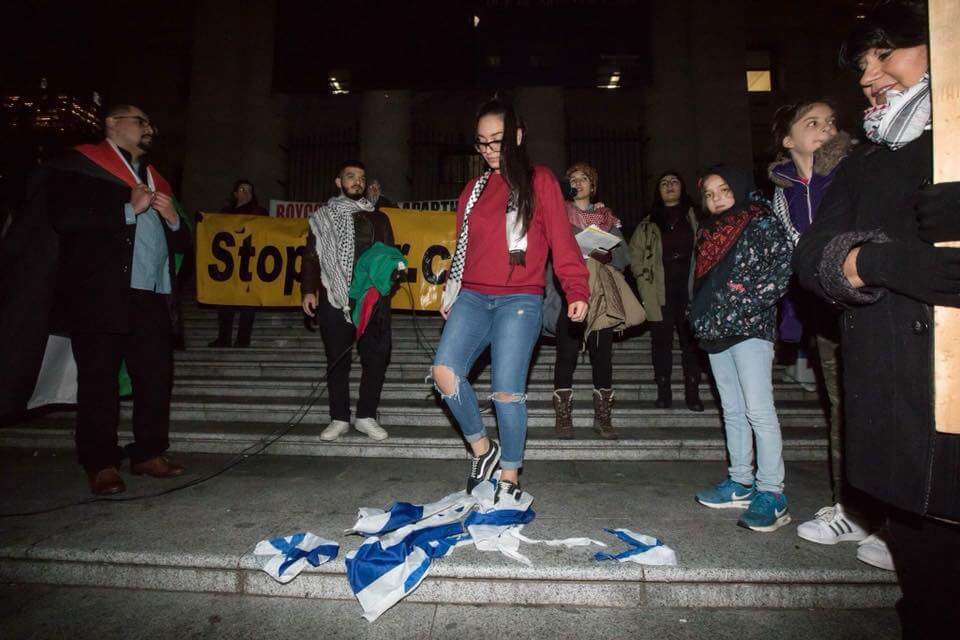 The Vancouver Police Department is also investigating this weekend's protests following a complaint by Jewish attendees. 
Similar anti-Israel protests took place across the world this weekend, including demonstrations in Toronto, London, and New York. In Sweden, more than a dozen men hurled firebombs at a local synagogue following a protest in the southern town of Gothenburg.
If you agree that the views expressed during these rallies are incompatible with Canadian values and ethics, please email your local MP or Vancouver Mayor Gregor Robertson at gregor.robertson@vancouver.ca.