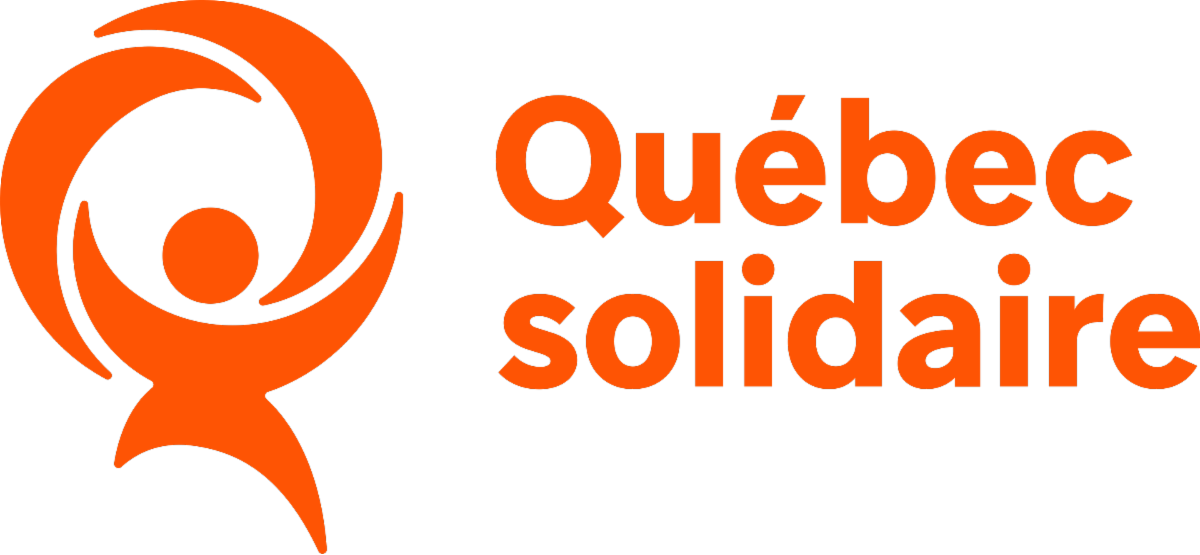 May 12, 2023
QUÉBEC CITY – B'nai Brith Canada is asking the leadership of Québec Solidaire (QS), the third largest political party in Québec, to condemn recent antisemitic statements made by one of its members.
B'nai Brith would also like QS to clarify its position regarding the Boycott, Divestment, and Sanctions (BDS) movement. In 2016, the Canadian Parliament passed a motion formally condemning the BDS movement, stating that it, "promotes the demonization and delegitimization of the State of Israel."
On Apr. 17, 2023, Haroun Bouazzi, the Member of the National Assembly (MNA) representing the riding of Maurice-Richard in Montreal and a member of QS, sent a letter to Québec Finance Minister Éric Girard, requesting that the Société des Alcools du Québec (SAQ) delist 18 Israeli wine products.
This request was based on a misrepresentation of a 2021 decision issued by the Federal Court of Appeal (FCA) which related to how the Canadian Food Inspection Agency (CFIA) labels products regarding their "country-of-origin."
On May 13, 2022, the CFIA issued a statement, agreeing with the FCA's 2021 decision, to the Liquor Control Board of Ontario (LCBO) regarding Israeli wines produced from grapes grown on territories administered by Israel. These wineries are the target of the BDS movement in its attempt to vilify and delegitimize the State of Israel.
Contrary to Bouazzi's contention, the CFIA statement did not say that 18 Israeli wine products being sold at the SAQ were falsely labeled or that a country-of-origin label was necessary. Rather, it said that without additional information clarifying that the contents were produced in areas administered by Israel, the voluntary labels on two wine products would be considered false under federal statutes.
Bouazzi also released a video the same day, in which he called on his supporters to take action and quoted reports containing inflammatory and explicitly antisemitic language. In the video he refers to Israel as the "apartheid state" and quotes a report which repeatedly uses the term "Jewish Supremacy."
B'nai Brith remains concerned with Bouazzi's repeated use of incendiary language, exemplified in a claim made in his Apr. 7 video that accepting the label on the Israeli wines would be the equivalent of "normalizing illegal colonization". The MNA has also recently posted a tweet accusing Québec of being complicit in the "Apartheid Regime in Israel-Palestine."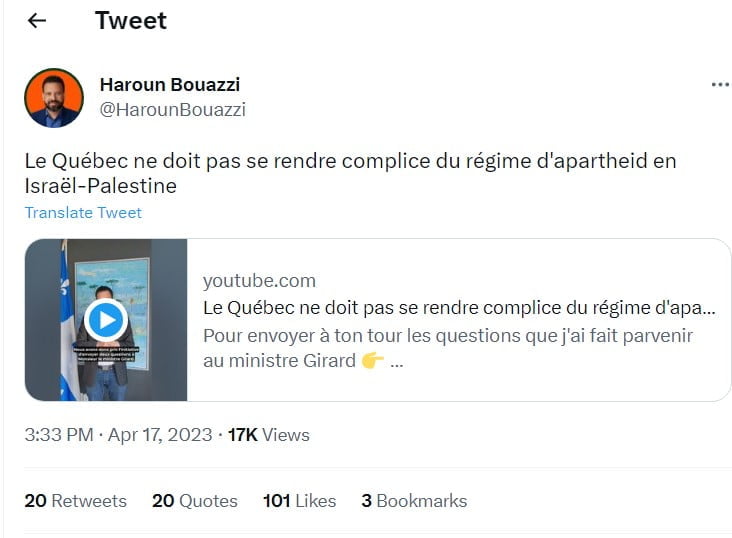 Both Bouazzi and QS have a history of promoting the BDS movement. In 2009, QS officially endorsed the BDS movement, which employs a double standard to single out Israel.
On May 1, 2023, B'nai Brith sent a letter to Minister Girard, countering the misinformation and thinly veiled antisemitism contained in Bouazzi's letter and public comments. We have also written to QS's leadership to ask whether Bouazzi's comments reflect his own position or that of the party.
We acknowledge and appreciate QS's 2021 Facebook post stating that Israel must have the right to live in peace and security. However, B'nai Brith notes that QS has not yet walked back the comments regarding the Israeli wines and appears to continue to support the BDS movement. We are seeking clarity on this issue from the leadership of QS.
"If these comments are representative of the views of Québec Solidaire, we believe that the Jewish community of Québec, as well as all Canadians, deserve to know," said Marvin Rotrand, B'nai Brith's National Director – League for Human Rights.