The Globe and Mail
Nov 2, 2023
B'nai Brith pushing provinces to add Holocaust education to their curriculums – The Globe and Mail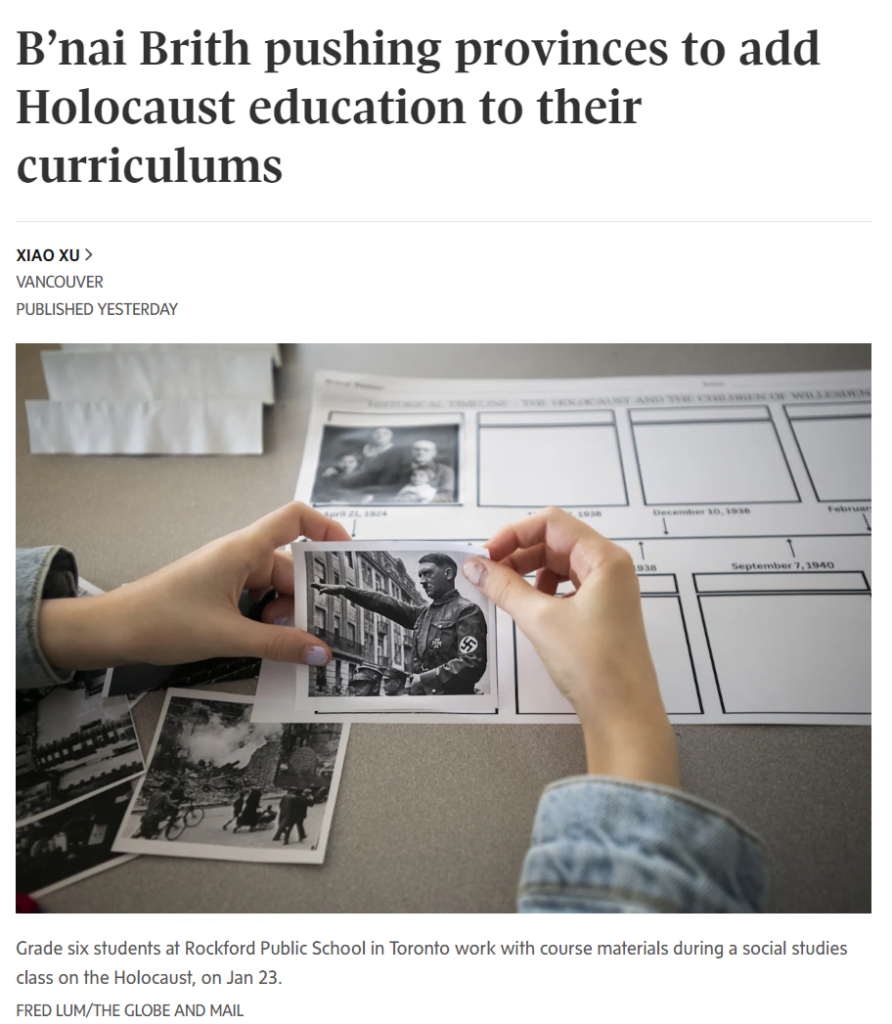 With Ontario and British Columbia in the process of making the Holocaust a mandatory subject in their schools, the Jewish advocacy organization B'nai Brith Canada is pushing more provinces to do likewise.
The Ontario and B.C. governments both announced this week that they would require Holocaust education for high school students. A year ago, Ontario announced that the subject would become a mandatory part of its Grade 6 social studies curriculum, starting this fall.
But now, as Jewish groups around the country watch for antisemitic reaction to Israel's war against Hamas, B'nai Brith Canada says it is pressing other provinces, including Alberta and Saskatchewan, to adopt similar requirements in their own schools.
"With the upsurge of antisemitism we've witnessed in Canada the last number of years, but particularly now, it's more appropriate than ever to have robust Holocaust education at this time," said Marvin Rotrand, national director for B'nai Brith Canada's League for Human Rights.
Jewish Canadians make up one per cent of the population, but, according to Statistics Canada, they were victims of 14 per cent of all hate crimes reported by police in Canada in 2022.
"Clearly, we have a problem," Mr. Rotrand said.
He added that provinces have been teaching this subject to an extent, but that in most cases "it's fairly weak." In some curriculums, the history of the Holocaust is taught as part of a broader discussion of genocide.
"So we think it doesn't properly teach the Holocaust," Mr. Rotrand said.
In Nova Scotia, Holocaust education is mandatory in Grade 8. The Holocaust is also covered in Grade 11.
New Brunswick requires lessons about the Holocaust in middle and high school, but only in English-language instruction. It's no longer a mandatory topic for all students in French-language programs, but staff at the province's Department of Education are exploring options for reintroducing the subject, according to department spokesperson Charles Renshaw. Quebec offers Holocaust education to high schoolers in elective courses.
In a recent letter to Mr. Rotrand, New Brunswick Education Minister Bill Hogan said his office had formed a partnership with the Atlantic Canada Holocaust Education Foundation that includes establishing a Holocaust education advisory committee. Mr. Rotrand said the committee is a model for other provinces.
Ontario Education Minister Stephen Lecce announced Wednesday that the province's new requirement will begin to apply to Grade 10 students in 2025. A history course will explicitly link the Holocaust to extreme political ideologies, including antisemitism in Canada in the 1930s and 1940s. It will also cover the contemporary impacts of rising antisemitism, Mr. Lecce said in a news release. Ontario began requiring instruction on the significance of the Holocaust in Grade 6 classes this past September.
B.C. Premier David Eby announced on Monday that his province would require Holocaust education in Grade 10, saying the change comes at an "incredibly frightening time" for the Jewish community.
"We have seen a rise in antisemitism in B.C. following the terrorist attacks in Israel, which evokes the history of persecution of Jews," Mr. Eby said. "Combatting this kind of hate begins with learning from the darkest parts of our history, so the same horrors are never repeated."
The B.C. Ministry of Education and Child Care will soon begin consultations with the province's Jewish community and others, with the aim of putting the requirement in place for the 2025-2026 school year, the ministry said in a statement.
Alberta Education Minister Demetrios Nicolaides said in a statement that he has received feedback on the inclusion of Holocaust content in the province's curriculum, and that the provincial government is "seriously considering this."
"l firmly believe we must do everything possible to combat rising antisemitism and educate young Albertans about the horrors of the Holocaust," he said.
Mr. Rotrand said teaching about the Holocaust has become an urgent matter, as young people increasingly turn to the internet for information.
"Part of the problem is driven by Holocaust distortion and denial, and misinformation, particularly online, aimed at our kids," he said.