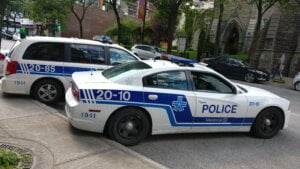 CLIQUEZ ICI pour le français
July 20, 2022
MONTREAL – B'nai Brith Canada is relieved that Montreal police have made an arrest relating to an early-May assault in which a 51-year-old man was attacked by two young males in broad daylight shortly after a celebration of Israel's independence.
Police deemed the attack as an armed assault and robbery, following a hate crime. The man who was assaulted had been carrying an Israeli flag in Montreal's Westmount area.
"B'nai Brith Canada and the Jewish community are breathing sighs of relief that the Montreal police force worked diligently on this appalling incident and have made an arrest," said Marvin Rotrand, National Director of B'nai Brith's League for Human Rights. "It is absolutely unacceptable for anyone to be attacked on the streets of Montreal or anywhere, merely because they are expressing their pride in Israel."
The police confirmed to B'nai Brith that the person arrested was a juvenile and that his identity will not be revealed. B'nai Brith intervened in May to ask the Montreal police hate-squad unit to investigate.
"This assault shocked the Jewish community, causing a great sense of unease," said Michael Mostyn, Chief Executive Officer of B'nai Brith Canada. "Sadly, antizionism is the new driver of antisemitism. Quebec and other provinces must invest more in education to address these issues."
Montreal police made 15 arrests in May 2021 at an anti-Israel demonstration that degenerated into violence, with Jews holding a pro-Israel rally, and being pelted with rocks. There were several injuries to Jews attending this rally. The cases are still before the courts.
As well, several days later, two individuals were arrested in Cote-St.Luc, Que., where they were driving around and threatening to harm Jews. These cases also remain before the courts.
B'nai Brith Canada's 2021 Audit of Antisemitic Incidents showed that the number of recorded incidents in Quebec rose from 626 in 2020 to 828 in 2021 – a 20.7% increase. Violent incidents targeting Jews mushroomed from five in 2020 to 36 in 2021.
"These are unacceptable numbers," Rotrand said. "The Jewish community wants to see the province, city and police allocate the resources to ensure that there is no repeat of 2021's explosion of antisemitic incidents."
Quebec recorded more antisemitic incidents than any other province, edging out the more populous Ontario, which had 821 incidents during 2021.