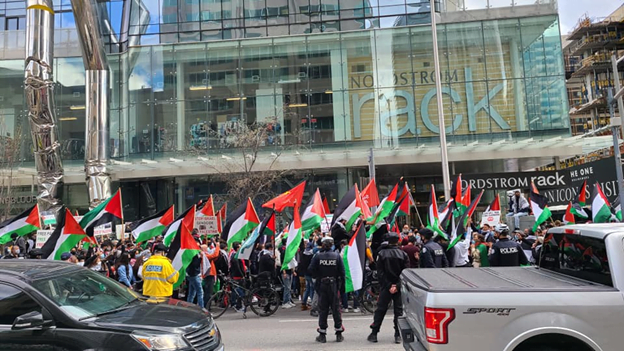 May 12, 2021
TORONTO & VANCOUVER – B'nai Brith Canada is calling for public health orders to be enforced consistently as illegal mass gatherings are being planned across the country in opposition to the Jewish State.
On Monday, more than 100 individuals, many not wearing masks, crowded onto the pavement in downtown Toronto, calling for the destruction of the State of Israel. B'nai Brith expressed concern to police that the rally was being held contrary to Ontario's ongoing stay-at-home order, but understands that no one has been fined or ticketed at this time.
Further anti-Israel protests are planned for later this week in Vancouver, Montreal, Toronto, and Kitchener-Waterloo. While outdoor demonstrations are permitted in Quebec so long as participants wear masks, all outdoor gatherings of more than 10 people are banned in both B.C. and Ontario.
B'nai Brith is contacting police in the relevant jurisdictions, urging them to caution rally organizers and issue fines if rallies proceed in violation of provincial health orders. Throughout the stay-at-home order, police in Ontario have repeatedly fined organizers and attendees of anti-lockdown rallies. Police in B.C. have done the same.
In addition to these concerns, we are calling on local police forces to ensure that officers, including those who speak the languages that will be used at these various rallies, will attend the events, take detailed notes about what is said, and enforce all relevant municipal bylaws and anti-hate speech laws.
Viral anti-Israel social media posts this week have included calls for genocide against Jews, as well as other forms of hateful incitement. Our government must not allow this rhetoric on the streets of Canada's largest cities.
"It is difficult to accept that while Jewish schools are forced to close, dangerous mass gatherings that call for the destruction of the Jewish State can apparently proceed without penalty," said Michael Mostyn, Chief Executive Officer of B'nai Brith Canada. "In the interests of everyone's safety, most Canadians, from all communities, have been respecting the local guidelines in place. We expect the authorities to enforce the law on a fair and equal basis.
"Moreover, should these illegal protests continue, we expect local media to ask tough questions about why organizers are encouraging the public to break the law. Our doctors, nurses, and health care workers are exhausted beyond the breaking point. How does our government expect them to feel watching these events unfold?
"Politics should not be used as cover for failing to apply the rule of law to everyone equally."
The protests come against the backdrop of fierce fighting between Israel and terrorist organizations based in the Gaza Strip, including Hamas. Following riots in Jerusalem, Israel's capital, Hamas fired an unprovoked rocket barrage toward Jerusalem from Gaza on Monday. Since then, the terror group has pummeled other Israeli cities with rockets, while Israel targets Hamas positions in Gaza with airstrikes.
Hamas is a designated terrorist entity in Canada and is officially committed to wiping out the Jewish State. Last week, its leadership called on Arabs to "cut off the heads of Jews with knives."