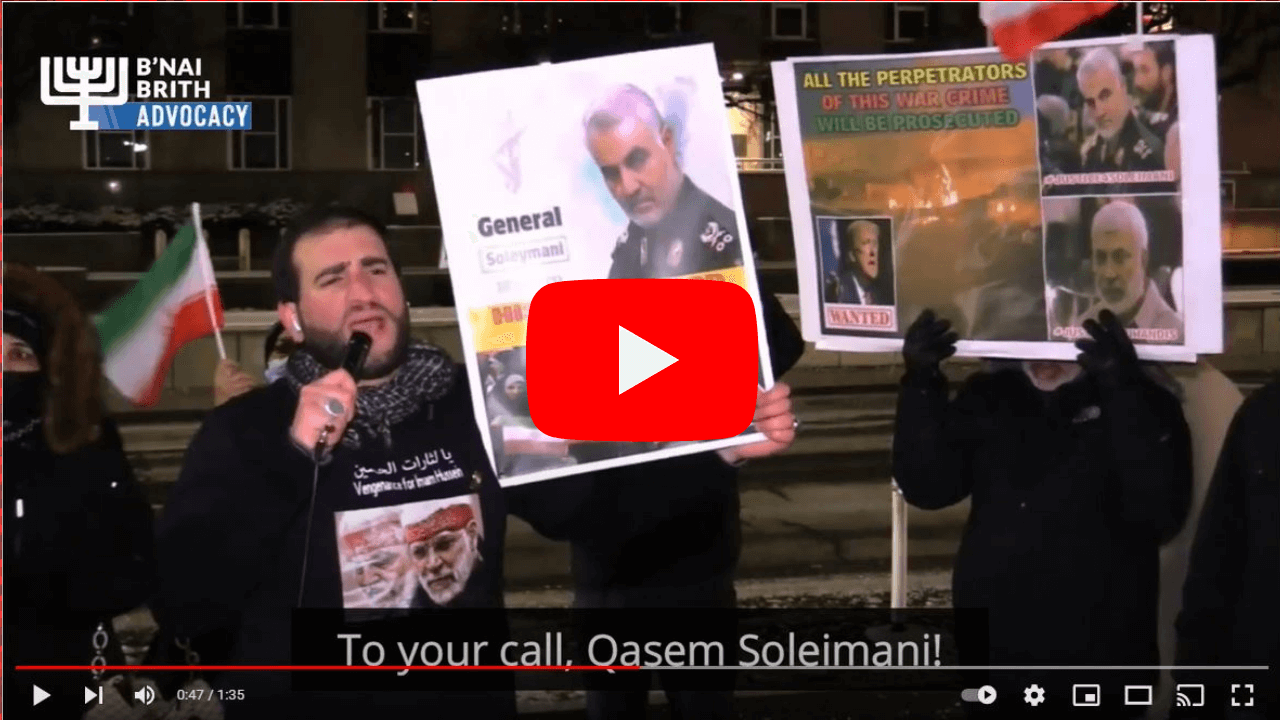 Jan. 06, 2022
Toronto – B'nai Brith Canada is demanding that a federal corporation be dissolved after it organized a vigil endorsing terrorist groups and calling for death to Canada's southern neighbour.
Last Sunday evening, a small group gathered in front of the U.S. Consulate in downtown Toronto to mark the death of Qasem Soleimani, the former leader of the IRGC Qods Force, a designated terrorist entity in Canada. The rally was led by Firas al-Najim and his federal not-for-profit corporation, "Canadian Defenders for Human Rights (CD4HR)."
Al-Najim delivered an Arabic-language speech at the event, which has been translated by B'nai Brith Canada. Al-Najim promised: "We will continue fighting alongside… Hamas in Palestine and Hezbollah in Lebanon," before leading the crowd in a highly disturbing chorus of "Death to America!" in both Arabic and Farsi.
In response, B'nai Brith wrote to François-Phillipe Champagne, Minister of Innovation, Science and Industry, insisting that his office dissolve CD4HR as a corporate entity. According to Corporations Canada, CD4HR's 2020 and 2021 filings are also overdue.
Coincidentally, Sunday's vigil came just days after an Ontario court ruled that the Islamic Republic of Iran – to which al-Najim and CD4HR are slavishly devoted – must pay $107 million to relatives of those killed when the Islamic Republic shot down a passenger jet full of Canadians on Jan. 6, 2020. The Court found that this was a "deliberate terrorist act."
"The Government of Canada must act against antisemitism and the promotion of terrorist groups," said Michael Mostyn, Chief Executive Officer of B'nai Brith Canada. "Corporate status bestowed by the Government cannot be allowed to serve as a vehicle for such nefarious ends."
Separately, MEMRI TV carried other speeches delivered in English and Farsi at Sunday's vigil. In those speeches, America was denounced as "the Great Satan," while Iranian dictator Ali Khamenei was hailed as "the Leader."
In 2019, al-Najim harassed a Jewish senior in a north Toronto park and led an unsuccessful attempt to boycott a Jewish store in Thornhill.