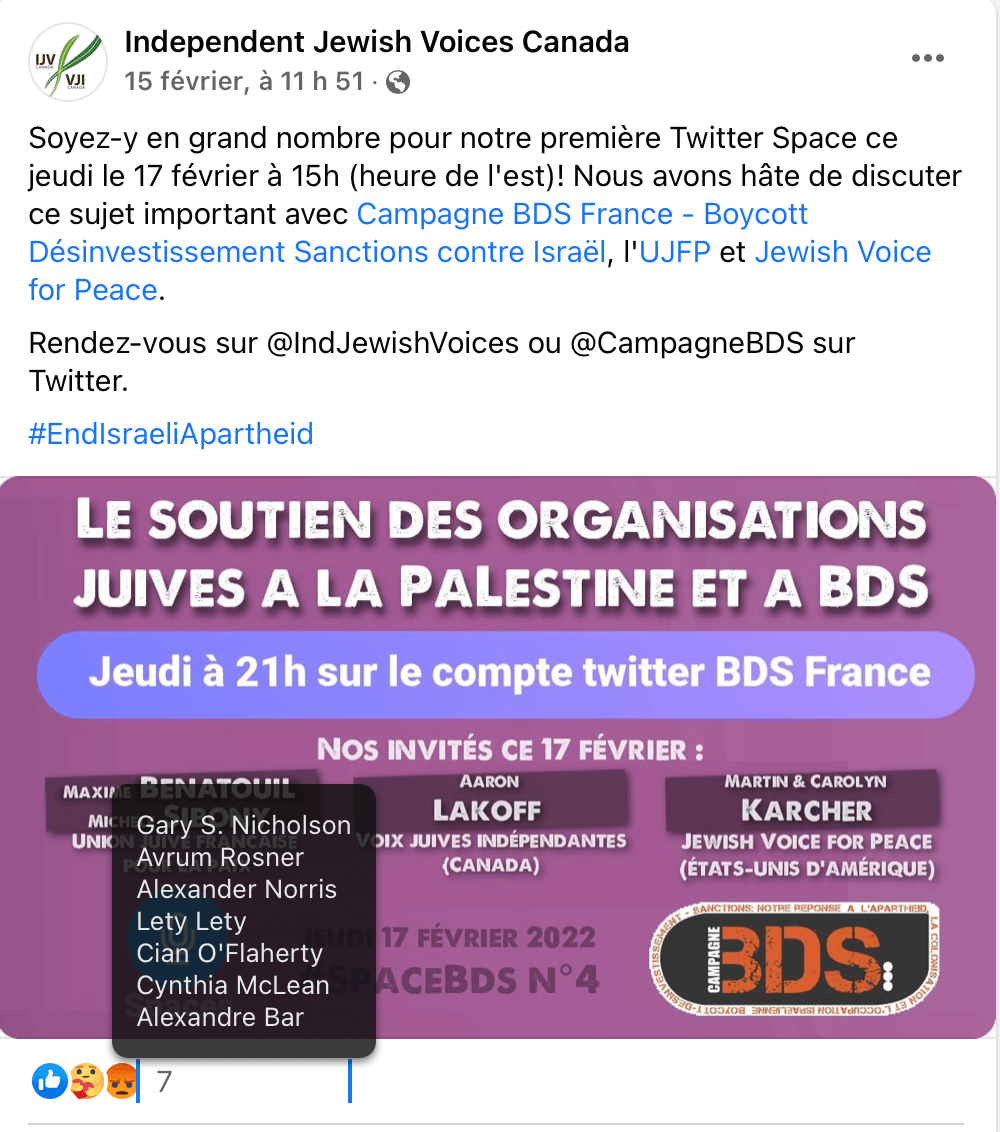 CLICK HERE TO READ THE ARTICLE IN ENGLISH 
Le 21 février 2022
MONTRÉAL – B'nai Brith Canada demande des éclaircissements après qu'un éminent conseiller municipal de Montréal a « aimé » une publication sur Facebook d'un groupe anti-israélien.
Alexander Norris, chef de Projet Montréal, le parti politique sortant, a aimé un message Facebook des voix juif indépendant (IJV). Le groupe prône les boycotts, désinvestissements, sanctions (BDS) contre l'Etat juif.
Le mouvement BDS n'accepte pas le droit du peuple juif à l'autodétermination dans sa patrie historique où les Juifs sont indigènes depuis des milliers d'années.
En réponse à Norris, B'nai Brith a écrit à la mairesse de Montréal, Valérie Plante, demandant des éclaircissements pour déterminer si Norris a parlé au nom de son administration lorsqu'il a aimé la publication sur Facebook.
Notamment, en 2020, l'administration Plante a refusé d'adopter la définition de l'antisémitisme de l'International Alliances Souvenir Holocauste (IHRA).
« IJV est un petit groupe marginal et ne représente pas la communauté juive », a déclaré Michael Mostyn, directeur général de B'nai Brith Canada. « Un officier de haut niveau de l'administration Plante approuvant de BDS est profondément préoccupant pour la communauté juive, en particulier après le rejet de l'IHRA par son administration. Norris est le leader parlementaire du parti du maire Plante. Parle-t-il pour elle ? Sinon, nous pensons qu'il est compromis et qu'il doit être remplacé ».
« Le mouvement BDS se sent revigoré par le rapport largement discrédité d'Amnistie internationale », a déclaré Marvin Rotrand, directeur national de la Ligue des droits humains de B'nai Brith et ancien conseiller municipal de Montréal. « Le gouvernement canadien le rejette. Bizarrement, la Ville de Montréal prend un chemin différent avec un leader en vue qui aime un poste qui appuie le mouvement. La mairesse Plante doit remettre les pendules à l'heure et remédier à la perception d'antisémitisme omniprésent dans son administration ».