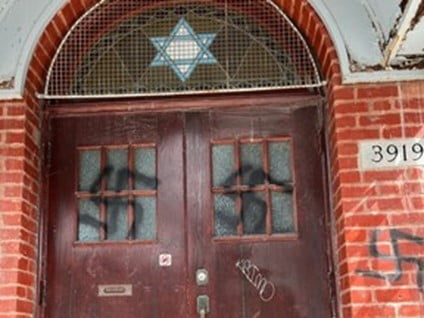 August 4, 2023
OTTAWA – B'nai Brith Canada is renewing its call for the Government to aggressively prosecute hate crimes after Statistics Canada released concerning new data on police-reported incidents in 2022-2023.
This latest report confirms what B'nai Brith already determined in its independent 2022 Audit of Antisemitic Incidents in Canada: that Jews remain this country's most targeted religious minority.
According to StatsCan, 3,576 incidents were reported to law enforcement in 2022 – a significant increase from 2020, when officials registered 2,676 cases.
Just as we found in our Audit, although hate crimes targeting religious minorities dropped slightly from 2021 to 2022 – StatsCan lists a drop from 886 to 750 – the figures remain higher than they were in 2020.
"It is alarming that so much hate is being directed at Jews specifically," said Marvin Rotrand, National Director of B'nai Brith's League for Human Rights. "About 66.9 per cent of all hate crimes targeting religious minorities in Canada were aimed at Jews, even though we comprise only 1.2 per cent of the population."
Michael Mostyn, B'nai Brith's Chief Executive Officer, reminded the Government that it already has powerful tools for addressing antisemitism – it just needs to use them.
"Some provinces such as Ontario have already adopted the International Holocaust Remembrance Alliance (IHRA) definition of antisemitism," he said. "All the provinces that have not yet done so should follow this example and implement this framework in their civil service and law enforcement protocols.
"But above all, this worrying trend shows why it is important to teach about the Holocaust in primary schools, as Ontario has announced it will begin doing in the fall. It is crucial that other jurisdictions across the country follow suit."