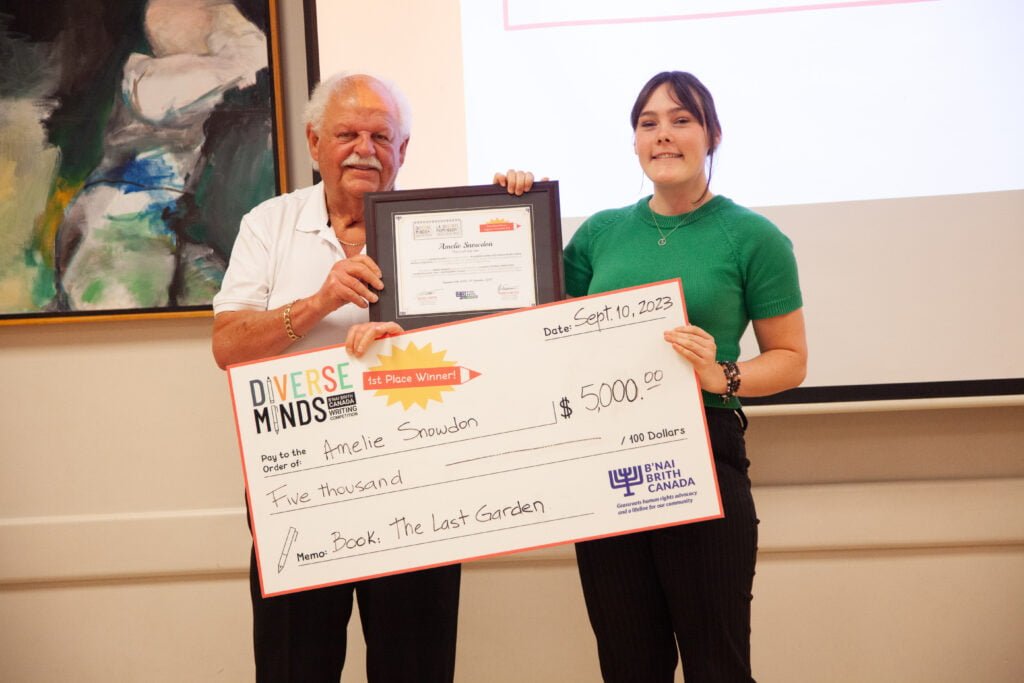 September 13, 2023
WINNIPEG – B'nai Brith Canada is delighted to congratulate the latest winners of its exciting educational initiative, the Diverse Minds Creative Writing Competition.
Diverse Minds promotes the valuable lessons of inclusion to elementary and high school students. The Diverse Minds Creative Writing Competition invites Canadian high school students to reflect on the values of diversity and inclusion by writing and illustrating a story for elementary school students (Kindergarten to Grade 5). Through peer-to-peer learning, students lead the way in creating communities where everyone is valued. The goal of Diverse Minds is to empower our youth to become role models for each other and understand that their impact reaches beyond their classrooms.
Amelie Snowdon, a Grade 12 student from Edmonton, took first place and the $5,000 prize for her book The Last Garden, at a National Awards ceremony held last Sunday in Winnipeg. B'nai Brith professionally published Amelie's book and will distribute it to schools and libraries.
Second place ($2,500) went to Vancouver's Kellen Zeng for her work, The Capybara's Questions, and third ($1,000) to Toronto's Amanda Berlove for What I Learned from The Forest. All competition finalists and their families were flown to Winnipeg by B'nai Brith Canada for the prestigious ceremony.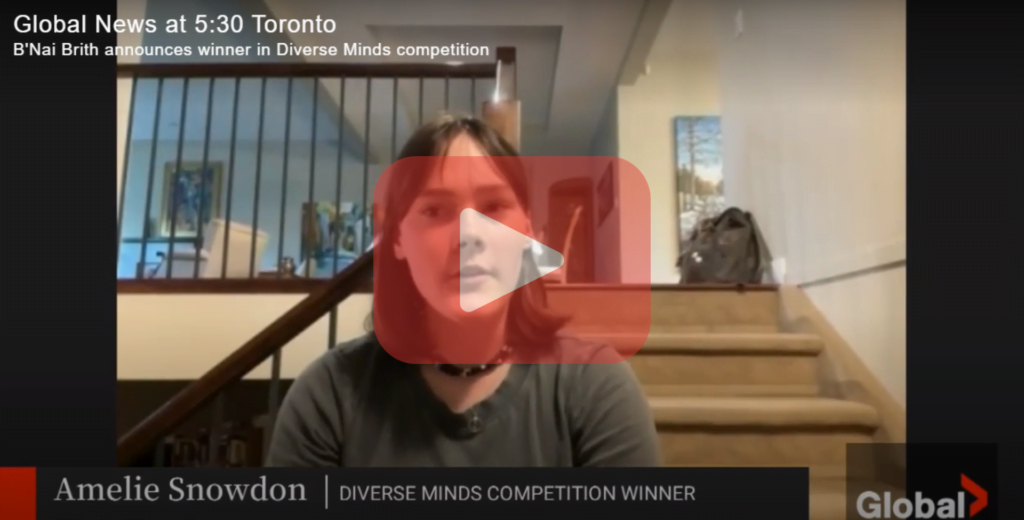 This year's panel of judges included the Honourable Wayne Ewasko, Manitoba Minister of Education and Early Childhood Learning; Gail Asper, Chair and Trustee of The Asper Foundation; Isha Khan, President and CEO of the Canadian Museum for Human Rights; Lorrie Goldstein, Senior Editor Emeritus of the Toronto Sun; Cheryl Barish, Diverse Minds Writing Competition National Sponsor, Community Advocate and Member of B'nai Brith's Yachad Couples Lodge; and Lucinda Chodan, former Senior Vice President, Editorial, Postmedia, and former editor-in-chief of the Montreal Gazette.
"We are extremely proud of the young participants for creating these well-written and thoughtful books," said Michael Mostyn, B'nai Brith Canada's Chief Executive Officer, who also served as a judge in the competition.
"Our Diverse Minds Writing Competition is a powerful exercise in encouraging respect and acceptance among our youth. We are thrilled to get the winner's inspiring book published in hardcover, full-colour, and sent to various elementary schools and libraries.
"Imagine being a published author and illustrator before you graduate from high school!"
Winning entries from this year's event as well as previous years, are available for purchase on the Diverse Minds Book Store. They make for a wonderful children's gift!
B'nai Brith is launching the 2023-2024 Diverse Minds Creative Writing Competition NOW!!!
If you are an interested Canadian high school student, or if you know someone who may be, be sure to enter this exciting contest! Submissions will be accepted until April 15, 2024. More information is available here.
To watch Global News coverage of the Diverse Minds Creative Writing Competition, please click here.