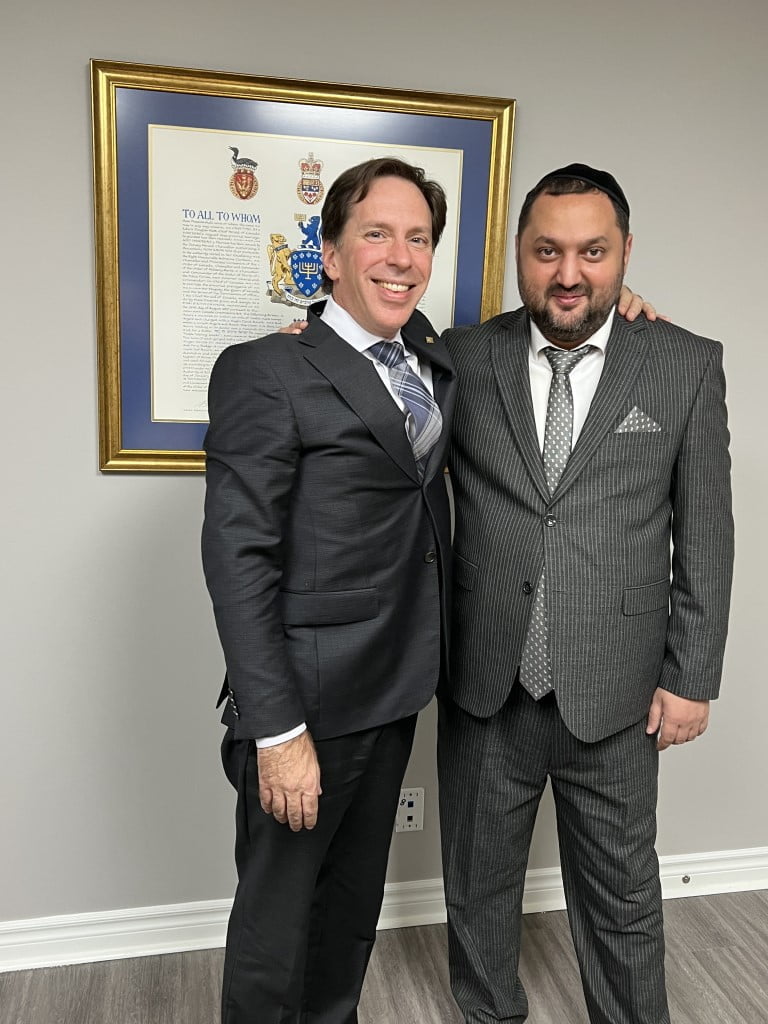 Nov. 8, 2022
TORONTO – B'nai Brith Canada today proudly welcomed a special guest, Rabbi Zamir Isayev, of the Georgian Jewish Community in Baku, capital of Azerbaijan.
Rabbi Isayev was accompanied by Nika Jabiyeva, Executive Director of the Network Azerbaijani Canadians.
The Network represents more than 30,000 people in Canada whose origin or heritage can be traced to the Republic of Azerbaijan, as well as thousands from the Iran-born Azerbaijani minority.
Azerbaijan is a secular, largely Muslim, republic located in the Caucasus bordering the countries of Russia, Iran, Armenia and Georgia. Azerbaijan has a reputation for being respectful and supportive of its Jewish and Christian minorities.
"Jewish history in Azerbaijan dates back over a millennium," said Michael Mostyn, Chief Executive Officer of B'nai Brith Canada. "There are 15,000 Jews in Azerbaijan today and Rabbi Isayev is an important leader. B'nai Brith is honoured to host him today and to continue growing the links between Canadian Jewry and the Azerbaijani community."
Ms. Jabiyeva said Azerbaijan enjoys a strong and growing relationship with the State of Israel.
Azerbaijan will soon open its first Embassy in Israel," Ms. Jabiyeva said. "Air links and trade are growing, and the nation is proud of the contributions made to its growth and prosperity by its Jewish citizens. Rabbi Isayev's visit to Toronto will alert Canadians to Azerbaijan's rich Jewish history and our common values with Israel."
Recently B'nai Brith and the Network of Azerbaijani Canadians collaborated to alert Foreign Affairs Canada to provocations along the common border by the Islamic Republic of Iran.
"Iran is seeking to divert attention to ongoing protests of its murder of Mahsa Amini by hosting mass military exercises on the border," said Marvin Rotrand, National Director of B'nai Brith's League for Human Rights. "Canada and the Western nations must overtly object and stand with Azerbaijan."