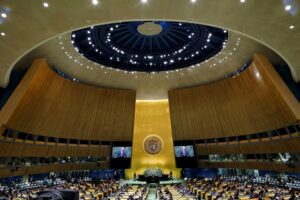 March 02, 2022
B'nai Brith Canada is standing up against anti-Zionism and antisemitism by submitting a detailed report addressing the root causes of continued attacks on Israel to a United Nations body dominated by anti-Zionist countries.
These countries seek to delegitimize and demonize the Jewish State through the latest so-called United Nations Commission of Inquiry on "the Occupied Palestinian Territory, including East Jerusalem," and Israel.
David Matas, Senior Legal Counsel for B'nai Brith Canada and renowned human-rights activist, has prepared a robust analysis of anti-Zionism as the root cause of ongoing attacks on Israel and related antisemitism worldwide for the UN Commission of Inquiry, which was reportedly created in response to the 2021 Hamas-initiated conflict with Israel.
Matas' analysis addressed anti-Zionist forces, which are fueled by antisemitic perceptions of Jews.
"Anti-Zionism does not exist because of the alleged misbehavior of some Israelis," Matas says in his report. "Rather, anti-Zionism exists because of antisemitism. Anti-Zionists oppose the existence of Israel because Israel is Jewish and not Arab. If Israel were Arab, anti-Zionism would not exist."
B'nai Brith is hopeful that its report can prevent an anti-Zionist conclusion from the UN Commission of Inquiry.
B'nai Brith is keenly aware of the anti-Israel bias that all too often circulates from the UN. Nonetheless, we take every opportunity to ensure that the UN does not echo the antisemitic voices of anti-Zionist entities and individuals.
"Every minute, every dollar spent on this Commission is a minute not spent on the human rights violations in China, Russia, Venezuela, Eritrea and the many other violator countries who voted in favour of the (formation of the Commission)," Matas writes.
"Anyone concerned about human rights in any of these countries should be voicing their opposition, as we do, to the diversion of attention, time and money away from these countries and to this Commission."
Of the 24 countries who voted in favour of the Commission's formation, only two were rated by Freedom House as free – Argentina and Namibia.