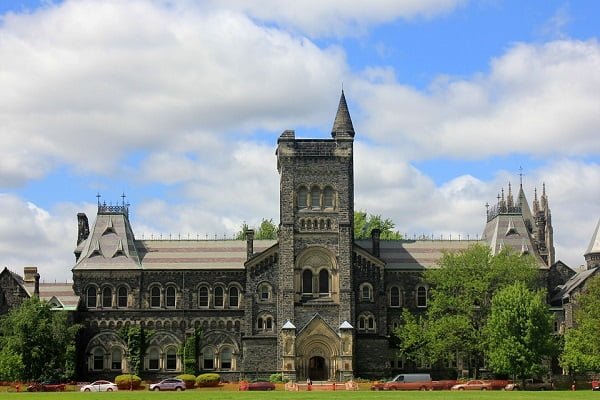 An image of the University of Toronto
April 30, 2021
TORONTO – B'nai Brith Canada welcomes the University of Toronto's support of recommendations made recently by former Supreme Court Justice Thomas Cromwell – but rejects the inappropriate censure of the university by the Canadian Association of University Teachers (CAUT).

These sentiments were expressed clearly in a letter from David Matas, senior legal counsel for B'nai Brith Canada, to U of T president Meric Gertler and David Robinson, executive director of CAUT.
Justice Cromwell's report to Gertler had concluded that the decision to forgo hiring Valentina Azarova to head the International Human Rights Program at the U of T Faculty of Law was not based on outside pressure. Rather, it hinged on the fact that the university concluded that she did not qualify because she could not obtain an immigration work permit.
Gertler accepted this conclusion. CAUT, however, suggested that "the decision to cancel (sic) Dr. Azarova's hiring was politically motivated, and as such constitutes a serious breach of widely recognized principles of academic freedom."
In his letter, Matas clarified that "there was no cancellation. There was only a decision not to accept a recommendation" by a search committee. Matas also rejected the allegation by CAUT that this decision was politically motivated, explaining that Justice Cromwell's report showed "in great detail" that the decision not to accept the recommendation of the search committee was based on a conclusion reached by the university that Azarova was "not eligible for the requisite Canadian immigration visa."
Matas noted that CAUT's charge of political motivation "disguises and trivializes what really happened." This was a recommendation by the search committee, about someone who, the university realized, met neither the immigration nor the advertised required qualifications. The decision was made without consideration of Azarova's long history of extreme one-sided advocacy against Israel, including her affiliations with radical anti-Israel groups and intolerance towards other views. Matas added that, in light of this history, the recommendation of Azarova was "wildly inappropriate."
As a university "is a community of scholars," to preserve academic freedom, both "the scholarship and the community must be protected," Matas said, adding that Azarova's appointment to lead a human-rights program at one of the world's most prestigious universities would have been "a travesty and a tragedy" given her extreme one-sided attacks on Israel, intolerance towards other views and the ensuing hostility to pro-Israel Jewish and non-Jewish students and faculty.
Michael Mostyn, Chief Executive Officer of B'nai Brith Canada, commended Matas' letter, saying: "While we are encouraged by President Gertler's endorsement of Justice Cromwell's review, we're perplexed that CAUT has the audacity to think that it knows better than a former Supreme Court of Canada judge, who conducted an in-depth, long and impartial investigation into the controversy concerning Azarova. We have David to thank for illuminating this contrast and also for drawing attention to factors involving Azarova beyond the scope of Justice Cromwell's inquiry, which show why she was unqualified, in addition to being ineligible, for the U of T Law School position."