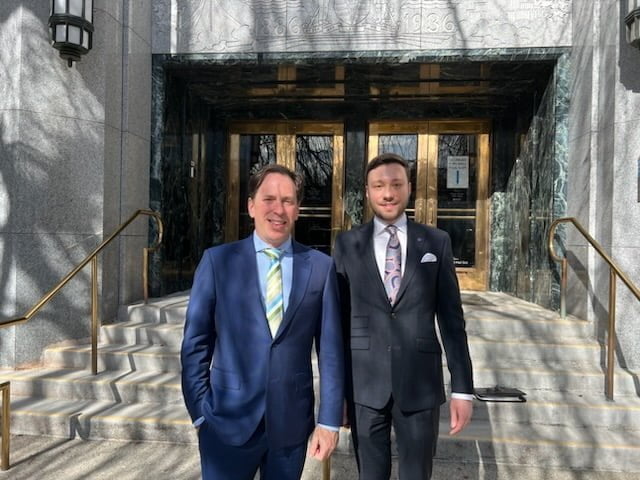 March 10, 2023
VANCOUVER – B'nai Brith Canada launched a series of roundtables Thursday to promote the importance of adopting the International Holocaust Remembrance Alliance (IHRA) definition of antisemitism in as many government bodies, jurisdictions and organizations as possible.
The B'nai Brith IHRA Symposium series, made possible in part by the support of the Government of Canada, coincided with the opening of our new regional office in Vancouver. In attendance at the initial IHRA Symposium were Michael Mostyn, Chief Executive Officer of B'nai Brith Canada, Aron Csaplaros, Regional Manager, B.C., and many local community leaders concerned with antisemitism in British Columbia and beyond.
At the symposium, B'nai Brith shared with participants the history of antisemitism, the ability of the IHRA definition to combat and identify hate and the definition's practical applications. Participants were encouraged to ask questions, make recommendations and to collaborate in pursuit of constructive solutions.
Similar processes will take place at B'nai Brith symposia in coming weeks and months across Canada.
B'nai Brith's League for Human Rights has discovered that antisemitic incidents have decreased in some jurisdictions that have adopted the IHRA definition.
The IHRA definition, the democratic culmination of leading scholars' collaborations for many years, is the world's foremost definition of antisemitism. It is a pragmatic and flexible "working" definition, rather than a rigid formula. Antisemitism may be criminal depending on the circumstances but the IHRA definition can help capture both criminal and non-criminal forms of antisemitism. For Canadian domestic purposes, it should be viewed as a practical tool for institutions to use in fulfilling their mandates as they pertain to antisemitism. For further details on the definition, visit the IHRA website.
"Our IHRA symposia represent important opportunities to establish a national dialogue, rooted in the latest research, on practical tools to effectively combat antisemitism," Mostyn said. "We appreciate the Government of Canada's support of this project and consider it a prime example of non-profits collaborating with Governments to effect positive change.
"We look forward to our planned visits across the country and meeting with Canadians of all backgrounds. These meetings can only help us accumulate the necessary feedback to bring about vital action."